Hazelwood – Australia's dirtiest power
Hazelwood Power Station
Credit: Greenpeace / Hunt
| Bank | Total loaned (AU$millions) | Number of deals |
| --- | --- | --- |
| ANZ | $379 | 3 |
| Bank of Tokyo-Mitsubishi UFJ | $215 | 2 |
| Sumitomo Mitsui Banking Corporation | $158 | 1 |
| Royal Bank of Scotland | $125 | 1 |
| BNP Paribas | $80 | 1 |
| Société Générale | $78 | 1 |
| WestLB | $75 | 1 |
| CommBank | $71 | 1 |
| Bank of Scotland | $63 | 1 |
| Crédit Agricole | $63 | 1 |
| Westpac | $54 | 1 |
| NordLB | $49 | 1 |
| DBS Bank | $38 | 1 |
| Dexia | $38 | 1 |
| Bank of America | $35 | 1 |
| United Overseas Bank | $27 | 1 |
| Crédit Industriel et Commercial | $21 | 1 |
| WestLB (now Portigon Financial Services) | $19 | 1 |
Proudly supported by ANZ
Having been designed and commissioned in the 1960's, this brown coal dinosaur should have been shut down years ago. But with the help of over $1.5 billion worth of loans since 2008, Hazelwood has been allowed to continue to pollute our air and drive climate change.
Westpac and CommBank have loaned $50m and $70m respectively, but ANZ is by far the biggest financial backer, having provided over $400 million worth of loans. The latest ANZ loan came just months after the toxic 2014 fire. Valued at $300m, this loan is due to expire in June.
ANZ now faces an important decision: will they choose to continue to support Australia's dirtiest power, or will they cut the dirty credit to Hazelwood?
Hazelwood's French owners Engie (also known as GDF Suez in Australia) are considering closing or selling the plant as part of their plans to exit coal.
On May 25, new Engie chief executive Isabelle Kocher said, "For the Hazelwood plant, we are studying all possible scenarios, including closure, or a sale if the state of Victoria tells us that it cannot meet power generating needs without this plant."
We are now at a critical point in the fight to close down one of the world's dirtiest power stations. The banks have the power to prolong the life of this outdated pollution factory by refinancing while Engie looks for a buyer, or lending to another company to enable them to purchase Hazelwood. As the major supporter to date, ANZ appears the most likely to be involved in any deal. We need them to know that any decision that helps Hazelwood continue operating will be met with massive public backlash, including customers publicly closing their accounts.
If you bank with ANZ, click here to tell them if they choose to support Hazelwood, you'll choose another bank.

For 45 days during February and March 2014 the Hazelwood coal mine was on fire, the open pit having been ignited by bushfire embers. The fire spewed toxic smoke that engulfed the nearby town of Morwell, where particulate pollution was clocked at over twenty times times the safe limit.
Damningly, an inquiry into the fire has linked it to a spike in deaths in the area. French owners Engie are facing a myriad of charges from both Worksafe and the EPA over the toxic fire.
And yet, just a few months later ANZ chipped in a massive $300m to a refinancing deal that enabled Hazelwood to continue operating. CommBank also contributed $72m to that deal.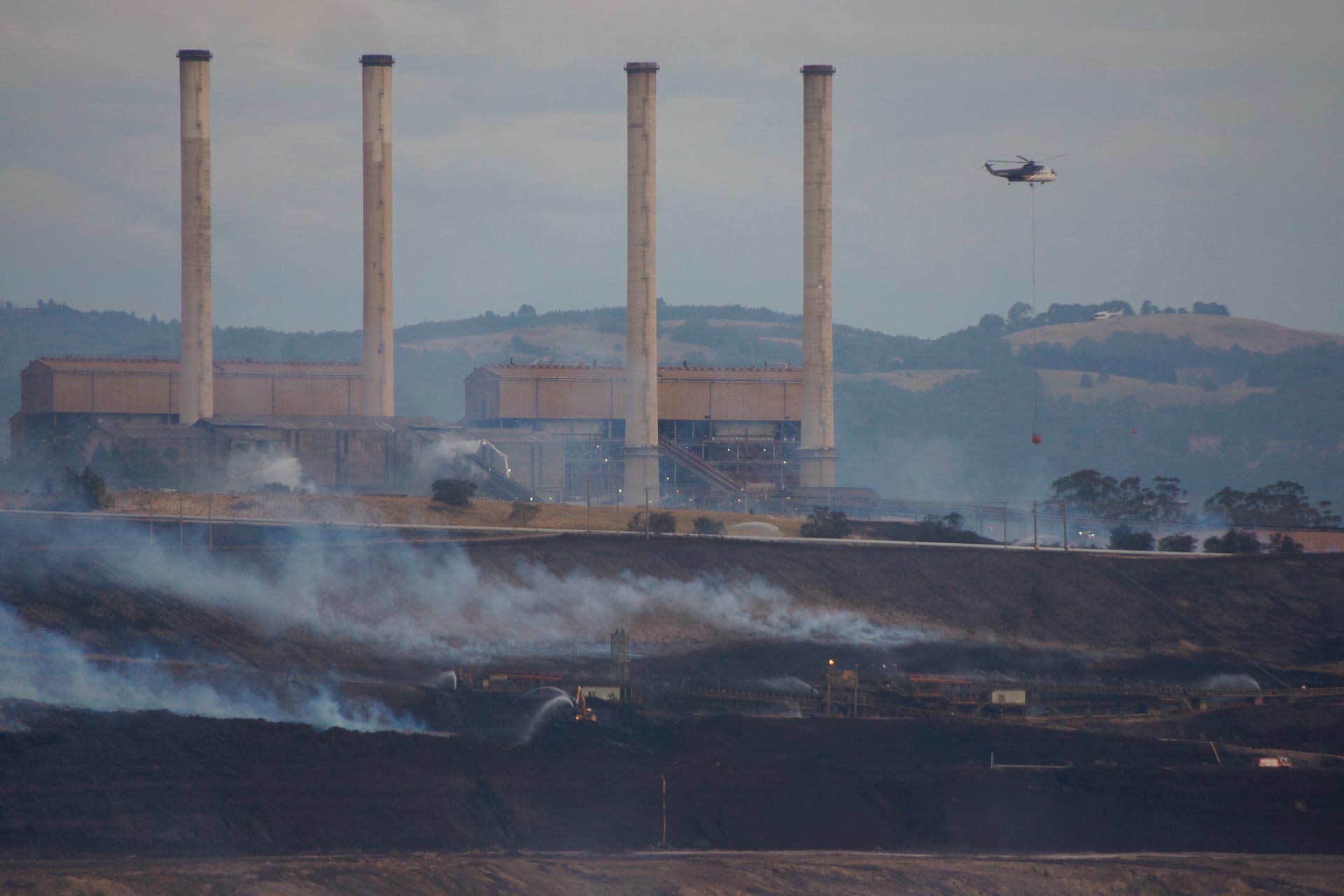 Hazelwood coal mine fire, February 2014
Credit: CFA Communities & Communication