The big banks are funding a huge problem
Between 2008 and 2013, ANZ, Commonwealth, NAB and Westpac have loaned almost $20 billion to fossil fuel projects in Australia.
The coal and gas boom is threatening our farms, water resources, health, the environment and natural icons such as the Great Barrier Reef. It is also jeopardising our chances of keeping global warming to within manageable limits.
The big banks are custodians of the majority of Australians' money. They need to be held accountable for how it is used.
See which banks have been lending to dirty coal and gas exports
Use our interactive map to see which banks have been lending to coal and gas export projects. You can use the map to contact the banks and pressure them to stop lending to environmentally destructive coal and gas projects.
If you're with one of the "big four" Australian banks you can put them on notice, telling them if they keep funding fossil fuels, you'll move to another bank.
Read the report: Financing Reef Destruction
Our report, Financing Reef Destruction, describes the threats faced by the Great Barrier Reef World Heritage Area from expanding coal and gas exports and identifies the banks most actively financing coal and gas projects in the World Heritage site.
It also shows you how you can contact the big four Australian banks and call on them to end investments in dirty coal and gas export projects in the Great Barrier Reef.
Join the call for the big banks to end investments in dirty fossil fuels
Over sixty prominent Australians signed an open letter, calling on the CEOs of the big four banks to end investment in fossil fuels. Thousands more community members have joined them and you can add your name at openletter.marketforces.org.au
Where does your bank stand?
Want to compare how your bank performs against others on the issue of fossil fuel investments? With a bank that is funding coal and gas and want to find an alternative?  Check out our list of various banks and where they stand. We have asked banks to state their position on coal and gas investments and published the responses to help you decide where you want to move your money.
How to switch banks and make it count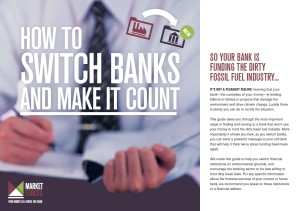 We've made the process of changing bank accounts easier with out guide: How To Switch Banks and Make it Count.
It shows you where various banks stand on the issue of fossil fuel investment, the main steps to take in order to change accounts (you'll probably find it's simpler than you expect) and, most importantly, how to leave a lasting impression on your old bank when you decide to divest.