Fossil fuels – where does your bank stand?
We've created this table to help you find out which banks do and don't have a record of funding fossil fuels. Use it to compare the fossil fuel investment positions of over 120 banks, credit unions and building societies.
Each of these institutions are sorted into categories clearly defining those that fund fossil fuels and those with no current record of funding this industry. Importantly, you can take action and contact every single bank, credit union and building society listed.
To find out more about how this bank comparison table was compiled click here. Visit the Resources page to find step-by-step materials that can help you switch banks.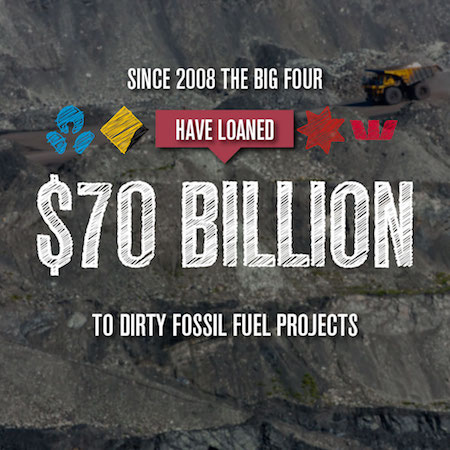 Name
Amount loaned since 2008
Position
Take Action
Banks funding fossil fuels
AMP

$955m

AMP also holds shares in numerous coal and gas companies, including Yancoal, Origin Energy and BHP Billiton

Tell them to stop
ANZ

$31,235m

loaned to fossil fuels since 2008

Put them on notice


Tell them to stop
Bank of China

$9,324m

loaned to fossil fuels since 2008

Bank of Queensland

$31m

loaned to fossil fuels since 2008

Put them on notice


Tell them to stop
Citi

$4,373m

loaned to fossil fuels since 2008

Tell them to stop
Commonwealth Bank

$26,553m

loaned to fossil fuels since 2008

Put them on notice


Tell them to stop
HSBC

$3,859m

loaned to fossil fuels since 2008

Tell them to stop
ING

$783m

loaned to fossil fuels since 2008

Tell them to stop
Macquarie

$3,597m

loaned to fossil fuels since 2008

Tell them to stop
National Australia Bank

$17,614m

loaned to fossil fuels since 2008

Put them on notice


Tell them to stop
Westpac

$13,162m

loaned to fossil fuels since 2008

Put them on notice


Tell them to stop
Banks owned by those funding fossil fuels
Bank of Melbourne
N/A

Owned by Westpac which lends to fossil fuels

Tell owners to stop
BankSA
N/A

Owned by Westpac which lends to fossil fuels

Tell owners to stop
Bankwest
N/A

Owned by Commonwealth Bank which lends to fossil fuels

Tell owners to stop
RAMS
N/A

Owned by Westpac which lends to fossil fuels

Tell owners to stop
St George
N/A

Owned by Westpac which lends to fossil fuels

Tell owners to stop
UBank
N/A

Owned by National Australia Bank which lends to fossil fuels

Tell owners to stop
Name
Amount Invested
Position
Take Action
Banks with no record of funding fossil fuels and position statement provided
act

$0

"act. does not provide loans to organisations involved in fossil fuel exploration or export. act. provides banking services to individual customers only and does not offer banking services to businesses. act. is a division of Community Sector Banking which is 50% owned by Bendigo Bank and 50% owned by Community 21, a consortium of not-for-profit organisations."

Thank them


Send enquiry
Adelaide Bank

$0

"In respect of our own carbon footprint we make conscious decisions to reduce and offset our impact and we help others do the same by offering green products and services. As we do not currently lend to projects in the coal and coal seam gas sectors, we are simply taking a pragmatic approach that says it makes no sense to broaden our footprint by starting to do so."

Thank them


Send enquiry
Australian Defence Credit Union

$0

"ADCU primarily provides retail banking services to its members and does not undertake commercial lending."

Thank them


Send enquiry
Auswide Bank

$0

"Auswide Bank does not finance companies engaged principally in the exploration, mining, manufacture or export of thermal coal or coal seam gas. Nor do we intentionally invest directly in companies specialising in these areas. We are always committed to the protection of our environment in both our banking and operating practices and endeavour at all times to be a responsible corporate citizen."

Thank them


Send enquiry
Bananacoast Community Credit Union

$0

"bcu does not invest in fossil fuel projects however with some of our customers in regional areas of NSW affected by challenging employment conditions, many tradespeople are now working in FIFO (Fly in, fly out) roles and some would be working in fossil fuel operations undoubtedly they remain customers of bcu but this would be our only association."

Thank them


Send enquiry
Bank Australia

$0

"Bank Australia has not made and will not make any loans to the fossil fuel industry, including coal and coal seam gas. Bank Australia is also conscious of the impact of its own operations and has been carbon neutral since 2011."

Thank them


Send enquiry
Bank First

$0

"Bank First does not directly invest in listed or unlisted shares. It also does not invest in fossil fuels and has no plans to do so."

Thank them


Send enquiry
Bank of us (formerly B&E)

$0

"As a customer owned bank, Bank of us operates by the values that are important to our community. We can confirm that we have no loans or investments in coal or mining industries"

Thank them

BankVic

$0

"BankVic lends only to members for personal purposes. We do not lend to businesses nor invest in the fossil fuel industry."

Thank them


Send enquiry
BDCU Alliance Bank

$0

"We make conscious decisions to reduce and offset our impact and we help others do the same by offering green products and services and reviewing how we go about our business. We do not currently lend to projects in the coal and coal seam gas sectors and given our commitment to reducing our environmental footprint, it makes sense to continue this approach throughout our business including the investments we make''

Thank them


Send enquiry
Bendigo Bank

$0

"In respect of our own carbon footprint we make conscious decisions to reduce and offset our impact and we help others do the same by offering green products and services. As we do not currently lend to projects in the coal and coal seam gas sectors, we are simply taking a pragmatic approach that says it makes no sense to broaden our footprint by starting to do so."

Thank them


Send enquiry
Beyond Bank

$0

"Beyond Bank Australia does not have any investments with fossil-fuel associated companies. We're a community focused bank and we work closely with community groups to create good together through health, education and the environment."

Thank them


Send enquiry
Cape Credit Union

$0

"CAPE's credit lending policy precludes lending to organisations involved in the fossil fuel sector. Additionally CAPE does not hold any investment or equity exposure to this sector. CAPE's business activities within Australia are centred on supporting families and communities in relation to their personal finance, banking and investment activities."

Thank them


Send enquiry
Community First Credit Union

$0

"Community First has no investments in the fossil fuel industry. Our size relative to other financial institutions in Australia means that we rarely if ever hold any outside investments in wholesale markets."

Thank them


Send enquiry
Credit Union SA

$0

"Credit Union SA's principle activities are the provision of retail financial services including accepting member deposits and advancing loans to members. The Credit Union primarily invests funds received from members deposits in retail loans to members. The remaining funds are primarily held in cash and liquid investments with other financial institutions to meet minimum liquidity compliance requirements under the Australian Prudential Regulatory Authority (APRA). No funds are directly invested by the Credit Union in the fossil fuel industry. "

Thank them


Send enquiry
CUA (Credit Union Australia)

$0

"CUA does not directly finance the coal and gas sector and we do not lend directly to companies within those sectors. As Australia's largest credit union, CUA's business is the provision of personal banking products and services and our business banking customers are typically within the SME sector."

Thank them


Send enquiry
Defence Bank

$0

"We can confirm that Defence Bank do not and will not provide loans to fund new coal or gas mining, transport or export projects that enter the boundary of the Great Barrier Reef World Heritage Area."

Thank them


Send enquiry
Delphi Bank

$0

"In respect of our own carbon footprint we make conscious decisions to reduce and offset our impact and we help others do the same by offering green products and services. As we do not currently lend to projects in the coal and coal seam gas sectors, we are simply taking a pragmatic approach that says it makes no sense to broaden our footprint by starting to do so."

Thank them


Send enquiry
ECU

$0

"ECU is an organisation formed to serve only its customers. We achieve this by using savers funds to lend to borrowers for their everyday requirements. I can assure you that ECU does not invest in the fossil fuel industry."

Thank them


Send enquiry
First Choice Credit Union

$0

"First Choice Credit Union does not invest in the fossil fuel industry."

Thank them


Send enquiry
G&C Mutual Bank

$0

"1) We have no direct investments in any large scale polluting activity or company. 2) We do not use members fund to finance large greenhouse gas production. 3) We do not use members deposits to directly lend to, buy equity or debt in, any large-scale greenhouse polluting activities from fossil fuel exploration, extraction, production and use."

Thank them


Send enquiry
Gateway Credit Union

$0

"Gateway Credit Union does not have any direct investment in fossil fuel industries, nor does it intend on investing in any fossil fuels industries in the future."

Thank them


Send enquiry
Greater Bank

$0

"The Greater does not invest or lend to companies directly involved in the fossil fuel industry."

Thank them


Send enquiry
Heritage Bank

$0

"Heritage Bank does not invest with companies involved in coal and gas production."

Thank them


Send enquiry
Horizon Credit Union

$0

"Horizon Credit Union is a responsible and influential environmental citizen, as such, Horizon Credit Union has no investments in the fossil fuel industry."

Thank them


Send enquiry
Hume Bank

$0

"As a customer owned organisation, Hume Bank operates by the values that are important to our community. We seek to be a sustainable organisation in every way. We can confirm that we have no loans to coal or mining industries nor any investments in these sectors."

Thank them


Send enquiry
Hunter United

$0

"Hunter United is a customer-owned mutual providing retail banking services to its members and does not undertake commercial lending."

Thank them

IMB

$0

"IMB's investment policy precludes investment by IMB in shares and therefore IMB does not hold and shares in companies such as those you describe [in the fossil fuel industry]. IMB does not have any equity investments in the fossil fuel sector. IMB Treasury does not have any direct investments in the fossil fuel sector."

Thank them


Send enquiry
Intech Credit Union

$0

"Intech does not hold any investments in the fossil fuel industry and does not offer commercial loans to anyone operating in that sector. The Credit Union promotes ethical and responsible decision-making."

Thank them


Send enquiry
Maitland Mutual Building Society

$0

"As a regional building society, we are not involved in financing large mining projects but do lend money to some small and medium sized businesses who could have either direct or indirect exposure to the mining sector."

Thank them


Send enquiry
Northern Beaches Credit Union

$0

"Northern Beaches Credit Union does not invest or lend to companies in the fossil fuel industry. NBCU is a customer owned financial institution providing basic banking products and services to its members based on Sydney's Northern Beaches."

Thank them


Send enquiry
Maleny Credit Union (MCU)

$0

"MCU will endeavour to avoid financial or any other support to individuals or businesses whose activities are detrimental or destructive of the environment, harmful to members of society or inhumane."

Thank them


Send enquiry
Maritime, Mining & Power Credit Union

$0

"We do not invest in any industries. As a mutual all the loans that we provide to members come from other members savings and term deposits. Any profit that MMPCU makes is simply re-invested into our Credit Union in the form of sponsorships of local charities and organisations as well as improved banking services for members."

Thank them


Send enquiry
ME Bank

$0

"ME does not have any investments in the mining industry, including the coal and gas export industries, and does not intend to invest in these industries in future. Given ME is owned by 26 industry super funds, we are committed to responsible business practices. ME is particularly committed to ensuring human and labour rights are upheld with all the parties we do business with."

Thank them


Send enquiry
MyState

$0

"As a company that is committed to a sustainable community, MyState does not directly invest in any coal, gas or oil projects. Our investment policy states that we invest our money with other approved deposit taking institutions (ADIs)."

Thank them


Send enquiry
Newcastle Permanent

$0

"Newcastle Permanent is a customer-owned (or mutual) retail banking institution that deploys its funds primarily for home loans, personal lending, and small businesses. Although Newcastle Permanent is the largest building society in Australia, being a relatively smaller financial institution compared to the major and regional banks, Newcastle Permanent is not involved in financing large mining projects."

Thank them


Send enquiry
P&N Bank

$0

"As a retail bank and not a business bank, P&N Bank lends for property/land/personal loans and credit cards. P&N Bank does not invest in any companies associated with the coal and gas sector."

Thank them


Send enquiry
People's Choice Credit Union

$0

"No, we don't have any equity investments in the fossil fuel sector, nor do we lend directly to companies in those sectors. This is because as a credit union our business banking clients are SMEs [small and medium enterprises] rather than large corporate entities."

Thank them


Send enquiry
Police Bank

$0

"Police Bank provides personal banking services to our members and does not directly invest in projects involved in the coal, gas and oil sectors."

Thank them


Send enquiry
Police Credit Union

$0

""As part of our pledge to operate in an environmentally sustainable manner in 2008, we committed to reducing our carbon emissions by at least 5% a year. In 2018, we well exceeded our goal, achieving a 100% carbon neutral position, two years ahead of target. Police Credit Union does not fund fossil fuels."

Thank them

Send enquiry
Qantas Credit Union

$0

"The Board of the Credit Union will only allow our customer's money to be placed in deposits with: 1) the Commonwealth Government or the government of an Australian State or Territory; 2) a financial institution guaranteed by the Commonwealth Government or the government of an Australian State or Territory; and 3) Authorised Deposit Taking Institutions (ie banks) trading in Australia who are rated at least investment grade. By restricting our investments to deposits with the government or other banks and credit unions we are not investing in unethical investments and do not support the coal/fossil fuel industries or environmentally detrimental projects."

Thank them


Send enquiry
QBANK (Formerly Queensland Police Credit Union)

$0

"QBANK does not directly lend to or directly invest in projects or businesses involved in the coal, gas and oil sectors."

Thank them


Send enquiry
QT Mutual Bank

$0

"QTMB does not directly invest any funds in supporting the exploration and distribution of fossil fuels."

Thank them


Send enquiry
Queenslanders Credit Union

$0

"We have no direct investment in the exploration or distribution of fossil fuels."

Thank them


Send enquiry
Rabobank

$0

"Rabobank finances the sustainable development of the food & fibre industry and as a global Food & Agriculture bank, the fossil fuel industry is not relevant for us. As such, Rabobank Australia & New Zealand does not finance the primary production of fossil fuels and has communicated in a number of cases our concerns about exploring unconventional fuels such as CSG, Shale Gas and Tar Sands."

Thank them


Send enquiry
Regional Australia Bank

$0

"We do not invest in or lend to the coal or gas industries, and prefer to invest in clean technologies and refine our banking product to reward socially responsible and environmentally friendly initiatives."

Thank them


Send enquiry
Rural Bank

$0

"In respect of our own carbon footprint we make conscious decisions to reduce and offset our impact and we help others do the same by offering green products and services. As we do not currently lend to projects in the coal and coal seam gas sectors, we are simply taking a pragmatic approach that says it makes no sense to broaden our footprint by starting to do so."

Thank them


Send enquiry
Select Mutual Banking

$0

"Select does not have any investments in the fossil-fuel industry. Select's banking services are directed to improving the economic and social well-being of members, as opposed to corporate speculative gain."

Thank them


Send enquiry
Southern Cross Credit Union

$0

"Southern Cross Credit Union does not support investment in the fossil fuel industry. We believe reducing our carbon footprint is vitally important and as such we actively support sustainability initiatives within our business and the greater community."

Thank them


Send enquiry
South West Slopes Credit Union

$0

"SWSCU does NOT invest in coal, oil or gas companies that are involved with unsustainable environmental nor climate impacting organisations."

Thank them


Send enquiry
Summerland Credit Union

$0

"Summerland does not have any loans to organisations involved in the fossil fuel exploration/export business. Summerland's primary lending focus is concentrated around residential mortgages, small/medium business and community organisations as well as personal loans."

Thank them


Send enquiry
Rock, The

$0

"As a company that is committed to a sustainable community, The Rock does not directly invest in any coal, gas or oil projects. Our investment policy states that we invest our money with other approved deposit taking institutions (ADIs)."

Thank them


Send enquiry
Teachers Mutual Bank

$0

"Teachers Mutual Bank does not use members' deposits to directly lend to, buy equity or debit in, any large-scale greenhouse polluting activities from fossil fuel exploration, extraction, production and use. This includes CSG. We do not use members' funds to finance large-scale greenhouse-gas pollution. We take this approach because as a business we believe in creating a brighter future."

Thank them


Send enquiry
Transport Mutual Credit Union

$0

"Transport Mutual Credit Union does not invest in the fossil fuel industry."

Thank them


Send enquiry
unicredit

$0

"The University Credit Society does not invest in or lend to companies directly involved in the fossil fuel industry."

Thank them


Send enquiry
WAW Credit Union

$0

"WAW does not invest in gas or coal."

Thank them


Send enquiry
Banks that have previously funded fossil fuels but no longer do
Suncorp Bank

$1,049m

Market Forces' research shows that Suncorp Bank did make loans to fossil fuels in 2008/2009, but the bank has since released the following position statement stating that they have withdrawn from the sector - "We no longer have any exposure [to fossil fuel companies] as Suncorp Bank only provides lending to personal, SME and agribusiness clients so does not have exposure to large corporations including fossil fuel projects."

Thank them


Send enquiry
Banks with no record of funding fossil fuels but no position statement provided
AWA Credit Union

$0

No position statement provided to Market Forces
Request position
Bankstown City Credit Union

$0

No position statement provided to Market Forces
Request position
B&E

$0

No position statement provided to Market Forces
Request position
Big Sky

$0

No position statement provided to Market Forces
Request position
Broken Hill Community Credit Union

$0

No position statement provided to Market Forces
Request position
Capricornian, The

$0

No position statement provided to Market Forces
Request position
Catalyst Money

$0

No position statement provided to Market Forces
Request position
Central Murray Credit Union

$0

No position statement provided to Market Forces
Request position
Central West Credit Union

$0

No position statement provided to Market Forces
Request position
Circle Credit Co-operative

$0

No position statement provided to Market Forces
Request position
Coastline Credit Union

$0

No position statement provided to Market Forces
Request position
Collie Miners Credit Union

$0

No position statement provided to Market Forces
Request position
Comtax Credit Union

$0

No position statement provided to Market Forces
Request position
Country First Credit Union

$0

No position statement provided to Market Forces
Request position
Dnister Ukrainian Credit Co-operative

$0

No position statement provided to Market Forces
Request position
EECU

$0

No position statement provided to Market Forces
Request position
Encompass Credit Union

$0

No position statement provided to Market Forces
Request position
Family First Credit Union

$0

No position statement provided to Market Forces
Request position
FCCS

$0

No position statement provided to Market Forces
Request position
Fire Brigades Employees' Credit Union

$0

No position statement provided to Market Forces
Request position
Fire Service Credit Union

$0

No position statement provided to Market Forces
Request position
Firefighters Credit Union

$0

No position statement provided to Market Forces
Request position
First Option Credit Union

$0

No position statement provided to Market Forces
Request position
Goldfields Money

$0

No position statement provided to Market Forces
Request position
Goulburn Murray Credit Union

$0

No position statement provided to Market Forces
Request position
Holiday Coast Credit Union

$0

No position statement provided to Market Forces
Request position
Hunter United

$0

No position statement provided to Market Forces
Request position
Heritage Isle Credit Union

$0

No position statement provided to Market Forces
Request position
Illawarra Credit Union

$0

No position statement provided to Market Forces
Request position
Laboratories Credit Union (LCU)

$0

No position statement provided to Market Forces
Request position
Latvian Australian Credit Co-operative Society

$0

No position statement provided to Market Forces
Request position
Lysaght Credit Union

$0

No position statement provided to Market Forces
Request position
MacArthur Credit Union

$0

No position statement provided to Market Forces
Request position
Macquarie Credit Union

$0

No position statement provided to Market Forces
Request position
My Credit Union

$0

No position statement provided to Market Forces
Request position
Newcom Colliery Employees Credit Union

$0

No position statement provided to Market Forces
Request position
Northern Inland Credit Union

$0

No position statement provided to Market Forces
Request position
Nova Credit Union

$0

No position statement provided to Market Forces
Request position
Orange Credit Union

$0

No position statement provided to Market Forces
Request position
Pulse Credit Union

$0

No position statement provided to Market Forces
Request position
Quay Credit Union

$0

No position statement provided to Market Forces
Request position
Queensland Country Credit Union

$0

No position statement provided to Market Forces
Request position
Queensland Professional Credit Union

$0

No position statement provided to Market Forces
Request position
Railways Credit Union

$0

No position statement provided to Market Forces
Request position
Reliance Credit Union

$0

No position statement provided to Market Forces
Request position
Security Credit Union

$0

No position statement provided to Market Forces
Request position
Service One

$0

No position statement provided to Market Forces
Request position
Shell Employees' Credit Union

$0

No position statement provided to Market Forces
Request position
Shire Credit Union, The

$0

No position statement provided to Market Forces
Request position
South-West Credit Union

$0

No position statement provided to Market Forces

Thank them


Send enquiry
Swan Hill Credit Union

$0

No position statement provided to Market Forces
Request position
Sydney Credit Union

$0

No position statement provided to Market Forces
Request position
Traditional Credit Union

$0

No position statement provided to Market Forces
Request position
TransComm Credit Union

$0

No position statement provided to Market Forces
Request position
Western City Credit Union

$0

No position statement provided to Market Forces
Request position
Woolworths Employees' Credit Union

$0

No position statement provided to Market Forces
Request position
Name
Amount Invested
Position
Take Action
act

$0

"act. does not provide loans to organisations involved in fossil fuel exploration or export. act. provides banking services to individual customers only and does not offer banking services to businesses. act. is a division of Community Sector Banking which is 50% owned by Bendigo Bank and 50% owned by Community 21, a consortium of not-for-profit organisations."

Thank them


Send enquiry
Adelaide Bank

$0

"In respect of our own carbon footprint we make conscious decisions to reduce and offset our impact and we help others do the same by offering green products and services. As we do not currently lend to projects in the coal and coal seam gas sectors, we are simply taking a pragmatic approach that says it makes no sense to broaden our footprint by starting to do so."

Thank them


Send enquiry
AMP

$955m

AMP also holds shares in numerous coal and gas companies, including Yancoal, Origin Energy and BHP Billiton as part of its asset management business

Tell them to stop
ANZ

$31,235m

Loaned to fossil fuels since 2008

Put them on notice


Tell them to stop
Australian Defence Credit Union

$0

"ADCU primarily provides retail banking services to its members and does not undertake commercial lending."

Thank them


Send enquiry
Auswide Bank

$0

"Auswide Bank does not finance companies engaged principally in the exploration, mining, manufacture or export of thermal coal or coal seam gas. Nor do we intentionally invest directly in companies specialising in these areas. We are always committed to the protection of our environment in both our banking and operating practices and endeavour at all times to be a responsible corporate citizen."

Thank them


Send enquiry
AWA Credit Union

$0

No position provided
Request position
Bank of us (formerly B&E)

$0

"As a customer owned bank, Bank of us operates by the values that are important to our community. We can confirm that we have no loans or investments in coal or mining industries"

Thank them

Bananacoast Community Credit Union

$0

"bcu does not invest in fossil fuel projects however with some of our customers in regional areas of NSW affected by challenging employment conditions, many tradespeople are now working in FIFO (Fly in, fly out) roles and some would be working in fossil fuel operations undoubtedly they remain customers of bcu but this would be our only association."

Thank them


Send enquiry
Bank Australia

$0

"Bank Australia has not made and will not make any loans to the fossil fuel industry, including coal and coal seam gas. Bank Australia is also conscious of the impact of its own operations and has been carbon neutral since 2011."

Thank them


Send enquiry
Bank First

$0

Does not directly invest in listed or unlisted shares. Also "does not invest in fossil fuels and has no plans to do so."

Thank them


Send enquiry
Bank of China

$9,324m

Loaned to fossil fuels since 2008

Bank of Melbourne
N/A

Owned by Westpac which is invested in fossil fuels

Tell owners to stop
Bank of Queensland

$31m

Invested in fossil fuels, including $32 million exposure to coal mining services as of 31 August 2018.

However BOQ has since announced plans to reduce coal lending to zero by 2023. It also clarified that: "BOQ has no exposure to coal-fired power generators and has no appetite for lending to this sector."

Put them on notice


Tell them to stop


Thank them for phasing out coal

BankSA
N/A

Owned by Westpac which is invested in fossil fuels

Tell owners to stop
Bankstown City Credit Union

$0

No position provided
Request position
BankVic

$0

"BankVic lends only to members for personal purposes. We do not lend to businesses nor invest in the fossil fuel industry."

Thank them


Send enquiry
Bankwest
N/A

Owned by Commonwealth Bank which is invested in fossil fuels

Tell owners to stop
BDCU Alliance Bank

$0

"We make conscious decisions to reduce and offset our impact and we help others do the same by offering green products and services and reviewing how we go about our business. We do not currently lend to projects in the coal and coal seam gas sectors and given our commitment to reducing our environmental footprint, it makes sense to continue this approach throughout our business including the investments we make''

Thank them


Send enquiry
Bendigo Bank

$0

"In respect of our own carbon footprint we make conscious decisions to reduce and offset our impact and we help others do the same by offering green products and services. As we do not currently lend to projects in the coal and coal seam gas sectors, we are simply taking a pragmatic approach that says it makes no sense to broaden our footprint by starting to do so."

Thank them


Send enquiry
Beyond Bank

$0

"Beyond Bank Australia does not have any investments with fossil-fuel associated companies. We're a community focused bank and we work closely with community groups to create good together through health, education and the environment."

Thank them


Send enquiry
Big Sky

$0

No position provided
Request position
Broken Hill Community Credit Union

$0

No position provided
Request position
Cape Credit Union

$0

"CAPE's credit lending policy precludes lending to organisations involved in the fossil fuel sector. Additionally CAPE does not hold any investment or equity exposure to this sector. CAPE's business activities within Australia are centred on supporting families and communities in relation to their personal finance, banking and investment activities."

Thank them


Send enquiry
Capricornian

$0

No position provided
Request position
Catalyst Money

$0

No position provided
Request position
Central Murray Credit Union

$0

No position provided
Request position
Central West Credit Union

$0

No position provided
Request position
Circle Credit Co-operative

$0

No position provided
Request position
Citi

$4,373m

Loaned to fossil fuels since 2008

Tell them to stop
Coastline Credit Union

$0

No position provided
Request position
Collie Miners Credit Union

$0

No position provided
Request position
Commonwealth Bank

$26,553m

Loaned to fossil fuels since 2008

Put them on notice


Tell them to stop
Community First Credit Union

$0

"Community First has no investments in the fossil fuel industry. Our size relative to other financial institutions in Australia means that we rarely if ever hold any outside investments in wholesale markets."

Thank them


Send enquiry
Comtax Credit Union

$0

No position provided
Request position
Country First Credit Union

$0

No position provided
Request position
Credit Union SA

$0

"Credit Union SA's principle activities are the provision of retail financial services including accepting member deposits and advancing loans to members. The Credit Union primarily invests funds received from members deposits in retail loans to members. The remaining funds are primarily held in cash and liquid investments with other financial institutions to meet minimum liquidity compliance requirements under the Australian Prudential Regulatory Authority (APRA). No funds are directly invested by the Credit Union in the fossil fuel industry. "

Thank them


Send enquiry
CUA (Credit Union Australia)

$0

"CUA does not directly finance the coal and gas sector and we do not lend directly to companies within those sectors. As Australia's largest credit union, CUA's business is the provision of personal banking products and services and our business banking customers are typically within the SME sector."

Thank them


Send enquiry
Defence Bank

$0

"We can confirm that Defence Bank do not and will not provide loans to fund new coal or gas mining, transport or export projects that enter the boundary of the Great Barrier Reef World Heritage Area."

Thank them


Send enquiry
Delphi Bank

$0

"In respect of our own carbon footprint we make conscious decisions to reduce and offset our impact and we help others do the same by offering green products and services. As we do not currently lend to projects in the coal and coal seam gas sectors, we are simply taking a pragmatic approach that says it makes no sense to broaden our footprint by starting to do so."

Thank them


Send enquiry
Dnister Ukrainian Credit Co-operative

$0

No position provided
Request position
ECU

$0

"ECU is an organisation formed to serve only its customers. We achieve this by using savers funds to lend to borrowers for their everyday requirements. I can assure you that ECU does not invest in the fossil fuel industry."

Thank them


Send enquiry
EECU

$0

No position provided
Request position
Encompass Credit Union

$0

No position provided
Request position
Family First Credit Union

$0

No position provided
Request position
FCCS

$0

No position provided
Request position
Fire Brigades Employees' Credit Union

$0

No position provided
Request position
Fire Service Credit Union

$0

No position provided
Request position
Firefighters Credit Union

$0

No position provided
Request position
First Choice Credit Union

$0

"First Choice Credit Union does not invest in the fossil fuel industry."

Thank them


Send enquiry
First Option Credit Union

$0

No position provided
Request position
G&C Mutual Bank

$0

"1) We have no direct investments in any large scale polluting activity or company. 2) We do not use members fund to finance large greenhouse gas production. 3) We do not use members deposits to directly lend to, buy equity or debt in, any large-scale greenhouse polluting activities from fossil fuel exploration, extraction, production and use."

Thank them


Send enquiry
Gateway Credit Union

$0

"Gateway Credit Union does not have any direct investment in fossil fuel industries, nor does it intend on investing in any fossil fuels industries in the future."

Thank them


Send enquiry
Goldfields Money

$0

No position provided
Request position
Goulburn Murray Credit Union

$0

No position provided
Request position
Greater Bank

$0

"The Greater does not invest or lend to companies directly involved in the fossil fuel industry."

Thank them


Send enquiry
Heritage Bank

$0

"Heritage Bank does not invest with companies involved in coal and gas production."

Thank them


Send enquiry
Heritage Isle Credit Union

$0

No position provided
Request position
Holiday Coast Credit Union

$0

No position provided
Request position
Horizon Credit Union

$0

"Horizon Credit Union is a responsible and influential environmental citizen, as such, Horizon Credit Union has no investments in the fossil fuel industry."

Thank them


Send enquiry
HSBC

$3,859m

Loaned to fossil fuels since 2008

Tell them to stop
Hume Bank

$0

"As a customer owned organisation, Hume Bank operates by the values that are important to our community. We seek to be a sustainable organisation in every way. We can confirm that we have no loans to coal or mining industries nor any investments in these sectors."

Thank them


Send enquiry
Hunter United

$0

"Hunter United is a customer-owned mutual providing retail banking services to its members and does not undertake commercial lending."




Thank them

Illawarra Credit Union

$0

No position provided
Request position
IMB

$0

"IMB's investment policy precludes investment by IMB in shares and therefore IMB does not hold and shares in companies such as those you describe [in the fossil fuel industry]. IMB does not have any equity investments in the fossil fuel sector. IMB Treasury does not have any direct investments in the fossil fuel sector."

Thank them


Send enquiry
ING

$783m

Loaned to fossil fuels since 2008

Tell them to stop
Intech Credit Union (now merged with Bank Australia)

$0

"Intech does not hold any investments in the fossil fuel industry and does not offer commercial loans to anyone operating in that sector. The Credit Union promotes ethical and responsible decision-making."

Thank them


Send enquiry
Laboratories Credit Union (LCU)

$0

No position provided
Request position
Latvian Australian Credit Co-operative Society

$0

No position provided
Request position
Lysaght Credit Union

$0

No position provided
Request position
MacArthur Credit Union

$0

No position provided
Request position
Macquarie

$3,597m

Loaned to fossil fuels since 2008

Tell them to stop
Macquarie Credit Union

$0

No position provided
Request position
Maitland Mutual Building Society

$0

"As a regional building society, we are not involved in financing large mining projects but do lend money to some small and medium sized businesses who could have either direct or indirect exposure to the mining sector."

Thank them


Send enquiry
Maleny Credit Union (MCU)

$0

"MCU will endeavour to avoid financial or any other support to individuals or businesses whose activities are detrimental or destructive of the environment, harmful to members of society or inhumane."

Thank them


Send enquiry
Maritime, Mining & Power Credit Union

$0

"We do not invest in any industries. As a mutual all the loans that we provide to members come from other members savings and term deposits. Any profit that MMPCU makes is simply re-invested into our Credit Union in the form of sponsorships of local charities and organisations as well as improved banking services for members."

Thank them


Send enquiry
ME Bank

$0

""ME does not have any investments in the mining industry, including the coal and gas export industries, and does not intend to invest in these industries in future. Given ME is owned by 26 industry super funds, we are committed to responsible business practices. ME is particularly committed to ensuring human and labour rights are upheld with all the parties we do business with."

Thank them


Send enquiry
My Credit Union

$0

No position provided
Request position
MyState

$0

"As a company that is committed to a sustainable community, MyState does not directly invest in any coal, gas or oil projects. Our investment policy states that we invest our money with other approved deposit taking institutions (ADIs)."

Thank them


Send enquiry
National Australia Bank

$17,614m

Loaned to fossil fuels since 2008

Put them on notice


Tell them to stop
Newcastle Permanent

$0

"Newcastle Permanent is a customer-owned (or mutual) retail banking institution that deploys its funds primarily for home loans, personal lending, and small businesses. Although Newcastle Permanent is the largest building society in Australia, being a relatively smaller financial institution compared to the major and regional banks, Newcastle Permanent is not involved in financing large mining projects."

Thank them


Send enquiry
Newcom Colliery Employees Credit Union

$0

No position provided
Request position
Northern Beaches Credit Union

$0

"Northern Beaches Credit Union does not invest or lend to companies in the fossil fuel industry. NBCU is a customer owned financial institution providing basic banking products and services to its members based on Sydney's Northern Beaches."

Thank them


Send enquiry
Northern Inland Credit Union

$0

No position provided
Request position
Nova Credit Union

$0

No position provided
Request position
Orange Credit Union

$0

No position provided
Request position
P&N Bank

$0

"As a retail bank and not a business bank, P&N Bank lends for property/land/personal loans and credit cards. P&N Bank does not invest in any companies associated with the coal and gas sector."

Thank them


Send enquiry
People's Choice Credit Union

$0

"No, we don't have any equity investments in the fossil fuel sector, nor do we lend directly to companies in those sectors. This is because as a credit union our business banking clients are SMEs [small and medium enterprises] rather than large corporate entities."

Thank them


Send enquiry
Police Bank

$0

"Police Bank provides personal banking services to our members and does not directly invest in projects involved in the coal, gas and oil sectors."

Thank them


Send enquiry
Police Credit Union

$0

"As part of our pledge to operate in an environmentally sustainable manner in 2008, we committed to reducing our carbon emissions by at least 5% a year. In 2018, we well exceeded our goal, achieving a 100% carbon neutral position, two years ahead of target. Police Credit Union does not fund fossil fuels."

Request position
Pulse Credit Union

$0

No position provided
Request position
Qantas Credit Union

$0

"The Board of the Credit Union will only allow our customer's money to be placed in deposits with: 1) the Commonwealth Government or the government of an Australian State or Territory; 2) a financial institution guaranteed by the Commonwealth Government or the government of an Australian State or Territory; and 3) Authorised Deposit Taking Institutions (ie banks) trading in Australia who are rated at least investment grade. By restricting our investments to deposits with the government or other banks and credit unions we are not investing in unethical investments and do not support the coal/fossil fuel industries or environmentally detrimental projects."

Thank them


Send enquiry
QBANK (Formerly Queensland Police Credit Union)

$0

"QBANK does not directly lend to or directly invest in projects or businesses involved in the coal, gas and oil sectors."

Thank them


Send enquiry
QT Mutual Bank

$0

"QTMB does not directly invest any funds in supporting the exploration and distribution of fossil fuels."

Thank them


Send enquiry
Quay Credit Union

$0

No position provided
Request position
Queensland Country Credit Union

$0

No position provided
Request position
Queensland Professional Credit Union

$0

No position provided
Request position
Queenslanders Credit Union

$0

"We have no direct investment in the exploration or distribution of fossil fuels."

Thank them


Send enquiry
Rabobank

$0

"Rabobank finances the sustainable development of the food & fibre industry and as a global Food & Agriculture bank, the fossil fuel industry is not relevant for us. As such, Rabobank Australia & New Zealand does not finance the primary production of fossil fuels and has communicated in a number of cases our concerns about exploring unconventional fuels such as CSG, Shale Gas and Tar Sands."

Thank them


Send enquiry
Railways Credit Union

$0

No position provided
Request position
RAMS
N/A

Owned by Westpac which is invested in fossil fuels

Tell owners to stop
Regional Australia Bank

$0

"We do not invest in or lend to the coal or gas industries, and prefer to invest in clean technologies and refine our banking product to reward socially responsible and environmentally friendly initiatives."

Thank them


Send enquiry
Reliance Credit Union

$0

No position provided
Request position
Rock, The

$0

"As a company that is committed to a sustainable community, The Rock does not directly invest in any coal, gas or oil projects. Our investment policy states that we invest our money with other approved deposit taking institutions (ADIs)."

Thank them


Send enquiry
Rural Bank

$0

"In respect of our own carbon footprint we make conscious decisions to reduce and offset our impact and we help others do the same by offering green products and services. As we do not currently lend to projects in the coal and coal seam gas sectors, we are simply taking a pragmatic approach that says it makes no sense to broaden our footprint by starting to do so."

Thank them


Send enquiry
Security Credit Union

$0

No position provided
Request position
Select Mutual Banking

$0

"Select does not have any investments in the fossil-fuel industry. Select's banking services are directed to improving the economic and social well-being of members, as opposed to corporate speculative gain."

Thank them


Send enquiry
Service One

$0

No position provided
Request position
Shell Employees' Credit Union

$0

No position provided
Request position
Shire Credit Union, The

$0

No position provided
Request position
South West Slopes Credit Union

$0

"SWSCU does NOT invest in coal, oil or gas companies that are involved with unsustainable environmental nor climate impacting organisations."

Thank them


Send enquiry
Southern Cross Credit Union

$0

"Southern Cross Credit Union does not support investment in the fossil fuel industry. We believe reducing our carbon footprint is vitally important and as such we actively support sustainability initiatives within our business and the greater community."

Thank them


Send enquiry
South-West Credit Union

$0

No position provided
Request position
St George
N/A

Owned by Westpac which is invested in fossil fuels

Tell owners to stop
Summerland Credit Union

$0

"Summerland does not have any loans to organisations involved in the fossil fuel exploration/export business. Summerland's primary lending focus is concentrated around residential mortgages, small/medium business and community organisations as well as personal loans."

Thank them


Send enquiry
Suncorp Bank

$1,049m

Market Forces' research shows that Suncorp Bank did make loans to fossil fuels in 2008/2009, but the bank has since released the following position statement stating that they have withdrawn from the sector - "We no longer have any exposure [to fossil fuel companies] as Suncorp Bank only provides lending to personal, SME and agribusiness clients so does not have exposure to large corporations including fossil fuel projects."

Thank them


Send enquiry
Swan Hill Credit Union

$0

No position provided
Request position
Sydney Credit Union

$0

No position provided
Request position
Teachers Mutual Bank

$0

"Teachers Mutual Bank does not use members' deposits to directly lend to, buy equity or debit in, any large-scale greenhouse polluting activities from fossil fuel exploration, extraction, production and use. This includes CSG. We do not use members' funds to finance large-scale greenhouse-gas pollution. We take this approach because as a business we believe in creating a brighter future."

Thank them


Send enquiry
Traditional Credit Union

$0

No position provided
Request position
TransComm Credit Union

$0

No position provided
Request position
Transport Mutual Credit Union

$0

"Transport Mutual Credit Union does not invest in the fossil fuel industry."

Thank them


Send enquiry
UBank
N/A

Owned by National Australia Bank which is invested in fossil fuels

Tell owners to stop
unicredit

$0

"The University Credit Society does not invest in or lend to companies directly involved in the fossil fuel industry."

Thank them


Send enquiry
WAW Credit Union

$0

"WAW does not invest in gas or coal."

Thank them


Send enquiry
Western City Credit Union

$0

No position provided
Request position
Westpac

$13,162m

Loaned to fossil fuels since 2008

Put them on notice


Tell them to stop
Woolworths Employees' Credit Union

$0

No position provided
Request position