Location: Melbourne CBD
Applications close: 30 July, 2017.
Market Forces is just one part of an amazing and diverse movement working to tackle massive environmental issues like climate change and the direct impacts of fossil fuels on health and the environment. We focus on finance and investment, working to shift it away from projects and activities that create these harmful impacts while informing and empowering others to do the same.
We have a rare opportunity to provide people who want to be part of this movement the chance to make an immediate impact while developing their skills to make an even bigger contribution in the years to come. We are seeking three interns to join us and become part of our campaigns while getting structured training in the art of campaigns.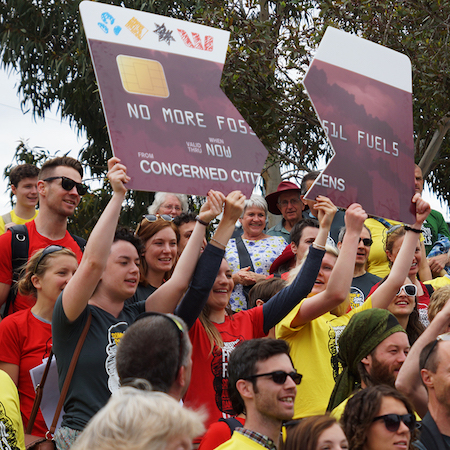 Make no mistake – this isn't a "coffee run and photocopying" type of internship. You'll be confronted with massive challenges, helping Market Forces to deliver on some daunting but essential objectives to stop investments in fossil fuels. But it's also about you and helping you to become a better advocate and campaigner. You'll be in a highly challenging but supportive environment, supervised by a staff member at Market Forces and also receive formal training in campaigning and community organising so that, at the end of the internship, you'll have gained real campaigning experience and also had the benefit of direct professional development.
The commitment
These roles are for four days per week over 17 weeks from late-August to mid-December. Given the commitment required, we can offer a stipend of $500 per week over this time to assist with your expenses. We can be flexible with how the four day per week commitment is structured, except for several training sessions with an outside facilitator that you will be required to attend.
The roles
We are offering the three internship roles described below. Applications should clearly indicate which of the roles is being sought and address the key selection criteria for that role in the CV and/or cover letter.
Underpinning all of Market Forces' campaigns is research. We track the investments made by banks, super funds and other financial institutions, and use that information to inform and empower people to take action, changing how those institutions operate.
Our research is used to produce reports, guide campaigns, inform the work of other NGOs and grassroots groups, expose the investments being made that help or harm the environment, and ensure our campaigns are built on a sound and powerful intellectual base. We are looking for someone who takes pride in producing thorough, meticulous research and seeing it used by a broader movement to deliver positive change for the environment.
Key selection criteria
Passionate about environmental issues and determined to make a lasting positive change for environmental and social justice,
An analytical and curious person by nature,
Skilled and comfortable with data management, and especially proficient in MS Excel and other spreadsheet / database software,
Able to work with limited supervision on defined research projects,
Ideally has some experience working in a campaigning / non-government organisation context,
Ideally has a background in commerce, business, economics or finance (students of these or related disciplines are encouraged to apply).
The environmental campaign of our times in Australia is the battle of the Galilee Basin. If the Galilee is opened up to coal mining it would decimate our chances of holding global warming below two degrees and exacerbate other environmental risks including water availability, industrial activity in the Great Barrier Reef World Heritage Area, and air pollution.
The Adani Carmichael mine is the project that would open up the Galilee. We can stop Adani by stopping the money to their dirty coal mine, but that means being able to keep financiers and other partner companies away from Adani's project. We're looking for an energetic and savvy campaigner to further develop their skills in this exciting role.
Key selection criteria
Passionate about environmental issues and determined to make a lasting positive change for environmental and social justice,

Established issue knowledge on the topics of climate change, fossil fuels and the potential risks of opening the Galilee Basin to coal mining,

Demonstrated understanding of how campaigning, advocacy and social change work, preferably with some experience working in a change-making environment,

Excellent communication skills,

Ability to consider issues from multiple perspectives,

Happy working with a diverse range of people. Is able to be social, supportive, diplomatic and patient and an excellent team player,

Rises to a challenge.
Shareholder action campaigner
Market Forces is working to change corporate Australia, getting issues of climate risk and fossil fuel exposure onto the agenda of companies. Shareholders play a key role in this effort, and this role will help empower shareholders to raise their voices in annual general meetings, and join initiatives that change the policy and practise of many major Australian companies.
You'll be working with people around Australia and coordinating multiple activities at once to ensure that risks to do with climate change, fossil fuels and the impacts of companies on the environment and communities are clear and present to senior decision makers. By the end of the internship you'll be able to see how your work has helped push climate change risk and environmental and social accountability into the spotlight for corporate Australia.
Key selection criteria
Passionate about environmental issues and determined to make a lasting positive change for environmental and social justice,

A clear, compelling communicator,

Very high coordination/organisation skills,

Happy working with a diverse range of people. Is able to be social, supportive, diplomatic and patient.

Is able to see issues from the perspective of other people,

Can work with limited supervision,

Ideally has experience working in a campaigning / non-government organisation context.

Ideally tech savvy and able to record and edit film on a computer.
The training
Activist educator Fee Mozeley will develop and deliver a training program consisting of 4 days of workshops over the course of four months. The initial workshop is planned for the first week of the internship program and subsequent workshops are planned for October and November. Content will be drawn from a range of topics including how to:
Influence corporations and financial institutions;

Create campaign strategy: objectives, priorities and plans;

Cultivate relationships with public officials;

Lobby and hold decision makers to account;

Develop online strategies to strengthen existing campaigns;

Develop communications and messages to reach and motivate your constituency;

Build positive partnerships with community members, existing coalitions and networks, and

Measure success: evaluating accomplishments and effectiveness.
Location and logistical information
These roles are all to be based in Melbourne. We are willing to receive applications from elsewhere in Australia but be aware that our strong preference is to recruit Melbourne-based interns for this program.
Market Forces will cover costs incurred as a direct result of your involvement in this program (e.g. travel, accommodation) but costs are to always be agreed beforehand with the Executive Director or a designated member of staff.
How to apply
To apply, please send CV and cover letter to recruitment@marketforces.org.au, using the subject line: 2017 Spring Internship Program application via Ethical Jobs, clearly indicating the role you are applying for. We welcome questions about the roles and internship program, which can be sent to the same email address.
The deadline for applications is midnight on Sunday, 30 July 2017. Due to staff availability there can be no extensions to this deadline.
Applicants are encouraged to submit early, as we will treat each application on a first come, first serve basis and may make recruitment decisions prior to the application deadline.