HSBC, one of the world's ten biggest banks, has long been addicted to coal. Over the past decade it has lent over a billion dollars to coal power stations worldwide.
So the bank's bold announcement at its April 2018 annual general meeting that it would "stop financing new coal-fired power in all countries around the world"- albeit with some exceptions – heralded a positive step forward.
Unfortunately since then HSBC has carried on merrily backing coal. Several loopholes in its not-so-shiny new policy means it can keep financing coal projects in Bangladesh, Indonesia and Vietnam. This is despite projections that from 2030 more than 43,600 people could die annually due to coal power pollution across Indonesia and Vietnam.
Right now, it's looking to help finance a coal power plant in Vietnam as well as port-dredging in Bangladesh that will allow more coal imports.
HSBC's continued funding of coal is outrageous given the urgency of climate change and impacts on local communities. In the words of the chairman of another leading bank, Standard Chartered, which recently claimed it would stop funding new coal power altogether:
"To pull millions out of poverty, we need reliable and affordable electricity and, up until now, that has meant burning coal – almost nine billion tonnes of it every year. This cannot continue" – José Viñals, Chairman, Standard Chartered, 25 September 2018
"Forecasts suggest that there needs to be a significant and immediate reduction in the use of coal if the world is to achieve the target set in the 2015 Paris Agreement"HSBC
---
H is for Hypocrisy
The countries HSBC has chosen to exempt from its policy coincidentally have some of the world's largest pipelines of new coal power projects. Unlike other such countries, they rely on overseas finance from banks like HSBC. The Global Coal Plant Tracker identifies 33 gigawatts (GW) of coal power under development in Vietnam, 19 GW in Bangladesh and 18 GW in Indonesia – the 4th, 5th and 6th largest pipelines globally.
Indonesia and Vietnam sit within Southeast Asia, where HSBC has pumped most of its $854 million in project financing lending to new coal power stations since 2010.
HSBC claims to care about our climate, and accepts that CO2 emissions need to be limited to meet the Paris goals. Indeed, its CEO John Flint even holds a couple of impressive-sounding roles in the climate world: he's a member of the Climate Finance Leadership Initiative and a Global Commissioner of the New Climate Economy.
"Climate change represents an urgent and potentially irreversible threat to human societies and the planet, a threat recognised by the 184 countries that have signed the 2015 Paris Agreement on climate change."
"HSBC supports, and is building into its business the aims of the Paris agreement…making financial flows consistent with a pathway to low greenhouse gas emissions." – HSBC 
What HSBC conveniently fails to mention is that to achieve the Paris goals, no new carbon emitting infrastructure can be built. In fact, to achieve a 1.5°C warming target, 618 GW of coal power capacity – approximately 31% of global capacity – must end operation by 2025. HSBC's policy does not even broach the subject of finance to existing coal infrastructure, such as rail or ports, that directly support coal power projects. For a bank whose official climate change statement claims to take the risk 'of 'stranded assets' into account, this smacks of greenwashing of the highest order.
---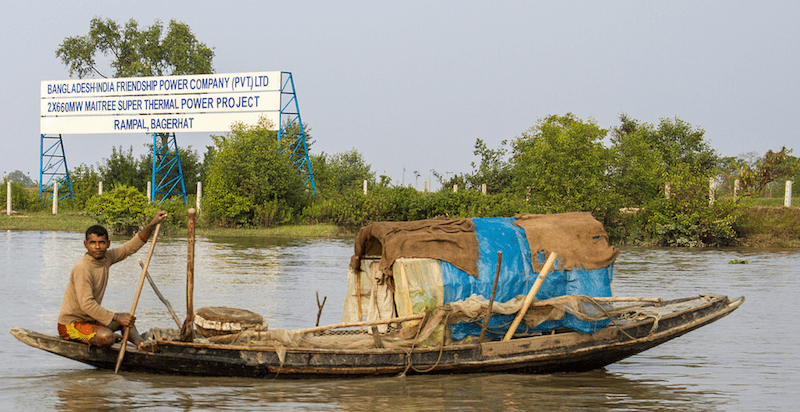 HSBC is arranging finance for the dredging of Payra port in Bangladesh, which would handle coal for up to seven power plants as well as the controversial Rampal plant next to the UN World Heritage Sundarbans mangrove forest.

Payra Port: opening the floodgates to coal pollution
---
In Bangladesh, HSBC is arranging for a consortium of banks to finance a billion dollar dredging project to widen the Ramnabad river channel in Payra, located in Patuakhali district of southern Bangladesh. The dredging will make way for coal-carrying ships to enter Payra port's coal terminal which is projected to have a coal handling capacity of 20 million tonnes per annum.
Payra port's facility will support a huge coal power generation capacity. Eight coal-fired power plants with 9,820 MW capacity are proposed and under-construction near Payra port. The highly controversial 1,320 MW Rampal coal plant next to the UNESCO World Heritage site of Sundarbans mangrove forest 100 km north-west of Payra is also forecast to import coal through Payra port.
Payra port's coal handling infrastructure will have a devastating pollution impact on the people of Bangladesh – The Global Energy Monitor's Global Coal Plant Tracker estimates the power plants that would use coal imported through Payra Port would collectively emit approximately 1.2 billion tonnes of carbon dioxide over their operative lifetime.
HSBC is opening the floodgates to expand coal-fired power capacity in Bangladesh, a country that is one of the biggest victims of climate change induced disasters.
Activist and economist Professor Anu Mohammad warns that "Coal power plants in coastal areas will worsen climate risk".  He argues that: "Many countries around the world gave up coal-based power plants considering their environmental impact. The immense biodiversity in our coastal areas as well as the ecosystem will be threatened severely if such power plants are built."

Take Action
---
Tell HSBC to stop funding coal in Vietnam, Bangladesh and Indonesia and to end all coal finance by 2020
---
"If they commit to the Paris goals when they are in France then HSBC can commit to the Paris goals when they are in Indonesia, Vietnam, or Bangladesh"Hong Hoang, executive director of CHANGE Vietnam.
Fund clean energy, not coal power
---
In announcing its loophole-riddled policy, HSBC said: 
"A targeted and time-limited exception will apply to these three countries [Bangladesh, Vietnam and Indonesia] in order to appropriately balance local humanitarian needs with the need to transition to a low-carbon economy."
However, Harvard University researchers calculate that by 2030, pollution from coal power plants could cause a combined 43,620 extra deaths every year across Indonesia and Vietnam.
Vietnam and Bangladesh are highly vulnerable to the flooding and sea level rise associated with climate change. Both countries are pursuing renewable energy plans. Vietnam's policies have led to a flurry of projects being announced since mid-2017. Bangladesh, however, needs to attract more private sector finance to its renewable energy projects.
"Bangladesh could replace large portion of 13.3 GW of planned coal projects with utility-scale solar for an average LCOE of $91/MWh, compared to $110/MWh for coal, given the identified 53GW potential from solar PV." – Shiraishi et al. 2018
The global bank's double standards on coal have also angered local activists. "If they commit to the Paris goals when they are in France then HSBC can commit to the Paris goals when they are in Indonesia, Vietnam, or Bangladesh," says Hong Hoang, executive director of CHANGE Vietnam.
---
"Coal power plants in coastal areas will worsen climate risk".Professor Anu Mohammad, economist and activist, Bangladesh
"HSBC should turn the tap off for coal and fossil fuel projects. Hanoi's air pollution is already choking us and we have seen storm-surges and floods exacerbated by climate change.

HSBC needs to stop dumping this problem in Vietnam and start taking responsibility for the harm its policy is causing." Hong Hoang, Change Vietnam
Time for action!
HSBC must stop funding coal power in these countries, honouring the spirit of its pledge to combat climate change. Market Forces urges HSBC to:
Close the loopholes which permit financing to new coal plants in Bangladesh, Vietnam and Indonesia; and 
End the refinancing of coal projects and the financing of coal infrastructure by 2020.
Groups backing this campaign
350.org, Christian Aid,  Market Forces, ShareAction, Global Witness, Fund Our Future
See the open letter launched 2 April 2019, signed by the following groups in the region: AEER, Auriga, CHANGEVN, CLEAN, GREENID, Greenpeace, JATAM, Kanopi, Transparency International Bangladesh, RTCCD, TrendAsia, Walhi (Walhi (Wahana Lingkungan Hidup Indonesia)
HSBC shareholders with over $1trillion in assets either under management or stewardship (including Schroders and Hermes EOS)
"We have no room to build anything that emits CO2 emissions."Fatih Birol, executive director of the International Energy Agency