How political donations are creating a happy hunting ground for fossil fuels
Ever heard the one about the political process that was corrupted by donations from corporations? Oh, sorry. Of course you have.
Fair enough too, as it's a simple premise. We all donate to things that we have a personal stake or interest in. People donate to Market Forces (so can you, by the way) because they want to help shift finance away from environmentally harmful projects to those that benefit the environment.
But donating to political parties is not the same as your local landcare group or an NGO you care about. Political parties propose to represent the broad interests of their electorates and constituencies, acting in the best interests of the people they represent. Donating often large amounts of money to political parties puts some interests ahead of others, and the fossil fuel industry knows how to play this game.
The table below lists donations made by fossil fuel companies to major Australian political parties in the 2015-16 financial year. What we found amazing was not just the scale of donations from fossil fuel interests, but the discrepancies in donations that were reported by donors and parties. There's also the fact political decisions have clearly favoured the companies who have made large donations.
| Company | Recipient | Party Disclosed | Donor Disclosed |
| --- | --- | --- | --- |
| APA Group | ALP | $10,492 | nil |
| Arrow Energy Limited | ALP | $1,200 | nil |
| Asciano Limited | ALP | $44,000 | nil |
| Aurizon Holdings Limited | ALP | $21,000 | $40,684 |
| Aurizon Holdings Limited | LIB | nil | $34,965 |
| Aurizon Holdings Limited | NAT | nil | $55,000 |
| Caltex Australia Limited | ALP | nil | $19,000 |
| Caltex Australia Limited | NAT | nil | $17,280 |
| Chevron Australia Pty Ltd | ALP | $13,200 | $44,950 |
| Chevron Australia Pty Ltd | LIB | nil | $53,365 |
| Chevron Australia Pty Ltd | NAT | nil | $19,910 |
| Energy Developments | ALP | $1,100 | nil |
| ERM Power | ALP | $1,200 | nil |
| Glencore Australia Holdings | ALP | $30,000 | $30,000 |
| Glencore Australia Holdings | LIB | $15,000 | $15,620 |
| Minerals Council of Australia | ALP | nil | $4,450 |
| Minerals Council of Australia | LIB | nil | $26,600 |
| Minerals Council of Australia | NAT | nil | $2,200 |
| Origin Energy | ALP | $11,000 | $22,508 |
| Origin Energy | LIB | nil | $19,755 |
| Origin Energy | NAT | nil | $440 |
| Peabody Energy Australia | ALP | $1,650 | nil |
| Queensland Resources Council | ALP | $5,500 | nil |
| Queensland Coal Investments Pty Ltd | NAT | $55,000 | $58,000 |
| Santos Limited | ALP | $38,710 | $62,627 |
| Santos Limited | LIB | $27,500 | $63,357 |
| Santos Limited | NAT | nil | $6,600 |
| Southern Oil Refining Pty Ltd | NAT | $14,000 | $21,000 |
| St Baker Enterprise Pty Ltd | LIB | $16,500 | nil |
| Wesfarmers Ltd | LIB | $35,000 | $35,000 |
| Whitehaven Coal | LIB | $22,000 | $22,000 |
| Woodside Energy Ltd | ALP | $123,200 | $123,500 |
| Woodside Energy Ltd | LIB | $125,000 | $126,980 |
On top of these company and lobby group donations, Kostas Constantinou, an Oil Search board member donated $50,000 to the Liberal party.
While one conclusion from a review of political donations is that the disclosure processes are clearly a dog's breakfast, another is that some companies have excelled themselves when it comes to political donations.
In total, fossil fuel companies and their lobby groups donated between $662,252 and $977,791 (depending on whether you believe the donor or party disclosures) to the ALP, Liberal and National Parties during 2015-16.
Woodside have a history of big political donations, but when questioned at the company's April 2016 AGM, Chairman Michael Chaney said it was unlikely his company would be donating ahead of the 2016 federal election… It's an almighty leap from an expected $0 to the $250,000 they ended up spending!
Why the discrepancies?
If you're looking at the table above and scratching your head, you're not alone. Of all the donations we could compile, only six managed to square between what the donor and the party reported. Another three or four donations were close… kind of… but the discrepancies are staggering.
All donations were sourced from the Australian Electoral Commission's Annual Returns Locator Service. Political Party Returns were sourced from the Party Group analysis on 1 February 2017. Donor Returns were sourced from the Donors by Group summaries on 1 February 2017.
If we could explain the difference between donations reported by parties and donors, we would. It may be a different interpretation  of what constitutes a donation between donor and recipient. It may be that parties have different processes for accounting for donations. The 2 July election date also provided a loophole which would allow election campaign donations to be made (on 1 or 2 July) without them becoming public until February 2017.
Discrepancies could also be due to downright incompetence. We simply don't know. What is clear is that the registry of political donations and transparency are a dog's breakfast.
Note: one point that we should account for is that donations to the LNP have been attributed in the above table to the Liberal Party. That will create a minor distortion to the figures but nothing that explains the chronic and massive discrepancies between that the donors and parties disclose. 
Overall decline
While Woodside and co are still prepared to shell out hundreds of thousands to the major parties, overall political donations from fossil fuel companies to have decreased significantly since the last federal election year. The 2015-16 total of $977,791 disclosed by fossil fuel companies is almost half the $1,940,174 reported in 2013-14.
The decline could be a result of tightened purse strings due to the significant drop in commodity prices since 2013-14. Companies have also faced increased scrutiny and pressure over their donations from the likes of ASA, ACCR, 350.org and our own shareholder activism work.
Undue influence? Or just the perception?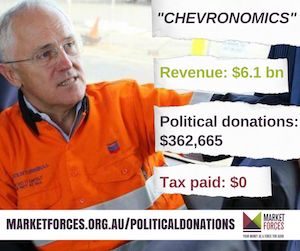 The most important question is how much of an influence do these donations have on the political process? It would be foolish to assume that donations were made purely out of the goodness of a company's "heart" and the perception of political influence is clear, cited by AGL as the reason they would cease political donations. Later, AGL plead guilty to 11 breaches of political disclosure laws – another very good reason to introduce a policy of no more donations and perhaps another factor in the downward trend in donations.
But if AGL were concerned about perceptions, what should we make of Origin, Santos and Woodside – all of whom have been far more significant donors than AGL over the years – not changing their policies to prohibit donations?
Clearly the flow of money between politics and fossil fuel companies is a two-way street. Fossil fuel companies benefit enormously from fossil fuel subsidies. You can check out our research on fossil fuel subsidies here. While it is not possible to say that subsidies remain in place because of donations, we can all imagine what it would be like to deny someone a benefit after they have donated a quarter of a million dollars to your cause. Hence AGL's concerns about perceptions of political influence.
How do the numbers compare to the previous year?
The tables below contain all the donations we were able to compile for the 2014-2015 financial year, when fossil fuel companies reported $1,033,011 worth of political donations.
If you know of other sources for donations, please send us an email at contact@marketforces.org.au
| Company | Recipient | Party Disclosed | Donor Disclosed |
| --- | --- | --- | --- |
| Adani Mining | ALP | $5500 | nil |
| AGL | ALP | $19,800 | $24,840 |
| AGL | NAT | nil | $2000 |
| AGL | LIB | nil | $11,200 |
| Alinta Energy | ALP | $6600 | nil |
| APA Group | ALP | $4433 | nil |
| APPEA | ALP | $18,755 | nil |
| Asciano | ALP | $44,000 | $64,000 |
| Aurizon | ALP | $25,514 | $8674 |
| Aurizon | LIB | nil | $18,260 |
| Australian Mines and Metals Association | ALP | $2000 | nil |
| Beach Energy | LIB | $55,000 | nil |
| Caltex Australia | NAT | nil | $1050 |
| Caltex Australia | LIB | nil | $23,705 |
| Caltex Australia | ALP | nil | $1650 |
| Chevron | NAT | $18,150 | $2330 |
| Chevron | ALP | $15,950 | $36,290 |
| Chevron | LIB | nil | $12,030 |
| Energy Developments | ALP | $4800 | $5900 |
| Energy Developments | LIB | $15,000 | $14,150 |
| Energy Supply Association of Australia | ALP | $8500 | nil |
| ERM Power | ALP | $4173 | nil |
| Glencore | ALP | $10,000 | nil |
| Hancock Coal | ALP | $22,000 | $22,000 |
| Hancock Prospecting | NAT | nil | $22,000 |
| Linc Energy | LIB | $25,000 | nil |
| Minerals Council of Australia | ALP | $10,000 | nil |
| Origin Energy | ALP | $49,950 | $70,380 |
| Origin Energy | NAT | nil | $5170 |
| Origin Energy | LIB | $49,950 | $57,730 |
| Qld Resources Council | ALP | $1200 | nil |
| Queensland Coal Investments | NAT | $22,000 | nil |
| Queensland Coal Investments | LIB | $16,500 | nil |
| Santos | ALP | $57,166 | $82,483 |
| Santos | NAT | nil | $23,320 |
| Santos | LIB | $27,500 | $62,939 |
| Woodside Energy | ALP | $112,600 | $111,100 |
| Woodside Energy | NAT | nil | $18,800 |
| Woodside Energy | LIB | $127,000 | $136,920 |