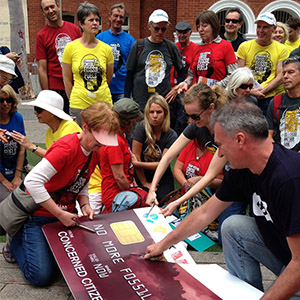 At Market Forces, we are proud to achieve a lot with a little. In just a few short years we've helped to shift billions of dollars of taxpayers' money out of the fossil fuel industry, get some of the world largest banks committed to avoiding new dirty coal mines – including Adani's Carmichael mine, and helped thousands of people line up their own personal finances with their values.
Our ambition is huge – we want to be around as long as possible to speed up the transition out of fossil fuels and into clean, renewable energy. To do that, we need a community of donors contributing a little each month to sustain our work.
Donate to Market Forces!