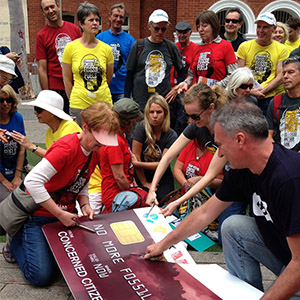 At Market Forces, we are proud to achieve a lot with a little. In just a few short years we've helped to shift billions of dollars of taxpayers' money out of the fossil fuel industry, get some of the world largest banks committed to avoiding new dirty coal mines, and helped thousands of people line up their own personal finances with their values.
Our ambition is huge – we want to be around as long as possible to accelerate the transition out of fossil fuels and into clean, renewable energy. To do that, we need a community of donors contributing a little each month to sustain our work.
You can become a Market Forces donor either over the phone or online using the forms and links below.
Become a donor through our secure online form
Market Forces has a secure online form set up through Give Now, where you can make a one off donation to Market Forces or join as a monthly donor.
Donate to Market Forces!
About our work
Market Forces was launched in January 2013 with the aim of helping individuals and communities prevent finance into environmentally destructive activities. It was founded by Julien Vincent, an environmental campaigner of almost ten years' experience and created as an affiliate project of Friends of the Earth Australia.
Operating initially as a few people working on an entirely voluntary basis, Market Forces began working across three main areas: banks, superannuation and fossil fuel subsidies. Our philosophy is that change is the result of people power. So we have worked to make it as easy as possible for people to see their own financial connection to fossil fuels, and then remove as many barriers to taking action as possible. We want it to be empowering and enjoyable for people to take part in our campaigns. Most of all, we want to get results that mean positive outcomes for the environment. Our achievements include:
Revealing over $130 billion in bank loans to fossil fuel projects in Australia, and where superannuation funds worth hundreds of billions of dollars are invested in coal, gas and oil.
Showing how our taxes are used to subsidise fossil fuels, and helping win a $1 billion cut to fossil fuel subsidies.
Campaigning to get major international banks to commit that they won't fund the proposed Galilee Basin mega coal mines and the connected expansion of the Abbot Point coal export port.
Helping thousands of people shift nearly half a billion dollars out of fossil fuel funding banks.
Profiling over 120 banks, mutuals and credit unions to show people the options available for where they can bank fossil fuel free.
And we've been a major part of a movement that has put fossil fuel divestment well and truly on the map in Australia.
We reckon that's a pretty decent list of achievements for our small but dedicated team. But to continue this work we need to keep building a community of donors chipping in a little each month.
With just a small monthly donation, we can make millions of dollars' worth of difference – it will be great to have you on board!