Straddling the iconic Great Dividing Range, the Galilee Basin is home to one of the largest known coal reserves on the planet. Until now, this estimated 27 billion tonne store in central Queensland has remained untapped, but plans to open it up to coal mining are underway. The most advanced of these is Adani's Carmichael project.
If opened up, the Galilee coal mines spell disaster for the climate, local environment and farmlands and Great Barrier Reef, as well as the cultural heritage of the region's traditional owners, the Wangan and Jagalingou People.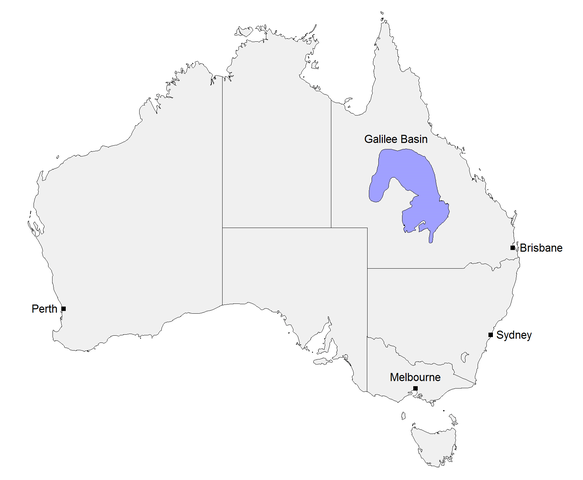 Take Action

Adani's financing woes
Australia's big four banks have faced huge public pressure not to hand out any money for Adani's proposed Carmichael coal mine or railway to its Abbot Point coal port. In 2015 NAB said they had no plans to do so, as did ANZ in 2016 and then CommBank in 2017. Westpac's 2017 climate policy update also ruled it out.
Another big funding threat came from our own federal government's Northern Australia Infrastructure Facility (NAIF). It was considering a billion dollar concessional loan to help Adani rip up the Galilee until Qld Premier Palaszczuk bowed to public pressure and vetoed the proposed loan in late 2017.
In November 2018 the Adani Group's decade-long struggle to secure financial backers finally prompted it to announce a self-funded and much slimmed-down Carmichael project. Its revised plans include a rail line that halves the cost of building the $2 billion railway it needs to get its coal from the Galilee to its Abbot Point coal port. However in May 2019 news emerged that Adani was refusing to commit to the size of its "scaled-down" project and is still pursuing final approvals based on plans for a 60m-tonne megamine.
Find out which companies could make or break Adani's Carmichael coal project
Role of finance
The two largest of the Galilee mine proposals are Adani's proposed Carmichael and GVK Hancock's $10 billion Alpha projects. Projects of that magnitude require billions of dollars in upfront capital to get started and continue operating, and the companies turn to commercial banks, governments and export credit agencies to provide this finance as loans.
Australia's big banks are vital supporters of fossil fuel projects, having loaned a combined $70 billion to the industry since 2008. Of this, $50 billion has gone to projects and companies within Australia. Find out more at our bank campaign page. You can also check out our bank comparison table to see where your own bank stands on the issue.
See which banks have ruled out financing Galilee Coal projects