Located in central Queensland, the Galilee Basin is home to one of the largest known coal reserves on the planet. Until now, the estimated 27 billion tonne store has remained untapped, but plans to open it up to coal mining are currently underway. The most advanced of these plans is Adani's Carmichael project.
In 2015, NAB ruled out said they have no plans to be involved in financing Adani's proposed Carmichael coal mine. Westpac's 2017 climate policy update also ruled out its involvement in any Galilee coal mining plans.
CommBank and ANZ have been a bit more cryptic, but both have made public statements that take them out of the running as potential funders of Adani's plans.
The biggest funding threat now comes from our own federal government's Northern Australia Infrastructure Facility (NAIF). The NAIF is considering a billion dollar concessional loan to help Adani rip up the Galilee. Use the form to contact NAIF and tell them not to use taxpayer money to finance climate destruction.
If realised, the Galilee coal plans spell disaster for the climate, local environment and farmlands and Great Barrier Reef, as well as the cultural heritage of the region's traditional owners, the Wangan and Jagalingou people. Find out more about the specific dangers posed in the sections below.
Tell NAIF to rule out funding Galilee coal projects
If fully developed, the Galilee Basin coal projects have the potential to add more than 700 million tonnes carbon dioxide (CO2) to the atmosphere each year. To put this in context – Australia currently emits around 400 million tonnes per year. If the Galilee Basin were a country, it would be the seventh highest CO2 emitter in the world, sitting just behind Germany and well above Canada and the UK.
Over the lifetime of these projects, the coal that is mined would produce enough emissions to consume 7% of the world's remaining carbon budget. This drastic addition to global emissions has the potential to single-handedly derail efforts to avoid runaway climate change.
An international agreement to limit global warming to no more than 2°C above pre-industrial levels has been set as the benchmark, however current climate science suggests warming should be limited even further if catastrophic climate change effects are likely to be avoided. The Galilee Basin coal mining plans put all attempts to curtail global warming in jeopardy.
Coal mining in the Galilee would devastate the surrounding natural and agricultural landscape with infrastructure works of an immense scale. The level of industrialisation imposed by coal mining of this magnitude will see the destruction of thousands of hectares of pristine land, replaced by mine pits, coal storage, equipment and infrastructure, including a 300km-long dedicated coal transport railway.
Coal mining's impact on the local water table could also be disastrous for the Galilee region. The largest and most advanced of the proposed Galilee projects is Adani's Carmichael mega-mine, which alone is projected to require some 12.5 billion litres of water per year, and would cause the water table to drop by 50 metres in some places. In an area where both the natural habitat and resident's livelihoods are totally reliant on water supply, such massive changes to the natural cycle could destabilise the entire region's ecosystem.
Air pollution around the mine site and transport corridor would also pose significant risks to the health of local residents and wildlife. According to a 2013 senate inquiry, air pollution kills more Australians than car accidents, and coal has since been found to be the leading cause of particle pollution in Australia. The dangers posed to the health of all Australians from coal pollution are significant, but the brunt of the harm – including respiratory disease, cancer, heart attack and stroke – is borne by those communities closest to coal mining and transport operations.
An integral part of the Carmichael project plans is the proposed expansion of the Abbot Point coal export terminal, which sits within the Great Barrier Reef World Heritage Area. The World Heritage Committee has expressed concerns about the industrialisation of the Great Barrier Reef coastline and has considered placing the Reef on the "World Heritage in Danger" list. The committee has previously expressed specific concern and regret at the approval of the Abbot Point port expansion, which involves dredging and dumping 3 million cubic metres of spoil in the World Heritage Site.
The expansion of Abbot Point would severely impact several threatened turtle and migratory bird species habitats, and would also help turn the Great Barrier Reef into a coal shipping superhighway, adding well over a thousand more ship journeys to the Reef each year.
Rising CO2 emissions are also increasing ocean temperatures and acidity. Already, human influences on the reef have caused a 50% decrease in coral cover over the past 30 years. The potential 'carbon bomb' that the Galilee Basin coal represents could lock in warming and acidification levels that will cause the ultimate destruction of the Reef.
The Wangan and Jagalingou People are the traditional owners of the Galilee Basin region, and the country is fundamental to the continuation of their culture.
"Our traditional lands are an interconnected and living whole; a vital cultural landscape. It is central to us as a People, and to the maintenance of our identity, laws and consequent rights." – Wangan and Jagalingou Family Council
The Wangan and Jagalingou have rejected the Land Use Agreement for the Adani's Carmichael mine, which would tear out the heart of their ancestral home and have vowed to protect and defend their country from this destructive project. They have taken the fight to banks around the world, telling them that any decisions to fund Galilee coal projects would be tantamount to supporting a violation of their rights as traditional owners.
Role of finance
The two largest of the Galilee mine proposals are Adani's $16.5 billion Carmichael and GVK Hancock's $10 billion Alpha projects. Projects of that magnitude require billions of dollars in upfront capital to get off the ground and continue operating, and the companies turn to commercial banks, governments and export credit agencies to provide this finance as loans.
Australia's big banks are vital supporters of fossil fuel projects, having loaned a combined $70 billion to the industry since 2008. $50 billion of that has gone to projects and companies within Australia. Find out more at our bank campaign page, or check out our bank comparison table to see where your bank stands on the issue.
We're calling on Australia's big banks to end their support for fossil fuels, and you can join the campaign by adding your name to our open letter. If you are a customer of ANZ, CommBank, NAB or Westpac, you can also put your bank on notice by completing the form on this page, letting them know if they choose fossil fuels, you'll choose another bank.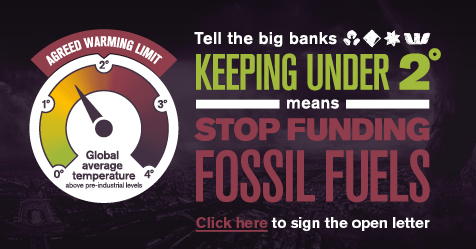 Click to see the full list of 19 banks that have ruled out or distanced themselves from funding Galilee Coal export projects
.
UK-based Standard Chartered were acting as advisors to Adani on its Carmichael project, and provided $680 million in finance. However, in response to criticism at their 2015 AGM, the bank announced that it would go "no further" with the project until the environmental impacts had been more thoroughly examined.
This was then followed up with a statement in August, confirming that: "Both parties [Adani and Standard Chartered] have agreed to end the bank's role in the Carmichael project."
Commonwealth Bank were assisting Standard Chartered in their advisory role, and were helping Adani put proposals to potential Carmichael funders. CommBank and Adani also severed ties in August 2015, however their close association means the bank may contribute to any eventual financing deal.
NAB has distanced itself from Galilee Coal, stating in September 2015: "NAB is not involved and has no plans to be involved in any financing for the Carmichael coal mine." Click here to read our post about NAB's announcement.
Westpac's 2017 climate policy update also ruled out its involvement in any Galilee coal mining plans.
Importantly, with two of the big four Australian banks clearly out of the picture, Adani's prospects for financing Carmichael are difficult. It's hard to see the project attracting the necessary finance without at least one major local supporter, which is why it's so important that we pressure CommBank and ANZ to steer clear of this toxic project.
The environmental risks posed by the projects – in particular those to the Great Barrier Reef – have been the major grounds for these decisions. However, legitimate concerns over the economic viability of the coal mining and export projects in a rapidly constricting international market are also warding banks off Galilee coal.
With NAB and Westpac out of the project, CommBank and ANZ loom as potential backers.
However, talk of restructuring and downsizing the project has objectors worried Adani may be able to scrape together enough finance from other sources to meet their targets of beginning construction by the end of 2017, and exporting Galilee coal by the end of 2019.
Adani has talked up its prospects of finance from the Korea, China, Japan and the US.