Why are Korean Public Banks in
Jawa 9 and 10?
Tell these banks that Southeast Asia needs clean energy not more polluting coal power.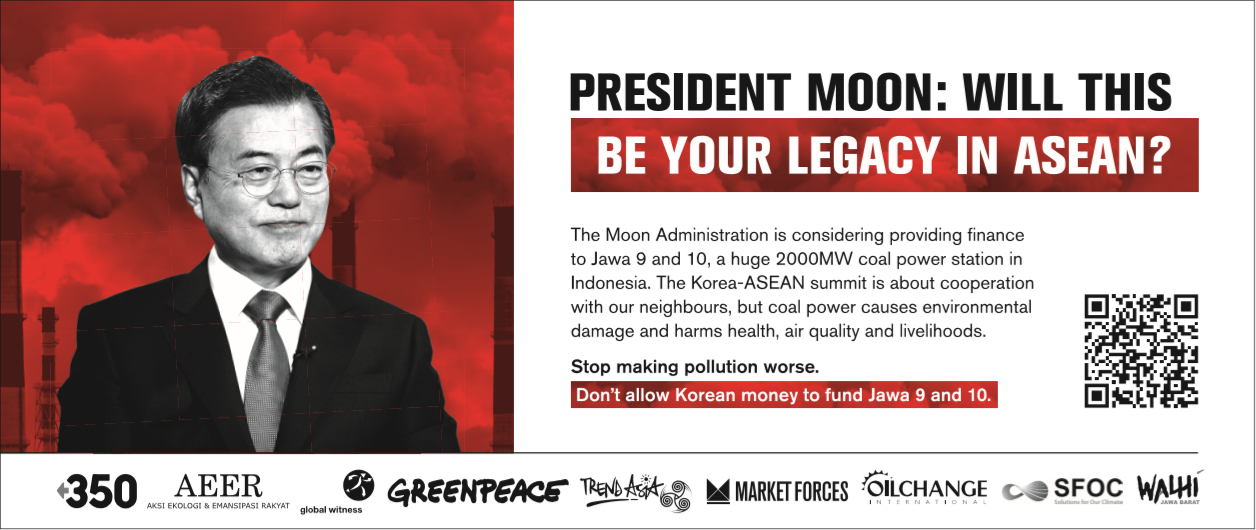 Advertising in Korea Times, Chosun and Kyunghyang, 25 November 2019
---
Serious concerns exist about the consideration of Korea Development Bank (KDB), Korea Export-Import Bank (KEXIM), and Korea Trade Insurance Corporation (K-SURE) to provide funding to Jawa 9 and 10 (Banten Suralaya), a 2,000 MW coal-fired power project in Banten province in Indonesia.  Given the reputational, legal, and environmental risks associated with Jawa 9 and 10, Korean public banks must distance themselves from this disastrous project.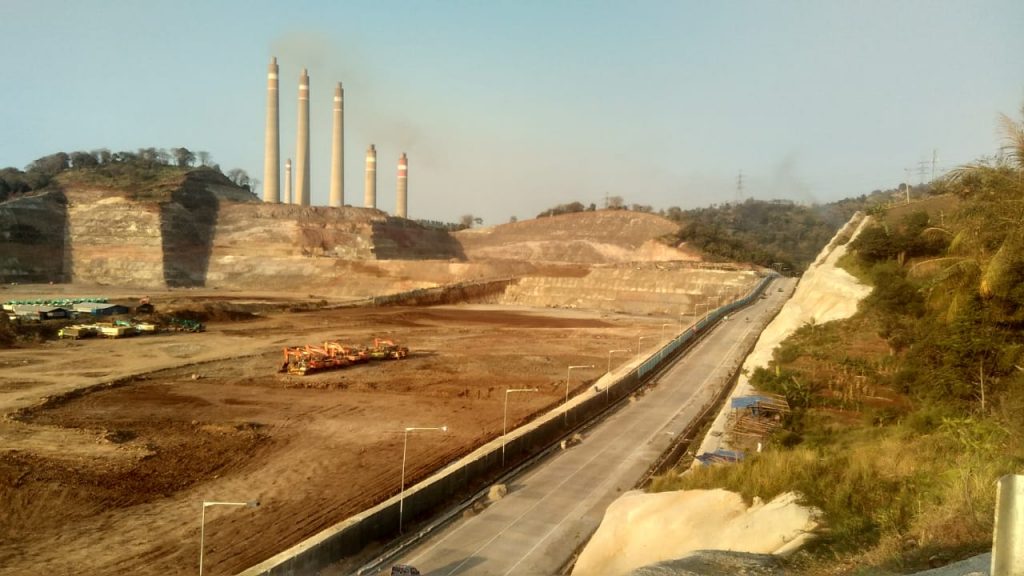 Banten Suralaya, September 2018
This 2,000 MW project is expected to use ultrasupercritical technology.
Location: Banten Province
Estimated cost: USD $3.5 billion
Financial close targeted: 2020 
Status: Announced
Completion expected: 2024
Take action!
Urge Korea to become a clean energy leader and withdraw from Jawa 9 and 10
---
Dear KEXIM, KDB and K-SURE,
We are calling on you to stop considering financing a new coal-fired power station, Jawa 9 and 10 in Indonesia.
This polluting coal project threatens the environment, and the lives and livelihoods of local communities. It also threatens to further pollute the air in Indonesia's capital, Jakarta, where the air quality has been ranked worst in the world. This massive coal plant alone will emit pollutants causing approximately 4,700 premature deaths over its operating life.
This project is also unnecessary, serving a region with a current electrification rate of 99.99%. With renewable energy fast becomes cheaper than coal across Asia, this coal-fired power station will soon become a stranded asset.
We all know that to maintain a liveable planet, we can't build any more power stations that use fossil fuels.  The Korean government must stop funding all coal power and support the clean energy transition around the world. 
KEXIM, KDB and K-SURE, don't fund Jawa 9 and 10! 
Sincerely,
Export Import Bank of Korea (KEXIM)
Korea Development Bank

Korea Trade Insurance Corporation (K-SURE)

Hana Bank of South Korea
DBS
Siemens Bank
Bank Mandiri
Bank Negara Indonesia
Exim Bank of Indonesia
Maybank
CIMB
Bank of China
Doosan Heavy Industries and Hutama Karya
Siemens (Control system)
---
Risks associated with the project
---
Community concerns and legal challenges
Jawa 9 and 10 forms a part of a legal action in Indonesia.  In July 2019, a civil suit was filed against the President, the governor of Jakarta and other officials for failing to address air pollution levels in Jakarta. Pending projects such as Java 9 and 10 have been cited as part of the problem.
A 2017 Greenpeace report models the negative impact of the coal-fired power plants that operate within 100 kilometres of Jakarta, and include the impact of pending projects.
The area around the project is an industrial area with several coal power projects:
660 MW Banten Serang supercritical coal power project
600 MW Banten Labuan coal power project
945 MW Banten Lontar subcritical coal power project
120 MW Merak Energi coal power project
200 MW PT Krakatau Posco Energy coal power project
400 MW PT Krakatau Daya Listrik coal power project
300 MW PT Dian Swastika Sentosa coal power project
40 MW Cilegon PTIP power station to power the Indorama petrochemical plant
300 MW Asahimas Chemical coal power project
1,982 MW Jawa 7 supercritical coal power plant (projected in service in 2020)
The issues with these projects will only be exacerbated by Jawa 9 and 10.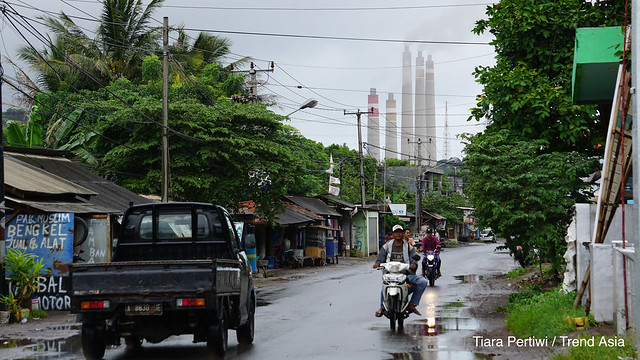 Banten Suralaya, March 2019; photo credit: Trend Asia

Wasted electricity, wasted investment
PLN's poor financial health
It's also clear that this overcapacity could significantly harm PLN's already poor financial health.
Because of the take-or-pay clauses in power purchase contracts, PLN has been criticised as potentially paying for unnecessary electricity. Even more farcical, as renewable energy becomes cheaper than coal power, (which the Carbon Tracker initiative estimates could happen for solar in Indonesia in less than 10 years) PLN faces the prospect of having to make these astronomical payments to coal power projects although the power sourced from them is more expensive.
PLN is facing financial pressure, even now. In April 2018, the Institute for Energy Economics and Financial Analysis released a further report showing that without government subsidies, PLN would have lost US$2.3 billion in 2016 and US$1.47 billion in 2017.
PLN's financial viability has serious consequences for the Indonesian state budget. The Korean government should be more concerned about promoting its Asian neighbour's financial hardship.
Negative effect of the Indonesian Rupiah crisis
Coal power, PLN and corruption in Indonesia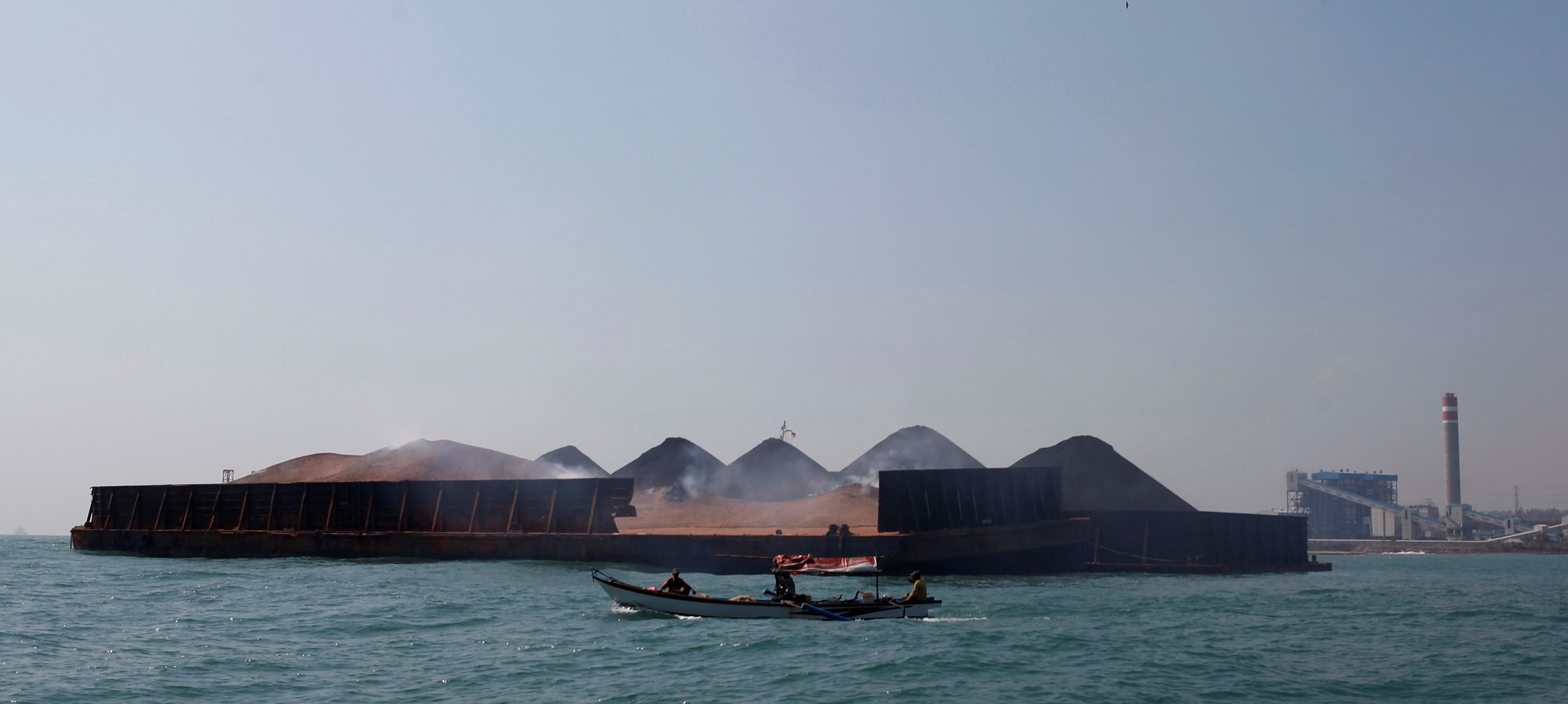 Coal barge on fire off the coast of Banten Suralaya, March 2019; Photo credit: Trend Asia

---
What should the Korean banks do?
---
Given these concerns, the Korean public institutions contemplating lending to this project should be considering the risks of Jawa 9 and 10 as an investment.  KEXIM, KDB and K-SURE should distance themselves from this project.
---
Data Handling
If you choose to participate in the petition, the information you enter would be sent to Korea Development Bank (KDB), Korea Export-Import Bank (KEXIM), and Korea Trade Insurance Corporation (K-SURE), and otherwise held solely by Market Forces.
Market Forces will communicate with participants of this campaign solely to update them on progress and further actions they can take. Market Forces may invite participants to join its general mailing list but this will not happen by default.
We use a leading global data management system provider, whose security guidelines with supporting procedures are aligned with the ISO 27001 standard.