By Julien Vincent, Executive director, Market Forces
Sydney Morning Herald/Age, 2 August 2018.
 2 August 2018
Transparency has never been superannuation industry's strong suit. Despite super being one of the biggest investments Australians make over their lifetimes, most of us have hardly any idea what our retirement savings are invested in, or the risks they're exposed to.
In May, the Productivity Commission called out the industry's poor levels of transparency, especially in relation to key areas of governance and funds' performance.
As the superannuation sector prepares to front the Financial Services Royal Commission next week, we can only imagine what revelations will ensue. But dealing with a sector so opaque about where and how it invests, happily taking its members super and fees while providing minimal information about what is done with their retirement savings, doesn't bode well.
A major emerging issue facing financial markets is climate risk. This includes impacts to the value of companies and assets as the world's economy re-orients to meet the goals of the Paris Agreement, as well as the predicted impacts of extreme long and short-term weather and climate events.
You'd expect super funds, empowered to grow our nest eggs over a period of decades, to be all over this issue. But if the responses of super funds to their members about how they're managing climate risk is any guide, super funds have turned the fob off into an art form.
But they have may have fobbed off the wrong man. Mark McVeigh is a 23-year-old landscape ecologist from Brisbane. Last year he used the Market Forces website to ask his superannuation fund, REST, whether it was considering climate change risks when making investment decisions.
Since REST's regulator, the Australian Prudential Regulation Authority, calls climate change an emerging "defining issue for financial stability", and The Economist Intelligence Unit has placed a damage bill of $4.2 trillion to $43 trillion between now and the end of the century, it seems reasonable that Mark would want to know what REST is doing to protect his retirement savings.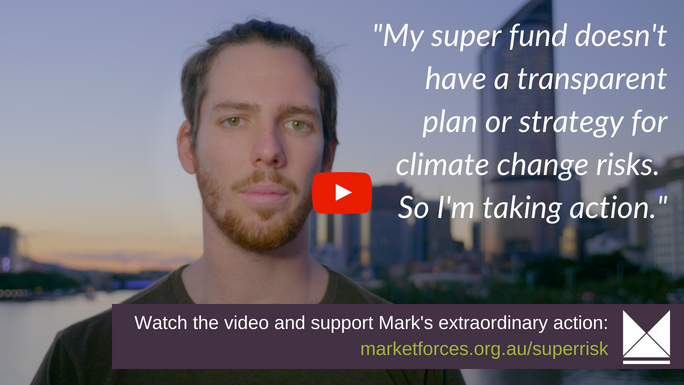 So when REST refused to answer his question, he wrote back and insisted. When his insistence hit a brick wall, he got a lawyer to press for answers on his behalf.
Eleven months later Mark and his lawyers, Environmental Justice Australia, ran out of patience and took REST to the Federal Court of Australia.
Of course Mark could have just switched to another superannuation fund that was clearly considering climate risk.
But instead he is determined to improve access to information for millions of REST members and, depending on the outcome of his court challenge, potential set a major legal precedent for an industry worth $2.6 trillion.
It's not just superannuation trustees that should be getting hot under the collar, company directors have been repeatedly warned of the need to manage and disclose climate risk and the warnings have not gone unnoticed.
Martijn Wilder of Baker & McKenzie has reported an uptick in clients concerned about client litigation.
"Company directors have been repeatedly warned of the need to manage and disclose climate risk and the warnings have not gone unnoticed."
Sarah Barker, special counsel at Minter Ellison, has warned Directors that the law already accommodates action to manage climate change as a financial issue.
"If this is news to any business or board, they would be well advised to accelerate their understanding of the issue before enforcement proceedings begin to flow," she said
A shot across the bow came last year as shareholders took Commonwealth Bank to court over its failure to consider climate change as a material business risk in its 2016 financial report.
That was a failure on the part of the bank's directors and the matter was only resolved when CBA released its 2017 financial report which did consider climate change as a material business risk.
Whether it's at the hand of regulators pulling companies into line or stakeholders suing, transparency from companies and the super funds that own them about how climate risk is being managed needs mainstreaming, fast.
First published in the Sydney Morning Herald on 2 August 2018.