Get involved with Market Forces
Market Forces relies on the donations of our generous supporters to continue our fight to get money out of dirty fossil fuel projects. If you'd like to help us by becoming a donor, please click the button below.
Join the Market Forces team
VOLUNTEER WITH US
Thanks for your interest in volunteering with Market Forces. If you sign up you will be added to a list of volunteers and we will contact you with opportunities as they come up.
Right now with the Covid-19 situation in Australia, our capacity and strategy for actions have changed in accordance with social distancing and public health requirements. Lots of our activism and strategies have moved online. This is impacting our volunteer program, so we may not be able to get back to you with opportunities straight away.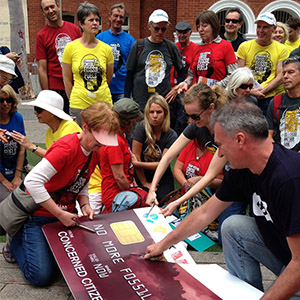 We can help you use your power as a shareholder to change how companies behave.
If you are keen to hold companies involved in the fossil fuel industry and their financial supporters accountable for their actions, click the button below.
We like to be as active as possible in the anti-fossil fuel movement and wider community. We regularly hold events and public actions, and also contribute to those held by other groups. Of course, the more support we can get at these events the more powerful they are.
So visit our latest news page to keep up to date with everything we've been up to, what we have coming up and how you can get involved. Don't forget to also subscribe to our e-list in the right-hand column.