Adaro Energy Indonesia (Adaro) held its AGM in April 2022, confirming business plans consistent with the failure of the Paris Agreement. Despite evidence to the contrary from the IEA and other experts, the company stated its view that in the long term, the fundamentals for coal are intact and coal is needed to sustain the economy.
Adaro's subsidiary, Saptaindra Sejati, is seeking to refinance a US$350 million loan – a loan which banks that purport to be sustainable, such as SMBC Group, Mizuho, HSBC, CIMB, DBS, OCBC, UOB, Bank of China and Bank Mandiri should not be participating in. Several of Adaro's investors, similarly, have commitments to have net zero carbon emissions by 2050, but continue to invest in a company with 1.1 billion tonnes of coal reserves. The potential emissions of Adaro's coal reserves is 2.18 GtCO2-e, almost the equivalent of the annual emissions of India.
Use the form on this page to tell Adaro's current lenders that they must rule out further financing of Adaro and its subsidiaries.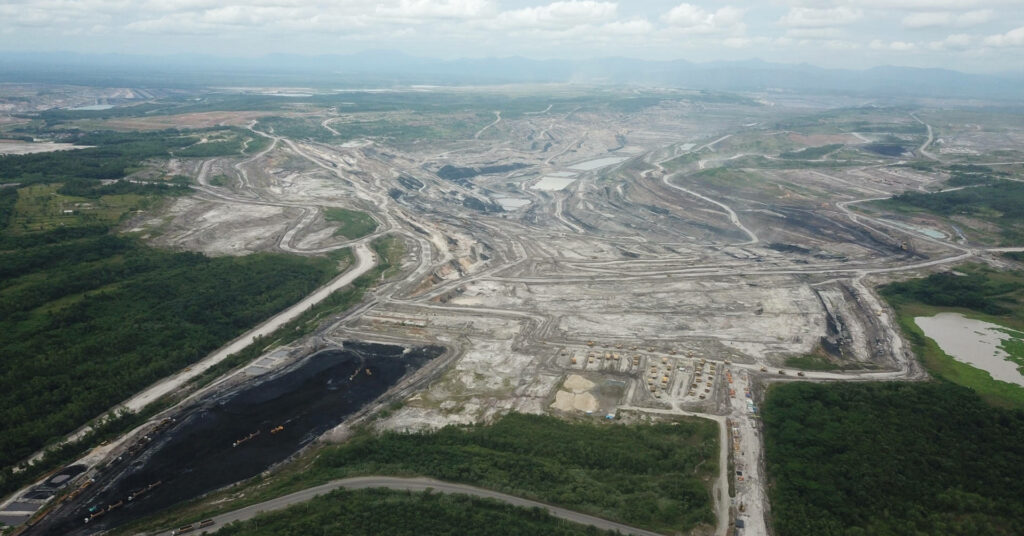 Take action
Tell Adaro's current lenders that they must rule out further financing of Adaro.
No plans for phasing out coal
While Adaro has mentioned planning to transition to a 'green' business, it has not disclosed any plans with metrics and targets as to how it would shift from being a coal giant with 96% of its revenue from coal mining to a sustainable business.
Adaro is planning to increase its coal production this year to 58-60 Mt, higher than last year's production at 52.7Mt. Adaro also stated in its 2021 Annual Report that coal remains in the 'DNA' of the company. In 2021 Adaro was still exploring new coal in an undeveloped acreage in East Kalimantan through Bhakti Energi Persada, of which Adaro is a part owner.
Unrealistic coal outlook forecast
Adaro's coal outlook shows a forecast that sees virtually flat global coal trade over the coming decade, which conflicts with the IEA's Net Zero by 2050 scenario showing global coal trade falling to less than half of 2020 levels by 2030. Adaro's coal trade forecast is arguably even incompatible with the IEA's 2.7°C STEPS scenario, which sees global coal demand falling by 8% to 2030, suggesting the company's business plans are based on a catastrophic global warming scenario.
Adaro's coal mining operations impact on communities
Like the fallout of climate change in general, Adaro causes much suffering to communities. The company has deprived villagers of their livelihoods for the sake of the coal that lies beneath their homes. When all the coal has been extracted from a mine, it leaves behind desolate open-mining pits, which coal companies are obliged by law to restore and rehabilitate to the previous ecosystem. Only 18% of Adaro's post-mining pits have been rehabilitated.
Adaro coal mining operations tear down forests, degrading the land. Last year, at least 24 people were killed, and more than 113,000 people were displaced due to a massive flood in South Kalimantan, on the island of Borneo. The immense suffering from the floods has been linked to degraded land in the water catchment area. Adaro is one of the mining companies that operate its coal mines near the river catchment area.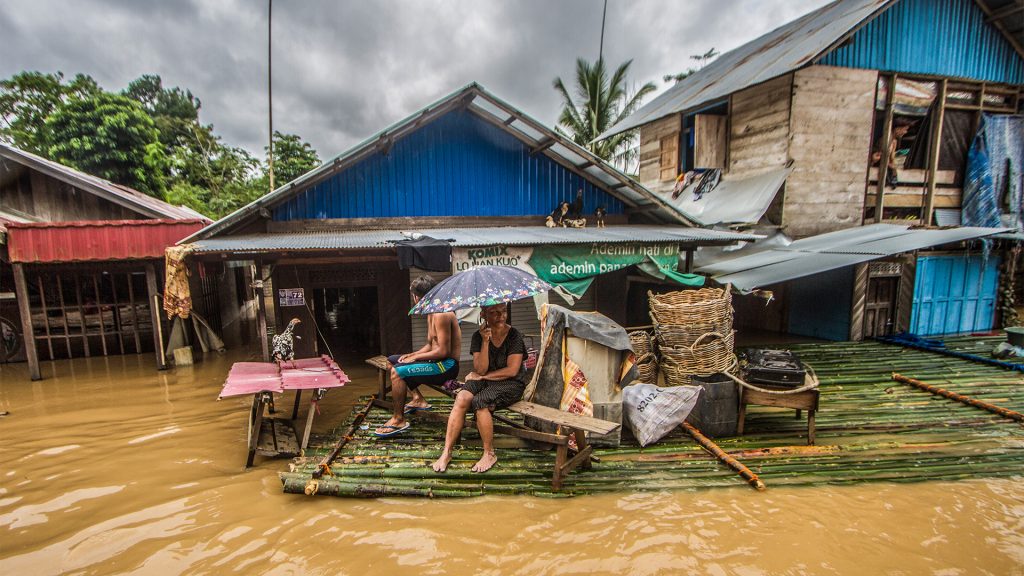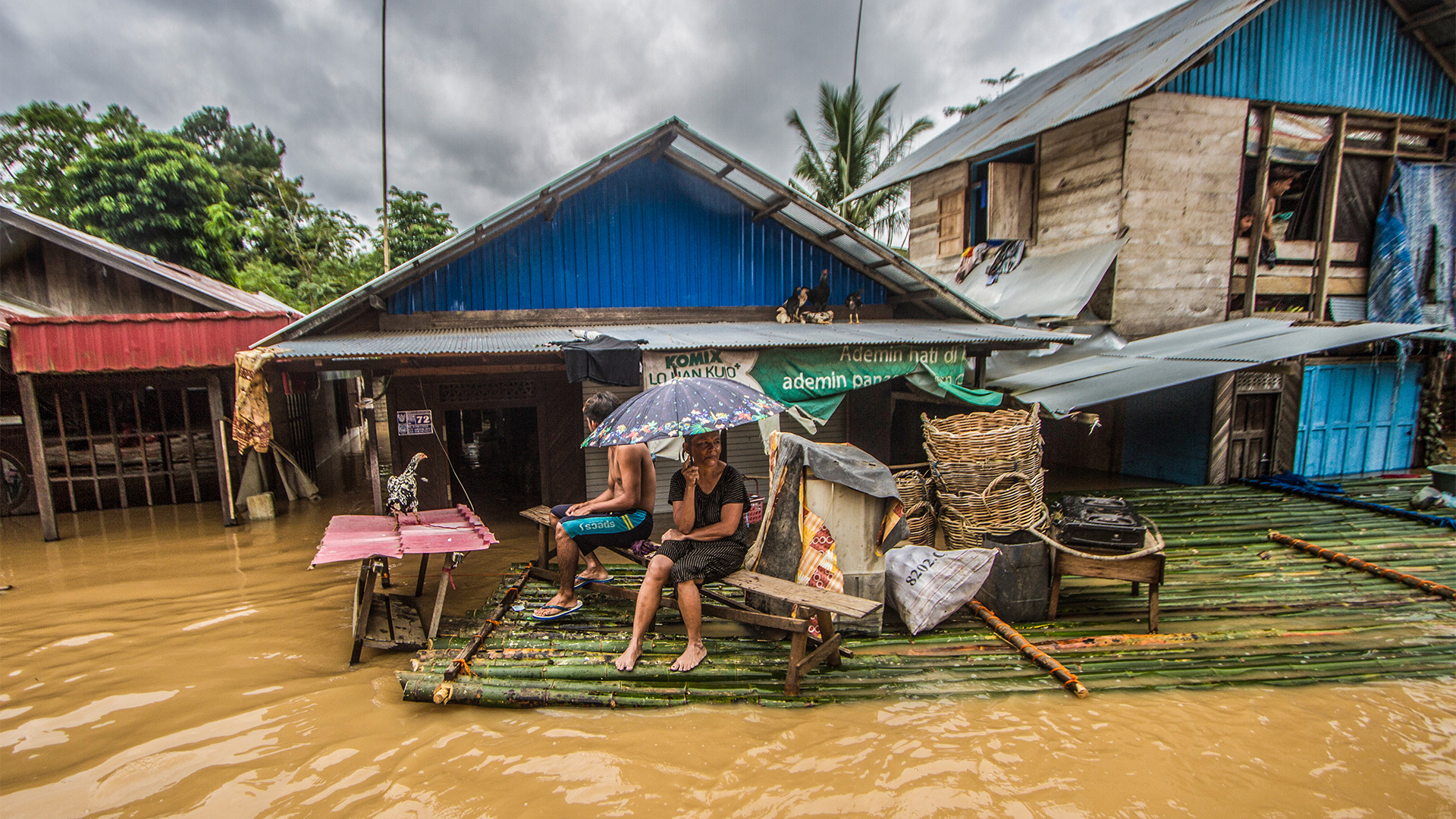 Adaro is seeking to refinance its debt for its subsidiary
Saptaindra Sejati, Adaro's subsidiary, the pure-play coal contractor, is seeking to refinance its US$350 million credit facility agreement, which is due to mature in July 2022. Last year Saptaindra Sejati produced 43.4 Mt of coal. Tell Adaro's current lenders that they must rule out further financing of Adaro.
Adaro loans 
List of Adaro loans since 2006  
| | Total aggregate debt (US$ million) | Number of deals | Year of most recent deal |
| --- | --- | --- | --- |
| OCBC Bank | $786 | 18 | 2020 |
| DBS Bank | $776 | 22 | 2020 |
| Sumitomo Mitsui Banking Corporation | $713 | 20 | 2021 |
| Bank of Tokyo-Mitsubishi UFJ | $686 | 18 | 2018 |
| Bank Mandiri | $540 | 16 | 2021 |
| United Overseas Bank | $449 | 18 | 2021 |
| Standard Chartered Bank | $434 | 13 | 2021 |
| Australia and New Zealand Banking Group | $378 | 14 | 2020 |
| HSBC | $322 | 15 | 2021 |
| CIMB Group | $250 | 10 | 2021 |
| Mizuho Financial Group | $163 | 11 | 2020 |
| ABN Amro | $93 | 3 | 2010 |
| Citigroup | $93 | 8 | 2021 |
| Malayan Banking Bhd | $75 | 1 | 2021 |
| CTBC Bank | $62 | 6 | 2018 |
| Bank of China | $61 | 4 | 2021 |
| NordLB | $56 | 3 | 2010 |
| Chinatrust Commercial Bank | $53 | 6 | 2013 |
| Korea Development Bank | $52 | 5 | 2018 |
| Bank Negara Indonesia PT | $49 | 1 | 2021 |
| ING Group | $45 | 1 | 2014 |
| Credit Agricole Group | $45 | 3 | 2011 |
| Bangkok Bank | $37 | 3 | 2010 |
| BNP Paribas | $35 | 1 | 2009 |
| Bank Permata Tbk PT | $35 | 2 | 2021 |
| Qatar National Bank | $35 | 2 | 2021 |
| Indonesia Eximbank | $30 | 1 | 2008 |
| Bank CIMB Niaga Tbk PT | $27 | 1 | 2020 |
| Maybank | $20 | 1 | 2014 |
| Commerzbank | $19 | 3 | 2010 |
| Bank Resona Perdania | $15 | 1 | 2006 |
| Export Development Canada | $15 | 1 | 2006 |
| Bank Rakyat Indonesia | $15 | 1 | 2021 |
| Bank Lippo | $14 | 3 | 2010 |
| Societe Generale | $10 | 2 | 2011 |
| Bank Danamon | $8 | 1 | 2021 |