2 May 2019
Last year, AMP appointed this man as its new Chairman: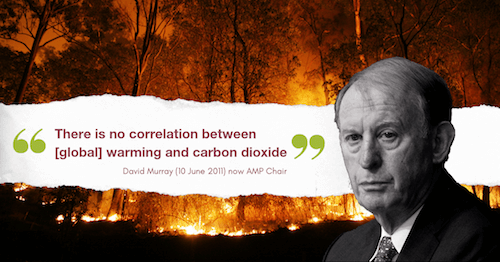 With a history of climate-sceptic comments like this, it's unsurprising that Murray was challenged over his views on climate change at AMP's annual general meeting in Sydney today.
He was given every opportunity to redeem himself when shareholders asked whether he still holds these controversial views. But instead, Murray continually asserted "my opinions about climate change are irrelevant" – failing to distance himself from the level of scepticism we've seen from him in the past.
If only his views were, in fact, irrelevant. But while climate scepticism has no place in any position of leadership, it's even more concerning to see it attributed to the top job at one of Australia's biggest financial institutions.
Financial regulators and lawyers have been unequivocal in defining climate change as a material risk that must be properly managed by financial institutions and their directors. Besides, as one shareholders put it, if a chair doesn't share their views with the board – what value do they even offer?
According to today's shareholder vote, at least 12% of the company's owners see David Murray's appointment has the potential to do more harm than good. Poor performance of AMP's share price since he joined in mid-2018, on top of the company's decision to sell its life insurance business without seeking shareholder approval, have been significant drivers of opposition from investors. But Market Forces made sure investors were also aware of Murray's climate views and called for votes against his election on climate risk grounds.
A director's duties
Shareholders at the AGM questioned Murray's ability to manage climate risk, referring to how regulators and lawyers have made it abundantly clear that directors must already be considering and managing this risk. One shareholder quoted RBA Deputy Governor Guy Debelle's March statement that "both the physical impact of climate change and the transition are likely to have first-order economic effects".
But Murray deftly avoided any and all questions alluding to the financial risks posed by climate change. Like a broken record, the chairman kept referring to AMP's sustainability report as evidence that the board had done its token duty by mentioning climate change.
Unfortunately, this report is weak at best, failing to disclose detailed assessments of the potential financial impacts that physical and transitional climate risks could have on AMP's business.
Having already seen the company's share price plummet, one would expect to see AMP looking more carefully at all future risks to their business. And as the chair at the helm, Murray bears a huge weight of responsibility – it's now well accepted that company directors have a duty to consider and act on climate risk.
How well can Murray be expected discharge this duty when he still questions the very science of climate change?
Check out this report by ABC's The Business on the AGM featuring Ms Coral Bleach. You can also watch a clip below: