OPINION | Munira Chowdhury, Acting Research Coordinator
When I mention Bangladesh, people think of a country prone to devastating floods and cyclones. It's true. Right now, millions of Bangladeshis are stranded without safe drinking water and food after the worst floods in more than 120 years has turned parts of the country into an inland sea.
These early monsoon floods are unusual. But it's terrifying that record breaking severe floods and cyclones are becoming normal and happening more often.
While Bangladesh reels from climate disasters, Market Forces research shows it has become a dumping ground for dirty fossil fuels, coal and gas, the main culprits behind our warming planet. Despite having an abundance of potential for solar and wind energy, Bangladesh is ranked in the top five for global coal and gas power projects in development (by megawatt), according to the Global Energy Monitor.
Most of these expansionary fossil fuel projects are being pushed by companies from the United States, Japan and China. Japanese companies are playing a lead role.
This week, investors of Japan's biggest corporations will vote on climate-focused shareholder resolutions. Mitsubishi Corporation, TEPCO and Chubu Electric, joint venture owners of JERA and SMBC Group have all made variations of rosy statements about Net Zero carbon emissions goals by 2050.
Each one of these companies are facing shareholder resolutions due to their involvement in or financing of new fossil fuel infrastructure, including in Bangladesh. The proposals are calling on the companies to truly align their business strategies with Net Zero by 2050 and the goals of the Paris Climate Agreement. An increasing number of investors are calling on companies to take more concerted action.
In Bangladesh, around 20 gigawatt (GW) of brand new, polluting coal and Liquified Natural Gas (LNG) power projects are slated for construction in the coastal region Chattogram in south-eastern Bangladesh and two thirds of Bangladesh's pipeline projects are focused here.
The new power plans rely on imported coal and LNG, which require expensive new infrastructure.
The large Japanese companies and US-based conglomerate General Electric are behind the plans threatening to lock Bangladesh into decades of unnecessary and unwanted pollution. The climate impact globally is colossal. The emissions from the planned coal and LNG power projects' lifetime operation in Chattagram region is estimated at 1.4 billion tonnes of carbon dioxide equivalent to five years of Bangladesh's entire emissions.
These plans contradict Japan's commitment to end coal financing made through the G7 in 2021. It's also misaligned with the International Energy Agency (IEA)'s calls to stop adding fossil fuels supply for a net-zero emissions by 2050 scenario.
Adding fuel to the fire, energy experts are warning that proposed and existing LNG infrastructure risks becoming economically unviable. The worst among these projects are the controversial Matarbari coal-fired power projects.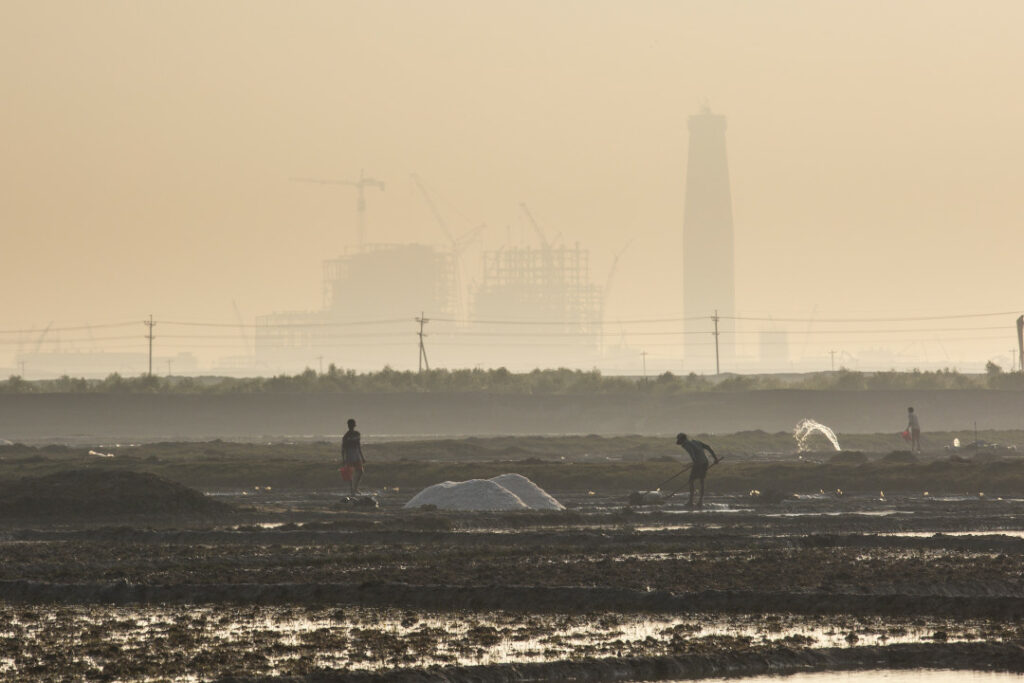 Salt farmers working near the Matarbari coal-fired power project construction site in Cox's Bazar District, Bangladesh. Photo credit: Noor Alam
The Japanese International Cooperation Agency (JICA) funded Matarbari 1 project is costing US$6 billion, up to 10 times more than comparable plants in China. Building these projects is extremely costly. It doesn't stack up as a practical solution to meet Bangladesh's future energy needs. 
Bangladesh currently spends around US$1 billion a year on climate adaptation, around the same sum needed to build 1 GW of LNG to power projects on average. And that's without the ballooning additional cost of importing expensive gas.
Disruptions in the global LNG market cause shortages and steep price rises, as demonstrated by Russia's recent invasion of Ukraine. That's billions of dollars at risk. Money Bangladesh could use for climate solutions like renewable energy and mitigating the impacts of worsening climate disasters.
Bangladeshi families are also coping with a tragic toll. Air pollution is claiming thousands of lives.
Bangladesh is the most polluted country in the world, according to the global Air Quality Life Index. Air pollution takes an average of seven years off a Bangladeshi's life expectancy. The country's 165 million people are living with air quality standards that exceed WHO's safe recommendation.
If built, health impacts related to air pollution from Matarbari 1 and the proposed Matarbari 2 projects would cause an estimated 6,700 premature deaths according to the Centre for Research on Energy and Clean Air.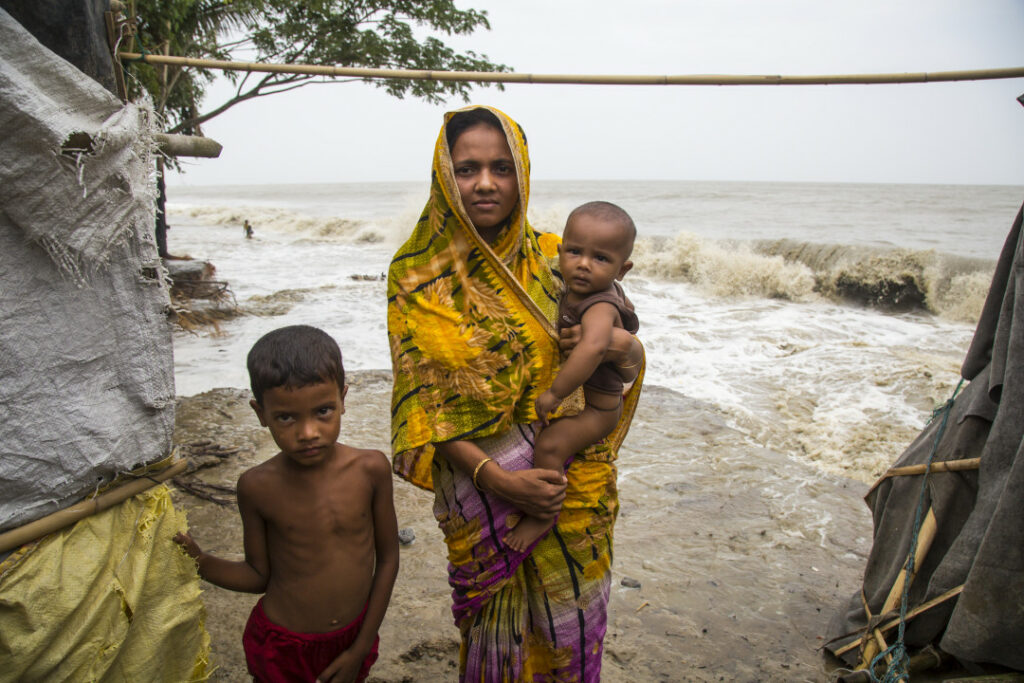 "My house has collapsed due to sand removal for the construction of the Matarbari coal power project." – Saleha Begum, Matarbari, Bangladesh. Photo credit: Noor Alam
Bangladesh already has more than 100 per cent of its electricity coverage for the country. Last year, 10 coal power projects were cancelled by the Bangladeshi government.
Bank of China announced it "will no longer provide financing for new coal mining and new coal power projects overseas". Sumitomo Corporation, the company building Matarbari 1 coal project, committed to never owning or building any new coal plants, including Matarbari 2.
Evidence shows that Bangladesh can meet its future energy needs with renewable sources like wind and solar, which do not require expensive and damaging fossil fuel imports. The country has potential for 30 GW of solar energy within 20 years, according to the government. That's more than the country's total power capacity. But this is not fast enough.
Bangladeshis deserve to be safe and breathe clean air. Wealthy nations like Japan and the United States need to support Bangladesh to meet its new power needs with clean, cheap and climate-friendly technologies already enjoyed by much of the world.
---
First published in The Diplomat.