Melbourne, 16 November 2017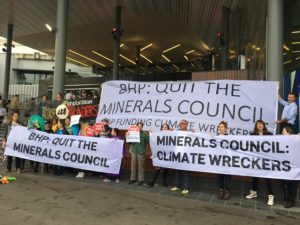 Yesterday's BHP Billiton Annual General Meeting in Melbourne was notable for protests outside, and unhappy shareholders inside, who questioned the company's record on climate change, its relationship with indigenous peoples and its response to the Samarco dam disaster in 2015.
BHP is Australia's largest diversified mining company, and is a significant producer of fossil fuels, including coal mining in Australia and Colombia, and petroleum production in Algeria, Australia, Trinidad and Tobago, UK and USA. They also produce uranium, iron ore, copper and nickel in Australia and various countries around the world.
As the fifth largest company on the ASX, nearly every super fund in the country has a considerable stake in BHP. For example, AustralianSuper holds a massive $864 million of BHP stock and the Future Fund holds $426 million.
Check out SuperSwitch to see if your super fund is invested in BHP.
Our friends at the Australasian Centre for Corporate Responsibility (ACCR) filed a shareholder resolution with BHP, seeking a review of their industry body memberships, particularly those that took a contrary position to BHP's supposedly progressive stance on climate change. Chief offender among these groups is the Minerals Council of Australia, which has obstructed sensible climate policy in Australia for well over a decade. You can read ACCR's response here.
As expected, ACCR were forced to wait until the end of the meeting to confirm the vote on their resolution. 10 per cent of the company's shareholders supported the resolution, including significant international investors such as CalPERS, HSBC and the Church of England. Though it may seem like a low vote, most shareholder resolutions sail through with 99 per cent of votes cast, so 10 per cent is a genuine slap in the face to the BHP board and its executives.
The company will conduct a review of its industry body memberships by the end of this year, so time will tell how seriously the clear signal from shareholders is taken. However, the forced resignation last month of former CEO Brendan Pearson from the Minerals Council should be seen as a victory.
Shareholder Michael Staindl cited the landmark study in 2015 published in Nature magazine which found that to limit global warming to 2 degrees, a third of global oil reserves, half of gas reserves and over 80% of existing coal reserves should remain unburned out to 2050. The board was asked how the company's US$2.7 billion expenditure on petroleum exploration was in anyway consistent with the carbon budget implied by the Paris Agreement. Without a hint of irony, chairman Ken MacKenzie responded that "in every plausible scenario, there will be ongoing demand for fossil fuels". See his response below.
If we are to limit global warming to 2 degrees, fossil fuel consumption will have be drastically curtailed. And yet, BHP believes there will be sufficient demand not just for the company to survive, but remain profitable.
In recent years, investors have been demanding greater climate risk disclosure from companies like BHP. Unlike many of its Australian peers, BHP has actually been ahead of the curve in this regard. The company produced scenario analysis in 2015, which unsurprisingly showed that the company will thrive in the transition to a low carbon economy. Yet CEO Andrew Mackenzie took aim at scenario analyses focus on a company's assets, arguing that investors should be judging a company by its staff! As much as a company needs good staff who understand the transition, Mr Mackenzie's comments reek of arrogance, particularly as BHP is currently exploring for high cost, deep water petroleum in the Gulf of Mexico. Investors would be wise to remain focussed on BHP's exploration expenditure than its staff, who clearly haven't yet come to terms with the carbon budget.
The board was also asked about the underreporting of fugitive methane emissions from its shale gas fields in the USA. Numerous studies have found that the emissions factors used by the industry to estimate methane leaks from gas infrastructure are drastically low. Even climate villain ExxonMobil has committed to monitor and reduce methane leaks across its gas infrastructure. Yet CEO Andrew Mackenzie bizarrely responded that there was ongoing 'debate' about the contribution of methane to global warming – despite having 28 times the warming potential of CO2. Was it deflection or denial? We're not sure.
The board was also asked about its treatment of indigenous peoples in Latin America. BHP is a joint owner of Colombia's largest open cut coal mine – Cerrejon – which has displaced scores of communities, caused numerous health problems due to coal dust, and stymied local agricultural businesses. BHP blamed the coal dust on drought, and claimed that people needed jobs. But at what cost?
BHP is looking to open a copper mine in the Intag region of northwest Ecuador, despite widespread opposition from local communities. Asked whether it would proceed without prior and informed consent, the chairman refused to discuss the issue and quickly shut the shareholder down.
The board was also asked to explain what actions it had taken to ensure that a repeat of the Samarco dam disaster in Brazil never happens again. The chairman claims to have improved tailings management globally following the disaster. He also said the company had set aside over US$1 billion for compensation and cleanup, and that 300 families have already been compensated. He refused to disclose the amount that future litigation would cost the company.
In conclusion, BHP's claims of transparency and good corporate citizenship surely must come into question after this meeting. Environmental NGOs have every right to be suspicious, given the MCA's attacks in recent months. BHP must act on the MCA's recalcitrance by withdrawing its membership.