Insurance industry and climate change
Australia's insurance companies seem to have their heads in the sand on climate change, despite the significant impact its having on their bottom lines.
Climate change's impact
It's widely known that the effects of climate change are increasing the frequency and severity of natural disasters, but insurance companies are struggling to keep up with this changing environment.
Each of the major general insurers has incurred significant losses in the last five years, as the amounts they've paid out on claims for natural disaster events have far exceeded their provisions for such claims. By significant losses we mean:
QBE – $1.29 billion
Suncorp – $1.12 billion
IAG – $364 million
Not small change by anyone's standards.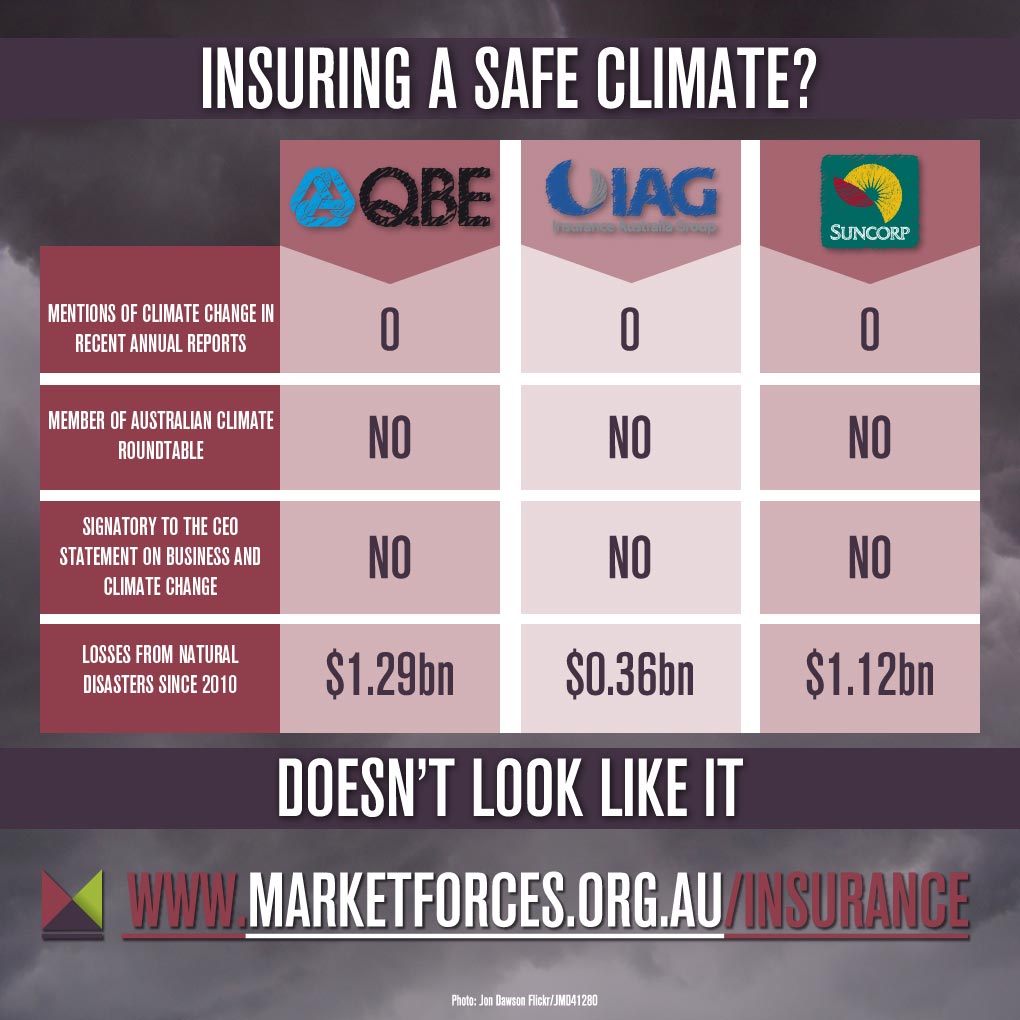 Problems with pricing the risks
These losses highlight the growing difficulty insurers are facing as they try to predict potential payouts and price their premiums accordingly. The inability to properly price risks has raised concerns that some of the most disaster prone areas of Australia may be inadequately covered by insurers.
The problems facing the industry have been noted in a September 2015 report published by the Bank of England's Prudential Regulation Authority (PRA), which found that insurance losses from natural disasters in the UK have increased five-fold since the 1980s, and predicted that these losses will only increase in a changing climate.
The report also highlighted two further categories of risk posed by climate change: transition risks and liability risks. Transition risks arise from the transition to a low-carbon economy, such as the repricing of carbon intensive assets as some reserves are left stranded under strict carbon budgets. Liability risks are posed by the increasing likelihood of claims for loss and damage suffered as a result of climate change being levelled against companies and directors who have significantly contributed to the problem.
Take action!
Australia's big insurance companies are making extreme payouts on extreme weather, but are still invested in the fossil fuel industry that is making climate change worse.
Email the big insurance companies here
Insurance companies are heavily exposed to the risks that potentially stranded fossil fuel assets pose to their investment portfolios.
General insurers in Australia manage in excess of $80 billion, making these companies some of the largest asset managers in the country. Their investment portfolios are highly likely to be exposed to fossil fuel companies, through both equity and debt, and they are becoming increasingly involved in fossil fuel infrastructure projects like coal and gas terminals, railways and pipelines.
While all three major general insurers participate in the Carbon Disclosure Project (CDP), none disclose scope 3 emissions, which would include the businesses they underwrite and their investment portfolios.
Click through the topics at the bottom of the page to find out more about how Australia's insurers are failing to adapt to the challenges posed by climate change.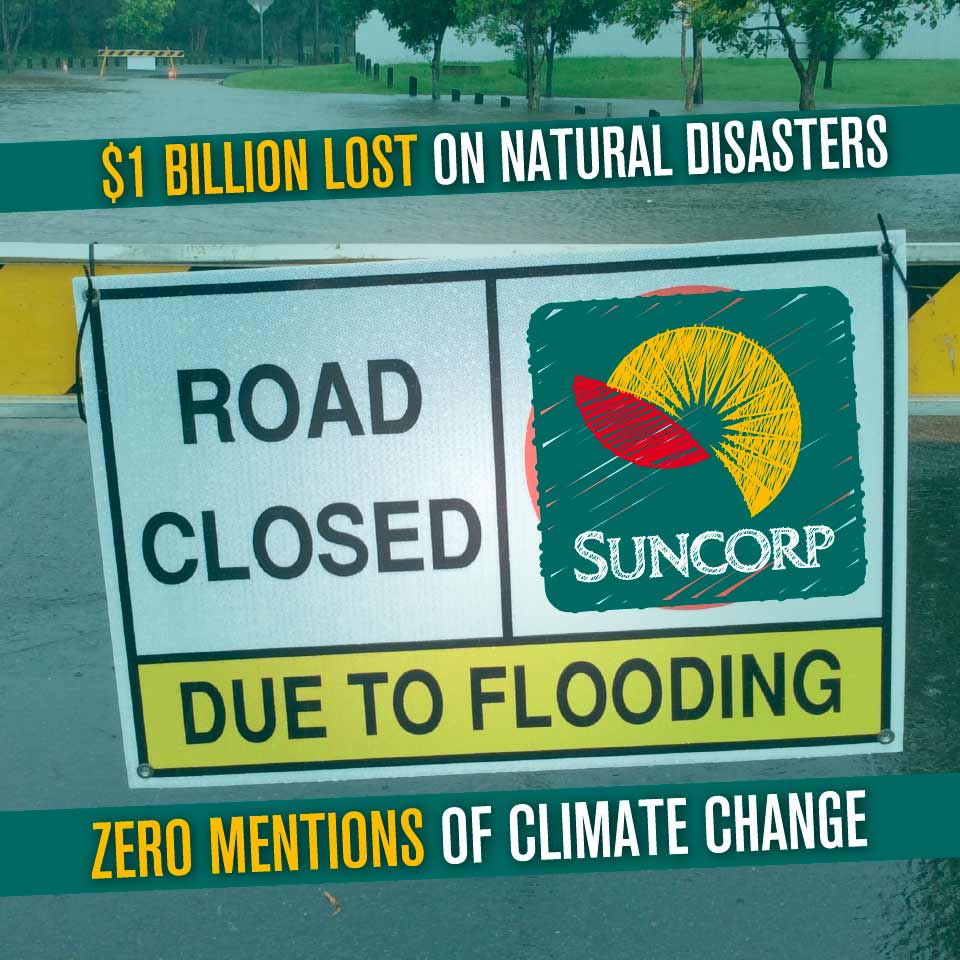 Climate change: made possible by QBE
Ahead of QBE's AGM in May 2016, activists gave the company's headquarters a colourful new rebranding, illustrating how QBE was making climate change possible through its underwriting of major fossil fuel projects.
Posters bearing the slogan "made possible by QBE", a company favourite, were put on display outside the building in Sydney's financial district as staff of the company arrived at work. The posters connected QBE to climate impacts such as coral bleaching, bushfires and major coal mining projects.
Find out more about the action at marketforces.org.au/qbe.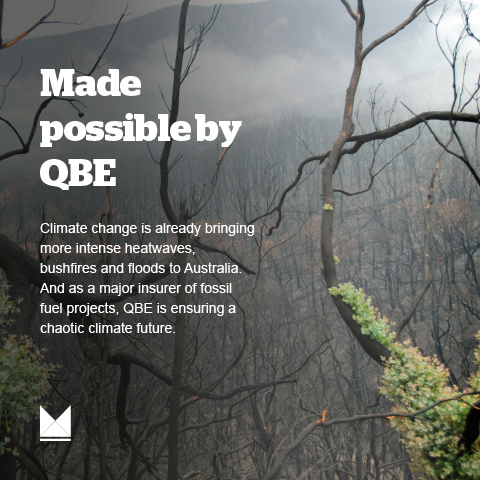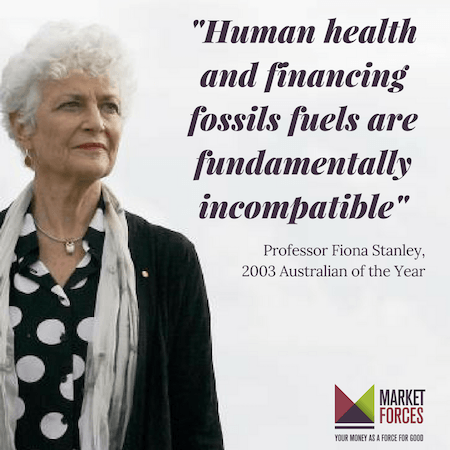 Insurers facing questions from shareholders
Both Suncorp and IAG faced questions from the floor at their annual general meetings in 2015. Here's how they fared:
Frontline
The insurance industry is on the frontline of climate change, as their profitability will continue to be impacted by natural disasters. Endlessly increasing premiums until customers are priced out, or not offering coverage at all are not long-term solutions.
We would expect the industry to be consistently outspoken advocates for tough action on climate change, which includes lobbying government, publishing research on climate change impacts and speaking publicly in favour of carbon pricing. We also expect the industry to take climate change seriously in their business – stop underwriting fossil fuel projects, stop investing in fossil fuel companies, and start investing in renewable energy.