Just like the big banks, insurance companies play a pivotal role in enabling fossil fuel projects. Two of Australia's big three insurers, QBE and Suncorp, provide the insurance that allows big fossil fuel projects to get off the ground and continue operating. Along with the other major Australian insurer, IAG, these companies also invest in the fossil fuel industry through their considerable share portfolios.
---
Take action
Australia's big insurance companies are making extreme payouts on extreme weather, but are still invested in the fossil fuel industry that is making climate change worse.
---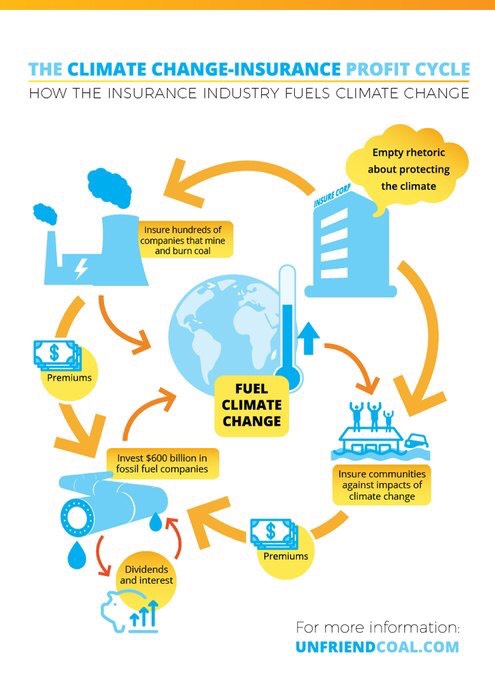 We're calling on Australia's major general insurers, IAG, QBE and Suncorp, to:
Rule out underwriting projects that expand the fossil fuel industry*;

Plan to reduce underwriting of the fossil fuel industry in the future consistent with the Paris Agreement*;

Divest from fossil fuel assets in its investment portfolio, and use that money to invest in renewable energy; and

Take a leading role in the public debate on climate change, calling for action from Australian governments and businesses to limit global warming as much as possible;

Educate customers about the effects of climate change on premiums, and participate in risk mitigation measures.
*QBE and Suncorp only – IAG doesn't underwrite fossil fuel projects.
Australia's insurers being left behind
Regulators, including APRA here in Australia, have started to wake up to "potentially system-wide" financial risks posed by climate change, and are calling on the insurance industry to take its rightful position as a leader in the public discourse on the issue.
Some significant steps to reduce exposure to climate risk have been made by international insurers, with the likes of AXA and Zurich leading they way by refusing to underwrite coal companies. Insurance companies around the world have now committed to divesting a total of around AUD$30 billion from coal and oil sands companies.
Despite this international movement, and climate risk warnings from the likes of APRA, Australia's big insurers are missing in action when it comes to climate change. Our major insurers continue to support even the most emissions intensive fossil fuel projects and companies, and – along with the Insurance Council of Australia – they've been quiet in the public discourse around climate change and the risks it poses.
"A +4°C world is not insurable. As a global insurer and investor, we know that we have a key role to play."Thomas Buberl, AXA CEO
International insurance companies divesting from coal
Allianz
Axa
Aviva
Generali
Legal & General
Lloyd's
Munich Re
Natixis
SCOR
Storebrand
Swiss Re, Zurich
It's widely known that the effects of climate change are increasing the frequency and severity of natural disasters. But insurance companies are struggling to keep up with this changing environment, as each of the major general insurers has been hit hard by natural hazard claims recently.
In 9 of the last 10 years, Suncorp have under-provisioned for natural hazards, with claims exceeding provisions by a total of $2 billion over that timeframe.
During that same period, IAG's annual natural hazard payouts have exceeded provisioned amounts 8 times, with the shortfall totalling $1.2 billion.
QBE doesn't report its provisioning in the same way as the other two big insurers, but we know that since 2010, QBE has paid out $12 billion on natural hazard claims. This equates to 11.4% of the company's Net Earned Premium, which is a huge jump from the 8.1% of Net Earned Premium that was paid out on natural hazards in the 7 years before 2010.
These figures highlight the growing difficulty insurers are facing as they try to predict potential payouts and price their premiums accordingly. The inability to properly price risks has raised concerns that some of the most disaster prone areas of Australia may be inadequately covered by insurers.
The problems facing the industry have been noted in a September 2015 report published by the Bank of England's Prudential Regulation Authority (PRA), which found that insurance losses from natural disasters in the UK have increased five-fold since the 1980s, and predicted that these losses will only increase in a changing climate.
The report also highlighted two further categories of risk posed by climate change: transition risks and liability risks. Transition risks arise from the transition to a low-carbon economy, such as the repricing of carbon intensive assets as some reserves are left stranded under strict carbon budgets. Liability risks are posed by the increasing likelihood of claims for loss and damage suffered as a result of climate change being levelled against companies and directors who have significantly contributed to the problem.
Climate change: made possible by QBE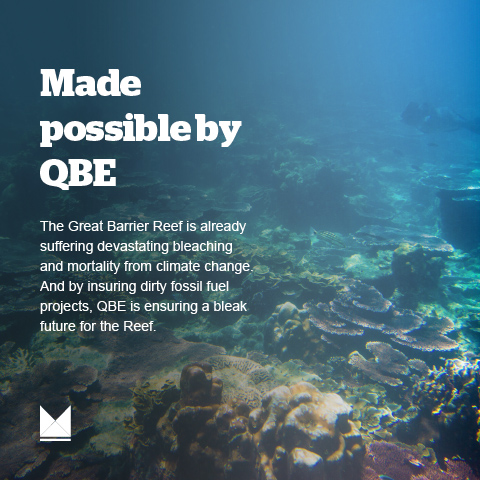 Divest for health