Climate change: made possible by QBE
Much like the major banks, insurance companies play an essential role in determining whether fossil fuel projects go ahead.
But there's something very different about insurers. They are connected to both the causes and impacts of climate change, paying out in the tens of millions of dollars at a time on extreme weather events, which are being made more frequent and intense as a result of climate change.
Why would insurance companies underwrite projects like oil rigs and coal mines, that pose massive financial risks to the company, not to mention the risks faced by humanity through climate change? QBE is a good example of who to ask first: until recently, they prided themselves on supporting dirty fossil fuels.
QBE Supporting Adani!
At their annual general meeting in Sydney, QBE revealed that even though it has not yet been approached to underwrite the Carmichael mega mine, it has an ongoing relationship with its owner, Adani. The insurer, which operates globally and is a major underwriter of fossil fuel infrastructure, supports Adani's businesses in India, and some of their cargo ships.
Adani is going to need insurance at every point of its plans to build the Carmichael mine and export it to power stations in India and around the world. QBE's existing relationship means it it highly likely that Adani would approach the company in future.
We're calling on QBE to:
Rule out underwriting projects that expand the fossil fuel industry;
Plan to reduce underwriting of the fossil fuel industry in the future consistent with the Paris Agreement;
Divest from fossil fuel assets in its investment portfolio, and use that money to invest in renewable energy; and
Take a leading role in the public debate on climate change, calling for action from Australian governments and businesses to limit global warming as much as possible;
Educate customers about the effects of climate change on premiums, and participate in risk mitigation measures.
QBE, more than most, should understand the risk of climate change and the urgent need for strong action to curb emissions. It is in a unique and powerful position to genuinely combat climate change and safeguard its own business. But to do so, it must take serious action internally and advocate publicly for comprehensive policy change.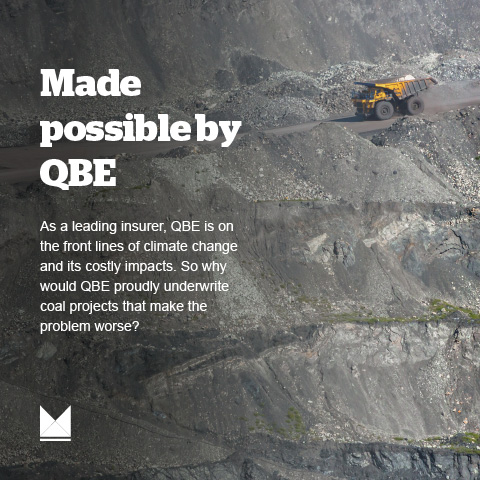 In February 2017 the Australian financial system regulator APRA spoke out about the "potentially system-wide" financial risks posed by climate change. According to the regulator, these risks "include the potential exposure of bank's and insurers' balance sheets to real estate impacted by climate change and to re-pricing (or even 'stranding') of carbon- intensive assets in other parts of their loan books". Regulatory guidance has also been provided overseas, with the Bank of England and Californian state government leading in the area.
Some moves to reduce exposure to climate risk have been made by international insurers, with AXA announcing in 2017 that it will no longer underwrite companies relying on coal mining or coal power generation for more than half of their business. The French-based insurer's asset management arm has also divested around $190m worth of coal holdings. The world's biggest insurer Allianz, and UK-based Aviva have also made significant coal divestments.
Closer to home, calls for QBE to quit coal have also been aired loud and clear. In September 2016 a group of Market Forces volunteers handed out 1000 clap banners to Sydney fans as they headed into the MCG ahead of the team's preliminary final. Reading "Swans goal" on one side and "QBE quit coal" on the other, the banners were a great way for fans to support their team and call for strong climate action from its major sponsor at the same time.
In May 2016, activists gave QBE's headquarters a colourful new rebranding, illustrating how the insurance company was making climate change possible through its underwriting of major fossil fuel projects.
Posters bearing the slogan "made possible by QBE", a company favourite, were put on display outside the building in Sydney's financial district as staff of the company arrived at work. The posters connected QBE to climate impacts such as coral bleaching, bushfires and major coal mining projects.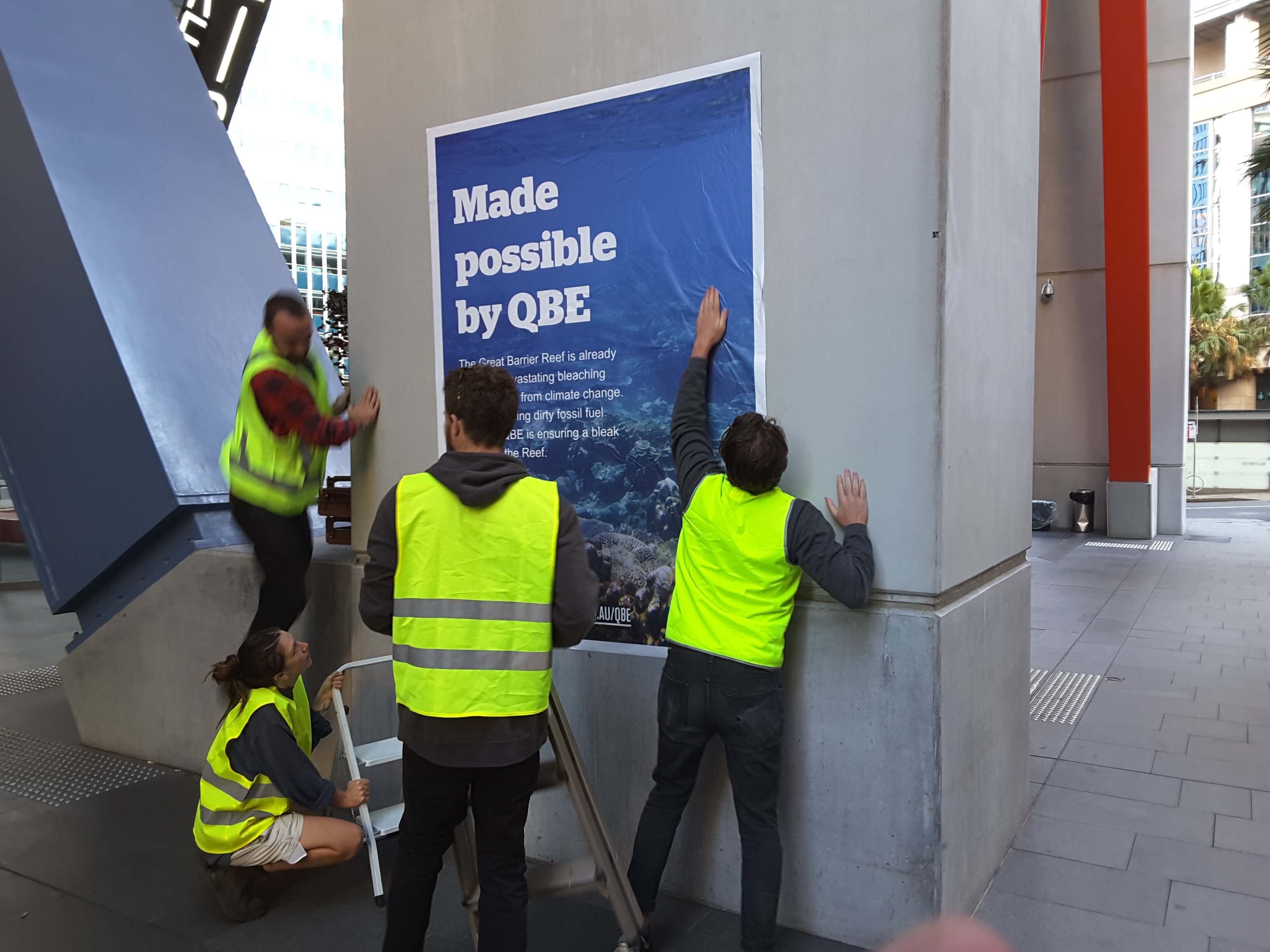 ---
Proudly supporting fossil fuels
Fossil fuels might be something the company tries to shy away from today, but only a few years ago, they were clearly proud of their role as a major insurer of coal mines – demonstrated beautifully by their annual report's cover from 2012 (pictured here).
A significant part of QBE's business model involves underwriting large energy projects including offshore oil rigs, gas pipelines and coal mines. The great irony here is that QBE claims to incorporate environmental risks in its approach to underwriting, while among the many fossil fuel projects it has underwritten, you'll find projects like the BP Deepwater Horizon, Pemex, which also exploded in the Gulf of Mexico, and Ultracargo in Brazil.
On a good day, these projects are digging up more and more carbon that is putting the climate at risk. On a bad day, they're a massive hazard for the environment and human life.
Does QBE not understand the role of the fossil fuel industry in driving climate change? Or the fact that oil spills and coal dust kill ecosystems and people? Maybe QBE simply doesn't believe climate change is an environmental risk.
And then there's the company's own investments in the fossil fuel industry. While these aren't publicly disclosed, it is likely that QBE has significant exposure to fossil fuel assets through its investment portfolio.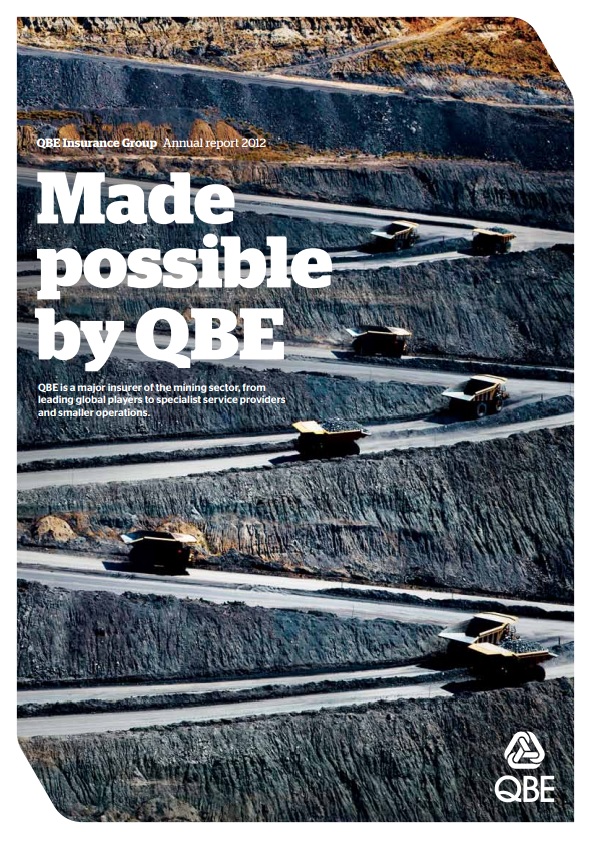 It's widely known that climate change is causing increasingly more frequent and severe natural disasters. QBE is failing to keep up with the changing environment and it's costing them dearly. QBE's cost of large risk claims and catastrophes, has for the last seven years, exceeded 8.7% of Net Earned Premium; compared to an average of just 8.1% in the seven years to 2010.
QBE is in a unique position – they have the choice to finance the expansion of the fossil fuel industry through underwriting and debt. But if they choose to do so, they will continue to face the increasing cost of extreme weather events. Green-washing will not address climate change nor the inherent risk in their portfolios. Only serious and rapid change to their business model will.