In the midst of a concerted campaign by customers, shareholders and the general public, QBE announced on 29 March 2019 that it will end its insuring of new thermal coal mines, plants and transport networks on 1 July 2019 and phase out its entire thermal coal business by 2030!
Tempering this good news, QBE has confirmed that it intends to continue insuring and investing in oil and gas companies and projects, including new projects that expand the sector. Under intense questioning at the 2019 annual general meeting though, QBE's Chairman Marty Becker insisted QBE would be looking closely at the oil and gas issue.
QBE is now the only Australia-based insurer still willing to support new oil and gas projects, with Suncorp restricting its underwriting of the sector in August 2020.
Contact QBE today - tell them that divesting thermal coal is a good first step but for the sake of a safe climate (as well as the company's own bottom line) we need QBE to plan for exiting all fossil fuels!
Join us in calling on QBE to complete the fossil fuel divestment job by:
Rule out underwriting any further oil and gas extraction, transportation and infrastructure projects;
Divest from all fossil fuel assets in its investment portfolio; and
Advocate publicly and actively for policies that will rapidly reduce carbon emissions and phase out fossil fuel use in line with the Paris Agreement.
---
QBE starting to shift away from fossil fuels
QBE has been proud of its support for fossil fuels in the past - demonstrated beautifully by its 2012 annual report cover (see below). The recent commitment to phase out its thermal coal business however, shows that this company is now shifting its position, thanks to shareholder, customer and community pressure.
Shifting away from fossil fuels makes perfect sense for insurance companies. QBE is paying out hundreds of millions of dollars every year for damage caused by extreme weather events like floods, bushfire and storms, the impacts of which are being made worse by global warming, which is caused by fossil fuel use.
From 2011 to 2018, QBE's cost of large risk claims and catastrophes averaged 11.4% of Net Earned Premium; compared to an average of just 8.1% in the seven years before 2011. This shift shows just how much the changing climate is impacting QBE's business.
According to Tom Herbstein of Cambridge University's insurance project ClimateWise, "climate change fundamentally challenges the existing insurance business model." The trend is clear. Without significant and urgent action in both climate change mitigation and adaptation, QBE faces shrinking markets and growing and less predictable natural catastrophe claims.
So while QBE's commitment on thermal coal is a great first step, it needs to follow this with similar action on oil and gas. Maintaining its insistence on supporting new oil and gas projects means the company will continue to support fossil fuel expansions, flying in the face of climate science that unequivocally requires fossil fuel use to start shrinking – and also means that QBE's business remains out of line with the Paris Agreement goal of limiting warming to 1.5 degrees.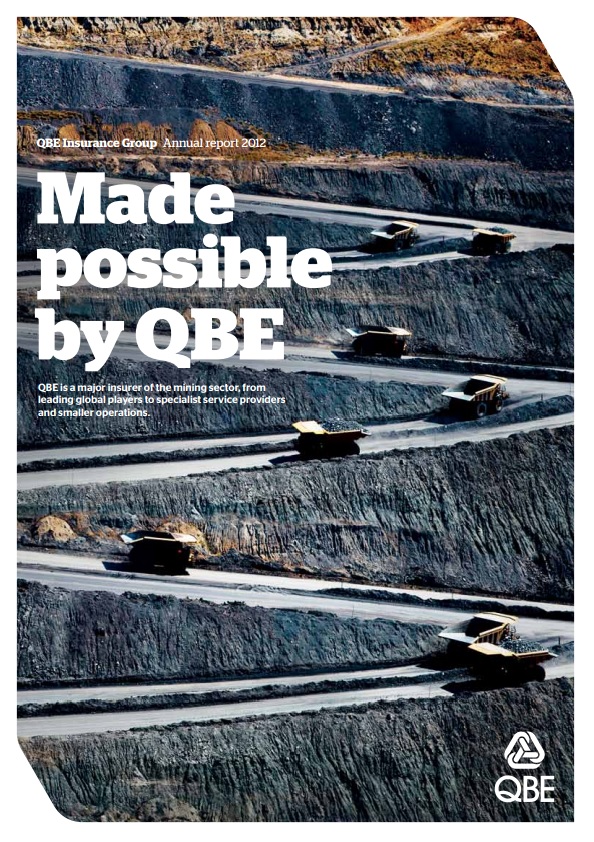 Today's BIG news - #Australia's biggest coal underwriter @QBE will end its underwriting of new coal mines, plants & transport networks on 1 July & phase out entire thermal #coal business by 2030.

It will also #divest from coal in its direct investments.https://t.co/Guw3U8IpGz

— Market Forces (@market_forces) March 30, 2019
International insurance companies restricting their underwriting of coal
Allianz
Axa
Chubb
Generali
Hannover Re
Mapfre
Munich Re

Nationale-Nederlanden

QBE
SCOR
Suncorp
Swiss Re
Talanx
Uniqa
Vienna Insurance Group
Zurich
International insurance companies divesting from coal:
AG2R
Allianz
Axa
Aviva
Generali
La Mondiale
Legal & General
Hannover Re
Lemonade Inc.
Lloyd's
Macif
MAPFRE
Munich Re

Nationale-Nederlanden

Natixis
Nippon Life
QBE
SCOR
Storebrand
Suncorp
Swiss Re
Zurich
Campaign highlights so far...
July 2019: Australia's Suncorp announces it will phase out its thermal coal exposure by 2025 and put an immediate end to underwriting, investing in and financing new thermal coal projects.
July 2019: Chubb becomes the first US insurer to announce it will stop insuring new coal-fired power plants and phase out coverage of coal mining companies by 2022. It will also restrict coverage to power companies that produce more than 30% of their energy from coal and immediately cease new investments in coal companies.
May 2019: Nationale Nederlanden, announces a

new coal exclusion policy

which e

xcludes underwriting and proprietary investment in mining companies that derive more than 30% of their revenue from coal extraction, and of power companies that produce more than 30% of their power production from coal. It will also phase out coal entirely from its investment portfolio by 2030 and only provide new insurance cover to clients that have 5% or lower exposure to coal-related activities by 2030.

April 2019: Hannover Re and Talanx announce they won't re/insure new coal mines and plants except for in "highly coal-dependent countries".
March 2019: QBE has announced it will end its insuring of new thermal coal mines, plants and transport networks on 1 July 2019 and phase its entire thermal coal business by 2030.
March 2019 - Spanish insurer Mapfre and Austrian insurer Uniqa announce they will stop insuring new coal mines and power stations.
March 2019 - Shareholder resolution lodged with QBE ahead of its upcoming May AGM
February 2019 - QBE's latest climate change "action" plan update reveals it has no intention to divest from or stop underwriting fossil fuels for at least two more years.
February 2019 - Vienna Insurance Group (VIG) announces it will immediately stop providing insurance for new coal mines and new coal-fired power stations.
December 2018 - In response to a letter from 73 organisations, 10 major insurance companies, including QBE and Suncorp commit to refusing to provide insurance for the Adani Carmichael coal project.
December 2018 - The 2018 Scorecard on Insurance, Coal and Climate Change gives QBE zero scores for its total absence of policies restricting its investment in and underwriting of thermal coal and tar sands. Market Forces "celebrates" by handing out donuts at QBE's head office in Sydney.
November 2018 - Europe's third biggest insurer, Generali, pledges to stop insuring new coal plants and mines and to refuse new clients which source over 30% of revenue or produce over 30% of power from coal.
September 2018 - US insurer Lemonade Inc. pledges to never invest in coal and other "major polluters". They call on their fellow insurers to also end their underwriting of fossil fuels.
August 2018 - The world's second-biggest reinsurer MunichRe's adopted a new policy preventing from doing business with new coal mines or power stations in "industrialised" countries. This means it has ruled itself out of providing reinsurance for Adani's Carmichael coal project.
July 2018 - The City and County of San Francisco unanimously passes a resolution to avoid doing business with insurance companies which invest in and insure coal and tar sands companies.
July 2018 - French insurers Macif and AG2R La Mondiale announce divestment from companies planning new coal-fired power stations.
July 2018 - Japan's biggest life insurance company, Nippon Life, announces an end to its funding for coal-fired power stations.
July 2018 - Swiss Re, the world's biggest reinsurer, announces it will stop underwriting thermal coal mines, coal-fired power stations or any company that is more than 30% exposed to thermal coal.
June 2018 - Hannover Re, the third biggest reinsurer worldwide, announces it will exclude coal from its investment portfolio.
May 2018 - The two largest life insurance companies in Japan announce they are reconsidering their underwriting of coal-fired power stations.
May 2018 - Shareholder resolution calling on QBE to disclose climate risk achieves one of the highest shareholder votes for a climate resolution in Australia.
May 2018 - Allianz, the world's biggest insurance company by assets, announces it will no longer provide stand-alone insurance coverage for coal power plants or coal mines.
February 2018 - Italian insurer Generali announces plans to divest €2 billion from coal.
January 2018 - World's oldest insurance market Lloyd's of London announces coal divestment due to climate concerns, joining other big UK and European insurance companies, including Aviva, Allianz, Axa, Legal & General, SCOR, Swiss Re and Zurich in ditching coal stocks.
December 2017 - AXA, one of the world's largest insurance companies, announced it would divest another Euro 3.1 billion from coal, tar sands and pipeline companies to combat climate change, and would also stop insuring any new coal, tar sands and associated pipeline projects.
November 2017 - 'Unfriend Coal' campaign launches

Insurance Scorecard

, showing 4 international insurers have restricted coal underwriting (Swiss Re, Zurich, AXA and SCOR).

February 2017 -

APRA

Executive Board Member spoke out about the "potentially system-wide" financial risks posed by climate change. According to the regulator, these risks "include the potential exposure of banks and insurers' balance sheets to real estate impacted by climate change and to re-pricing (or even 'stranding') of carbon- intensive assets in other parts of their loan books". Regulatory guidance has also been provided overseas, with the Bank of England and California state government leading in the area.

September 2016 - a group of Market Forces volunteers handed out 1000 clap banners to Sydney fans as they headed into the MCG ahead of the team's preliminary final. Reading "Swans goal" on one side and "QBE quit coal" on the other, the banners were a great way for fans to support their team and call for strong climate action from its major sponsor at the same time.
May 2016 - Activists gave QBE's headquarters a

colourful new rebranding

, illustrating how the insurance company was making climate change possible through its underwriting of major fossil fuel projects. At its AGM later that day, the company faced strong shareholder pressure over its role in the fossil fuel industry.