MEDIA RELEASE: 23 June 2022 – for immediate release
In a major victory for climate action, Japan has announced an end to funding of two major coal power projects, Indramayu in Indonesia and Matarbari 2 in Bangladesh.
Following the announcement, the Bangladesh Government confirmed that it had cancelled plans to build the controversial Matarbari 2 coal project.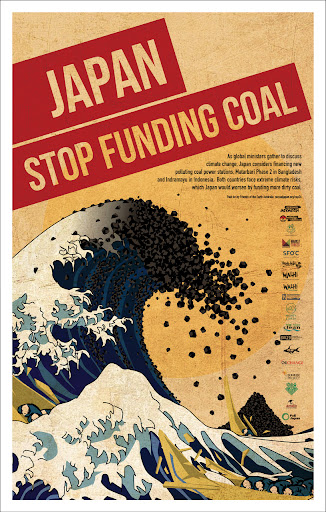 There has been mounting pressure from a global movement of organisations calling out Japan's laggard position on new coal power projects, despite its G7 commitment to stop funding new unabated coal power by the end of 2021.
"The cancellation of the Matarbari 2 project is a huge win for a growing global movement, particularly for grassroots and civil society groups in Bangladesh and Japan, who are all urging rapid climate action.
"Activists have been drawing attention to local communities in Matarbari already facing the harmful impacts of the construction of Matarbari 1. Thousands of people have been displaced from their homes, lost their livelihoods and the local Kohelia river is polluted," said Julien Vincent, Executive Director of Market Forces.
Bangladesh's State Minister for Power, Energy and Mineral Resources Nasrul Hamid told Bangladeshi news outlet Daily Star there are plans to build an LNG to power plant in place of Matarbari 2 coal-fired power project.
A May 2022 report by Market Forces, Bangladesh Poribesh Andolon (BAPA) and Waterkeepers Bangladesh revealed that the Chattogram region, where Matarbari is located, is at high risk of becoming one of the world's largest carbon catastrophes due to planned fossil fuel infrastructure projects.
Titled 'A Carbon Catastrophe in the Making: The Dirty Energy Plans in Chattogram', the report highlights the adverse impacts of the proposed 20 gigawatts (GW) of new coal and gas power capacity in Chattogram.
Highlighting Matarbari 2 as the most destructive proposal, the report finds the fossil fuel buildout would have immense impact on the climate, adding 1.38 billion tonnes of carbon dioxide equivalent (CO2-e) to the atmosphere throughout the plants' operational lifetime, equivalent to more than five years of Bangladesh's national emissions.
"LNG would not only lock Bangladesh into more imported fuel and unnecessary power capacity that is already costing the economy billions of dollars per year, but the infrastructure required to build these polluting projects would further decimate local waterways and ecosystems, all while pushing the world to a point of no return on global warming." said Mr Vincent.
Sharif Jamil, General Secretary of Bangladesh Poribesh Andolon (BAPA), said:
"Switching from coal to Liquified Natural Gas is like jumping out of the frying pan into the fire. LNG threatens the health and wellbeing of our local communities, the beautiful regional beaches and forests of Chattogram.
"The Chattogram region has a rich biodiversity, marine resources and hundreds of thousands of livelihoods depend on it."
"We call on wealthy nations like Japan to back clean, renewable energy projects in Bangladesh instead of polluting fossil fuels like coal and LNG."
According to the Bangladesh government's Sustainable and Renewable Energy Development Authority (SREDA), the country could have as much as 30 GW of solar energy in the coming decades. A World Bank study shows the Matarbari and Chattogram region has the highest potential for photovoltaic solar power.
Market Forces campaigns to shift finance and investment away from environmentally damaging activities and into those that protect and enhance the environment.
For media inquiries and interviews, contact:
Antony Balmain, +61-423-253-477, [email protected]