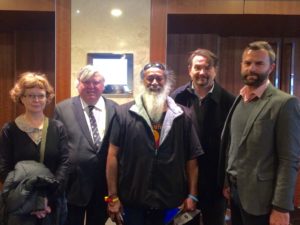 28 July 2016
"There are two sides to this debate."
These were the remarks of the Macquarie Group Chairman Peter Warne, after their AGM descended into somewhat of a farce earlier today, as shareholders asked tough questions of a bank that is fast becoming a significant fossil fuel player and deniers of climate change ensured the room was filled with echoes of the past. 
Macquarie Group plays a significant role in the fossil fuel industry. Aside from being a direct investor in Quadrant Energy, an oil and gas producer, Macquarie finances coal mines, it invests in oil and gas pipelines and terminals, and it runs leasing businesses for motor vehicles and aeroplanes. Macquarie is not a bit player – they are a fossil fuel hydra, with multiple businesses driving dangerous climate change.
CEO Nicholas Moore addressed questions about the impact of the Paris climate change agreement on Macquarie by referring to the group's renewables investments – ignoring any impact Paris and its implementation may have on their oil and gas interests. Subsequently, in response to a question on the emissions intensity of their loan book, CFO Patrick Upfold discussed the carbon footprint of their operations. That's akin to comparing the impact of changing your lightbulbs to low energy LEDs to enabling massive new fossil fuel projects. Actually, that's exactly what it is. 
For one shareholder, that just wasn't good enough. Here he is, expertly holding the Chairman and board accountable to the fact that they provide no justification for how a purchase like Quadrant gets assessed against climate risk.
At that point, the meeting took a bit of a twist, as climate change deniers in the crowd began to heckle shareholders who wanted to raise issues of climate risk and stranded assets. We'd have thought such questions would be welcome, given the latest research from Fossil Fuel Indexes released overnight shows that the biggest 200 fossil fuel companies still own enough coal, oil and gas to blow the carbon budget by 460%. Alas, shouts of "Communist propaganda" and "bullshit" echoed around the room. 
It was at this point that the Chairman Peter Warne attempted to move the conversation along, claiming that "there are two sides to this debate". Knowing the room was stacked with denialists, he was on safe ground. 
Our next questioner asked the board how their investment in Quadrant Energy reconciled with a carbon budget. (Macquarie Capital bought Apache Energy's Western Australian assets in mid 2015, which were subsequently rebadged Quadrant Energy). Apparently those responsible had considered the worst case scenarios  as part of their risk management process, yet still deemed Quadrant a sound investment. Ironically, the Australian Financial Review reported today that Quadrant and co-operator Santos would be selling the Stag oil field for $10 million, $90 million less than what was mooted earlier this year. Perhaps their "worst case scenarios" were somewhat rosier than reality.
As the heckling from the floor continued, it was time for the Chairman to explain his "two sides" comment. Asked to clarify whether the board accepted the science of climate change, he dodged the question. And even though climate risk is not listed as a specific risk in the Group's Risk Management Report, apparently they do take it seriously. Very seriously.
.@Macquarie given chance to confirm they accept the #climatechange science. Ballsed it up. https://t.co/viJqWP0cp2 pic.twitter.com/CG9MIaRfgu

— Market Forces (@market_forces) July 28, 2016
Finally, the one board member with some climate credibility – former CEO of Insurance Australia Group, Michael Hawker – was asked for his view on the Group's approach to climate risk. Not wanting to stray from the company line, he said it's just like any other risk (yet not worthy of a formal mention), and the Group was acting appropriately.
In the face of multiple warnings of catastrophic climate change, the board of Macquarie Group refuses to disclose their carbon exposure, claims it is managing climate risk even though it's not discussed, and everything will be ok. Just like used car salesmen, they declare – trust us.