OPINION | Binbin Mariana, Energy Finance Campaigner at Market Forces in Jakarta, Indonesia. A former banker, Ms Mariana believes financial institutions have a duty to prevent the climate crisis.
Indonesia is at a crossroads on climate change. Extreme disasters are skyrocketing across the country and in every corner of the world. Yet Indonesian banks and regulators are propping up dying coal companies. Is this the coal industry's last breath?
Indonesia's national regulator, the Indonesian Financial Services Authority (OJK), is reviewing the way it classifies companies and their environmental credentials, also known as the Indonesian Green Taxonomy. Released in 2022, this classification is vital for Indonesian banks to determine funding that is acceptable as green or suitable for the transition to renewable energy.
But OJK is planning to label financing of new captive coal power plants for critical mineral smelters such as aluminium as green, claiming energy transition is justification.
This is a dangerous trap. It will give the wrong signal if OJK endorses new coal infrastructure as part of the transition to a fossil-free future. It would enable Indonesian banks to keep pouring money into companies building new coal power plants under the guise of a green transition. It would be a step back for global efforts to tackle the climate crisis. OJK must move all coal-related businesses to its red category. Red stands for danger. There's nothing more dangerous for the climate than coal.
If we want to have a liveable future, we have to phase out coal now.
It has been seven years since 193 countries adopted the Paris Agreement, including Indonesia. However, globally, we've seen horrific heatwaves and a sharp rise in severe floods, fires and storms.
Scientists confirm extreme disasters are made more intense by climate change and are worsening. The science is clear. We are experiencing catastrophic effects of climate change far earlier than predicted.
We must face the facts. Coal power generation is the biggest source of carbon emissions globally. The International Energy Agency (IEA) has made it clear that there can be no new coal power plants built if we want to limit global warming to 1.5 degrees Celcius to avoid climate chaos.
The climate crisis is not only a threat to the health and livelihoods of every single Indonesian, it is also a dire threat to the economy. Bank Indonesia has projected that potential economic losses due to the impact of the climate crisis will reach at least 40 per cent of Indonesia's gross domestic product in 2050. Risks are mounting by the day. Indonesian senior government officials have estimated that the impacts of climate change and disasters could cost US$37.7 billion by 2024.
The climate crisis is real. It is here, and we have to act now. Political leadership is vital to limit the dangers from climate change. Finance also has a critical role to play. Many banks are funding coal companies even though they have no credible transition plans to more sustainable business. Instead of transitioning to renewable energy, many coal companies in Indonesia are still expanding new mines and building new coal power plants.
Currently, more than 200 banks and other globally significant financial institutions have restrictions on coal financing. However, none of the Indonesian banks are on the list. On the contrary, Indonesian banks – BCA, BNI, BRI, Mandiri and Permata – have recently backed deals to finance Adaro's large-scale new coal power plants.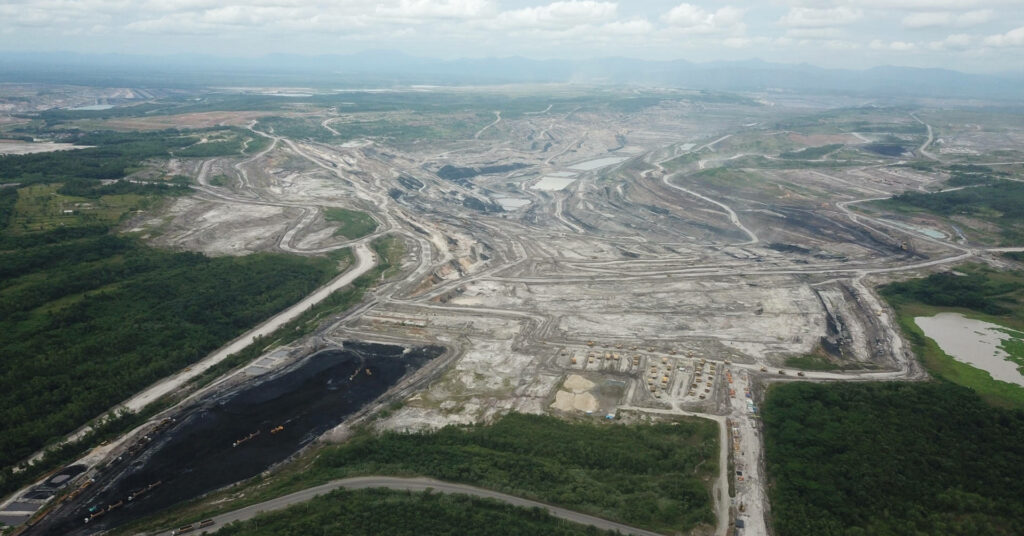 Indonesia can not afford the climate and health costs of new coal power plants. Banks must take responsibility and phase out funding for all companies dependent on coal. We need to urgently accelerate the transition from polluting power to clean energy.
Any new coal power plants would lock Indonesia into polluting emissions for decades. Burning coal adds to the horrible degradation of air quality and invites a worsening climate crisis.
There is a viable alternative to coal. Building new renewable solar energy capacity in Indonesia would be cheaper than building new coal power plants, according to research from leading climate think tank, Carbon Tracker
Financial institutions globally are accounting for the growing impacts of the climate crisis on the value of investments. Financial loss and risk will escalate exponentially if we fail to meet the climate goals of the Paris Agreement.
Unfortunately, Indonesian banks are failing to incorporate the risks to their assets associated with a slower than necessary transition to a low carbon economy and the perils posed by severe climate disasters.
The banks' profitability is on the line. To avoid financial losses from climate risks, Indonesian banks must stop pouring money into the coal black hole.
OJK's plan to categorise financing for coal-fired power for smelters as green risks enabling greenwashing by Indonesian banks.
A Singaporean Government minister says it needs to be clear which activities can be considered green or transitioning. There must be a common understanding of credible transition to a renewable energy economy to prevent a new form of greenwashing – 'transition-washing'.
Indonesia's banks and financial industry are falling far behind in managing climate risk from coal financing. The banks' failure is in contrast to current efforts to phase out coal in Indonesia through the Just Energy Transition Partnership (JETP).
There is no question that transition finance is needed to enable high-emission sectors to adopt cleaner and greener technologies. But we must ensure green finance is used for genuine transition rather than new coal power plants. Our lives depend on it.
---
First published in Tempo. Note: the English version of the article as it appears in Tempo was translated from Bahasa Indonesia and therefore differs slightly from this version.