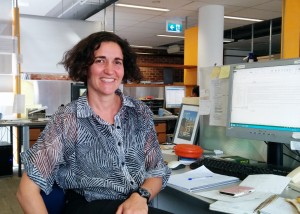 In March 2015 Domenica got in touch with Market Forces with the great news that she had finalised switching her $385,000 home loan from NAB to bankmecu.  She had been a home loan customer of NAB for nearly 5 years when she found out the extent to which NAB has been investing in the fossil fuel industry in Australia and this motivated her to make the switch. Taking this action was especially important for Domenica as she works in the sustainability sector and wanted to make sure her finances were aligned with her values.
Domenica told Market Forces, "I didn't want my money being spent on developing new coal and gas projects. It is absolutely crazy in this day given the extreme threat climate changes poses. I don't have heaps of savings but my home loan is a big chunk of money and is important for the bank. Moving my loan was a way I could make a powerful statement to NAB. I calculated that over the life of the loan I was looking at paying more than $270,000 in interest on the loan and I did not want this money going to NAB, a bank that is actively supporting the expansion of the fossil fuel industry."
The other great outcome was that bankmecu offered a better interest rate than NAB. So Domenica not only managed to clean up her finances but she managed to save some money as well. Now you couldn't ask for much more could you?
If you bank with one of the big four Australian banks put your bank on notice and tell them that if they choose fossil fuels you will choose another bank. You can also find out more about switching home loans here.