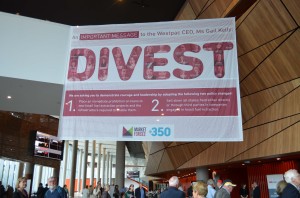 13 December 2013
This is how to deliver an important letter! Westpac shareholders and staff at their annual general meeting in Melbourne were met with two huge banners, carrying the names of over three thousand people who have signed our open letter, calling on the bank to end fossil fuel investments.
The message couldn't have arrived at a more important time. After a week that saw the Federal Government approve a massive new coal export terminal and a gas liquefaction plant, both in the Great Barrier Reef World Heritage Area, banks and other investors are all the more important as our last line of defence against these destructive projects.
The banners were large enough to bear the names of over three thousand people who have so far signed the letter, including sixty prominent community members who kick-started the project. One of the letter's earliest signatories, Felix Reibl of The Cat Empire, was there to help deliver the letter. He said:
Westpac calls itself an environmental leader – now is the time to prove it. With the Australian government approving massive new coal and gas projects in the Great Barrier Reef, it's vital that big banks fill this leadership void. Westpac needs to publicly declare that for the sake of the climate and for the health of the Great Barrier Reef it will not fund these destructive projects
Click here to see photos of the action!
Since 2008, Westpac has loaned well over $1 billion to coal and gas export ports along Australia's East Coast, many of them inside the Great Barrier Reef World Heritage Area. These dirty coal and gas projects are driving more greenhouse gas emissions, pushing the Great Barrier Reef towards the World Heritage in Danger list and sustaining project inland that are threatening the health of Australia's land and water. While Westpac has announced some major new investments in renewable energy, Market Forces is calling on the bank to make this really count by at the same time, ending investments in projects that create more environmental destruction.
Market Forces' Lead Campaigner Julien Vincent said:
If Westpac wants to truly be a leader on environmental protection among Australia's big banks, they need to come out and commit to not funding more projects int he fossil fuel sector. There are massive new coal mines and gas plants planned that would make it virtually impossible to avoid runaway climate change – Westpac needs to recognise the line in the sand and side with environmental and climate protection.