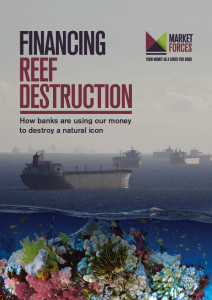 Our report, Financing Reef Destruction, describes the threats faced by the Great Barrier Reef as a result of expanding coal and gas exports, and expose which banks have been most actively funding coal and gas export projects inside the World Heritage Site. Click the cover image to view the report.
Would you like hard copies of Financing Reef Destruction for your stall or event? Click here to request some by sending us an email.
This report was released in conjunction with 350.org, Friends of the Earth and BankTrack.
Published: 2 May 2013