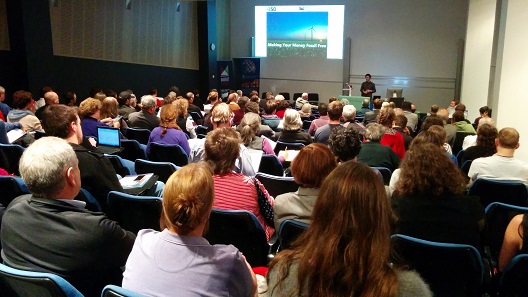 On 29 May and 3 June 2014, Market Forces, in conjunction with 350.org and the Australia Institute, ran forums in Sydney and Melbourne to release a new report examining how individuals can make their personal finances fossil free. A summary of the report's main findings can be found on the Market Forces website as well as the complete report.
The panel at the Sydney event consisted of Tim Buckley (Institute for Energy Economics and Financial Analysis),Tom Swann (The Australia Institute) and Trevor Thomas (EthInvest). In Melbourne the panel consisted of Jemma Green (Carbon Tracker), Dr Stuart Palmer (Australian Ethical Investment), Tom Swann (the Australia Institute) and Simon Sheikh (Future Super).
Each panellist spoke for about ten minutes before the Q&A session with the audience commenced. More than 120 people attended each forum and there was a great level of energy in the room. The Q&A session went over time due to the number of questions from the audience about the rapidly growing fossil fuel divestment movement.
Some of the main issues discussed at the Sydney and Melbourne forums were the following:
The impact the bursting of the financial carbon bubble could have upon the value of fossil fuel companies and superannuation funds
The structural problems facing thermal coal and the impacts this will have upon long-term coal prices
The manner in which individuals can remove fossil fuels from their personal finances and how this can be done to maintain financial returns and minimise risk
The intricacies of how ethical superannuation funds screen out fossil fuel companies
The potential of the divestment movement to drive action on climate change
If you are interested in finding out more you can watch a video recording of the Sydney forum or listen to an audio recording of the Melbourne forum.