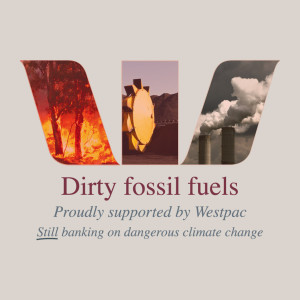 2 December 2015
We're in a time of year usually defined by the United Nations climate change negotiations, currently underway in Paris. But we're also in the middle of annual general meeting (AGM) season for Australia's big banks, and a parade of glossy brochures and statements that update the banks' policies on various issues.
Next week's AGM calendar is headlined by Westpac, a bank that had developed a reputation on the environment, but in recent years has fallen behind many other banks in Australia and overseas, especially on the issue of climate change.
Let's take a look at a few key trends and markers of progress.
Two degrees
Despite being considered by many (including us) as a level of global warming that is unacceptably high, bearing severe consequences for humanity, the world's attention is focused on this as the goal to limit global warming, and negotiations for a new climate change deal have put two degrees right at the centre.
But climate change action needs to come not just from governments, but business and industry as well. Banks are key players in steering the economy to be compatible with limiting global warming to less than two degrees, so it is vital that they also commit to taking action that is in line with this goal.
Here's what each of the banks have to say about limiting global warming:
ANZ
"We support the goal of governments around the world seeking to limit the average global temperature rise to no more than 2°C above pre-industrial levels. Achieving this is a shared challenge which will require net-zero emissions of greenhouse gases by the end of the century."
Commonwealth Bank
"International efforts to limit global warming to two degrees Celsius above preindustrial levels will require a transition from traditional economic models, and the world's current energy mix, to low carbon and renewable alternatives. As a financial institution, we play a role in supporting the transition to a low carbon economy and will continue to actively seek opportunities to lend to, invest in, and support innovative technologies and businesses that decrease dependence on fossil fuels and mitigate the effects of climate change."
NAB
"NAB believes an effective United Nations agreement will provide both context and a framework for national actions and policies, facilitate international cooperation, and address the challenge of climate change. This includes supporting the globally agreed goal to limit global warming to less than 2°C above pre-industrial levels, as well as giving regard to science-based reduction targets and the policy and market mechanisms necessary to assist in achieving greenhouse gas (GHG) reductions."
NAB goes on to recognise that it has a role to play in helping keep global warming to less than 2°C.
Westpac
"We support the Australian government's commitment to limit global warming to less than two degrees Celsius above pre-industrial levels, alongside other nations within an international agreement."
Westpac's statement is the most dated, and the biggest difference between it and those of other banks is the fact that other banks such as Commonwealth are at least recognising that they have to play a part in helping the world reach the goal (even if they're yet to map out what that looks like).
To catch up, Westpac needs to update its position on limiting global warming to acknowledge that it has a role to play in keeping a limit on global warming, and could leap ahead of the other banks if it acknowledges that two degrees is itself a dangerously high target, supporting instead a 1.5ºC limit, such as is proposed by Pacific Island nations.
For more on the two degree goal and the action we want to see from banks in getting there, click here.
Policies to restrict coal
In 2015 a spate of banks have announced policies that either exclude lending to coal mining and other parts of the coal sector, or commit to reducing exposure to the sector over time.
This year has seen Bank of America, Credit Agricole, Natixis, ING, Citigroup, Societe Generale, BNP Paribas, Morgan Stanley and Wells Fargo all commit to  reduce their exposure to coal mining. Some banks, such as ING, have placed blanket bans on new lending to coal mining and have gone even further, stopping lending to coal power plants as well.
Westpac, like the other major Australian banks, have no such policies to curb lending to the coal sector. The only Australian bank that has made any commitments to avoid coal projects is NAB, which has ruled out finance for the proposed Adani Carmichael coal mine.
Westpac has an opportunity at its AGM to become the first bank to join its international counterparts and commit to reducing exposure to the coal sector over time, bringing in policies that show it really means business on capping global warming by ending finance to the single biggest source of greenhouse gas emissions.
Fossil Fuel lending
Westpac has for years been one of the biggest lenders to the fossil fuel industry in Australia. Overall, it is the fourth biggest lender to fossil fuels, providing $5.9 billion from 2008 to 2014, but in the first six months of 2015, it's lending to fossil fuel projects in Australia was more than any other bank.
| Bank | Amount loaned to fossil fuels (January-June 2015) |
| --- | --- |
| Westpac | $667 m |
| ANZ | $497 m |
| NAB | $452 m |
| Commonwealth Bank | $311 m |
The projects Westpac has financed in 2015 include Milmerran coal power station and a refinancing of the controversial Maules Creek coal mine (pictured right).
Click here for more information on the biggest lenders to fossil fuels in the first half of 2015.