This content was published in 2016. For up-to-date information, and to find out what you can do to take action, visit our banks campaign page..
How the big banks are using our money to support the dirty fossil fuel industry
Please note: Data on this page comprises lending from 2008-2016
Photo: Hazelwood Open Mine Fire February 2014 – CFA Communities & Communication
The big banks are funding a huge problem.  The ongoing use of fossil fuels is jeopardising our ability to achieve a safe climate future. The coal, gas and oil industries are also damaging our environment, farmland, water resources, health and natural icons like the Great Barrier Reef.
Banks play a critical role in enabling and sustaining fossil fuel projects. Fueling the Fire exposes which banks are supporting the fossil fuel industry and helps you take action to change how these institutions invest.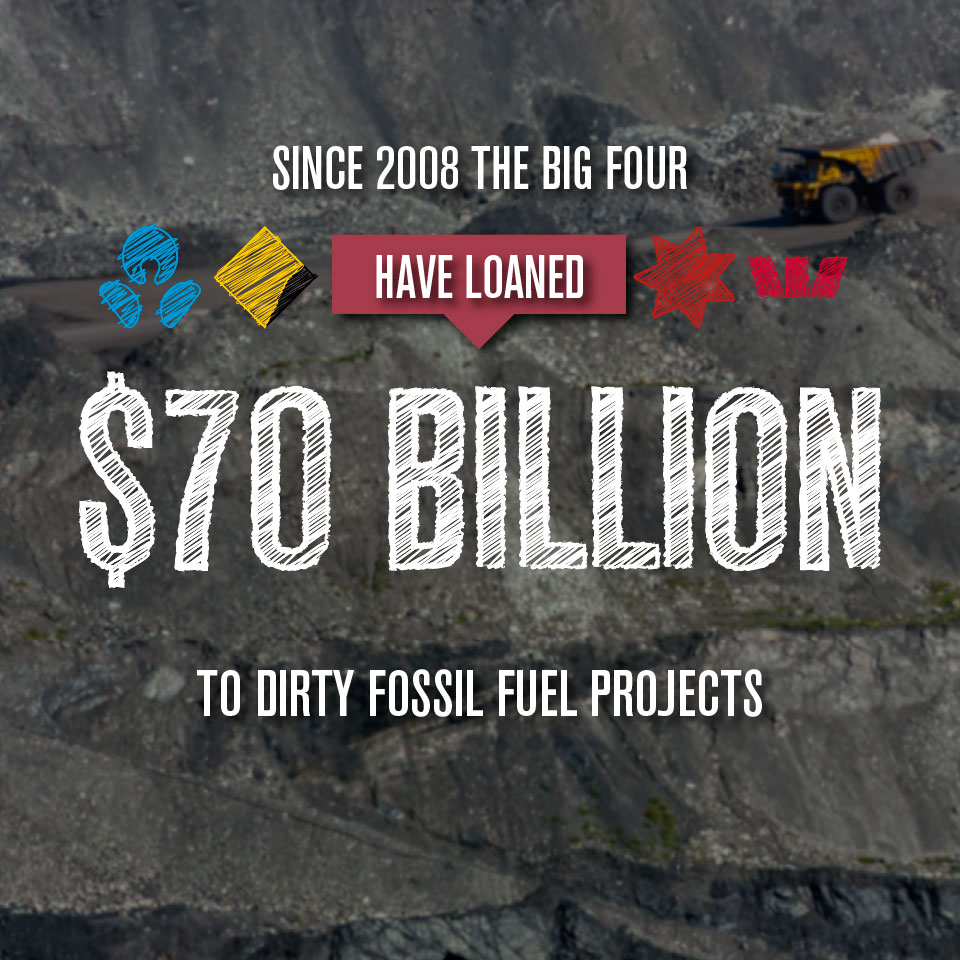 With one of the big four?
The importance of the "Big Four"
ANZ, Commonwealth Bank, NAB and Westpac loaned a combined $70.3 billion to fossil fuels around the world from 2008-2016. Of this total, $49.9b has gone to projects and companies within Australia.
Each of the big four's total lending to fossil fuels from 2008-2016 is shown in the graphics below. In the first half of 2016, the big four loaned $3.5b globally to fossil fuel projects and companies, with $480 million of that going to the local industry.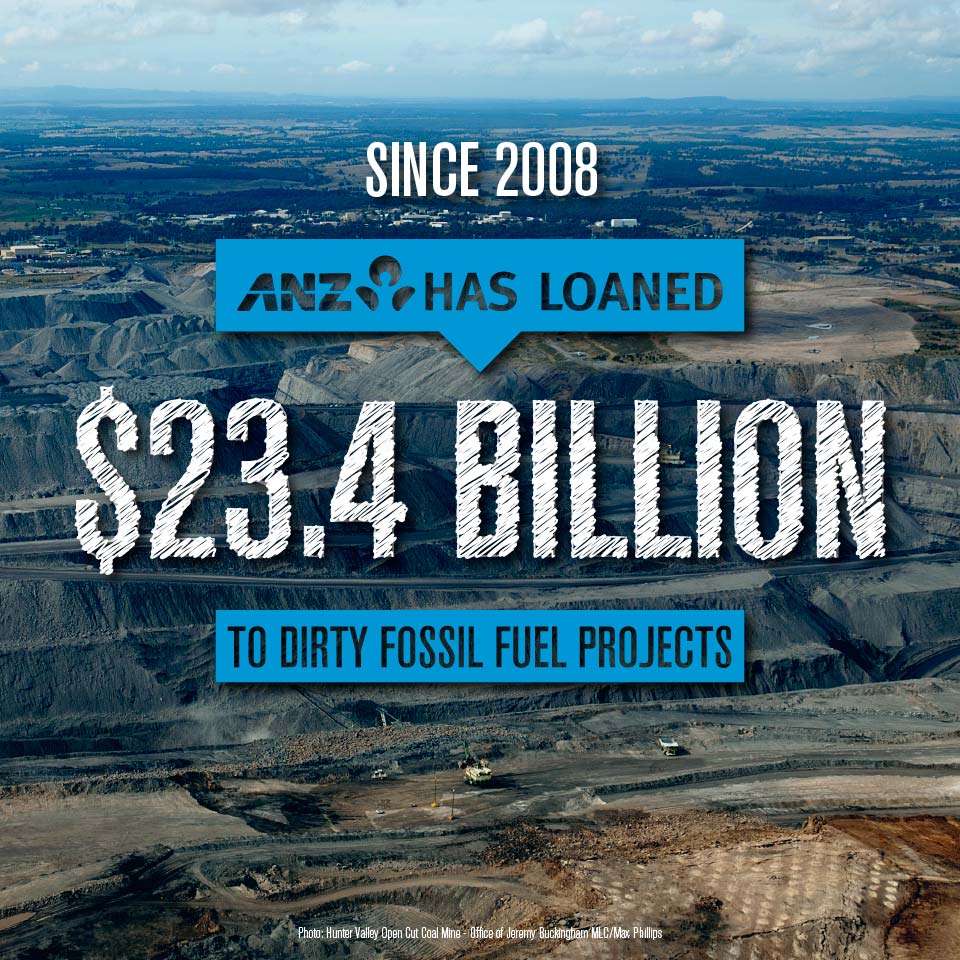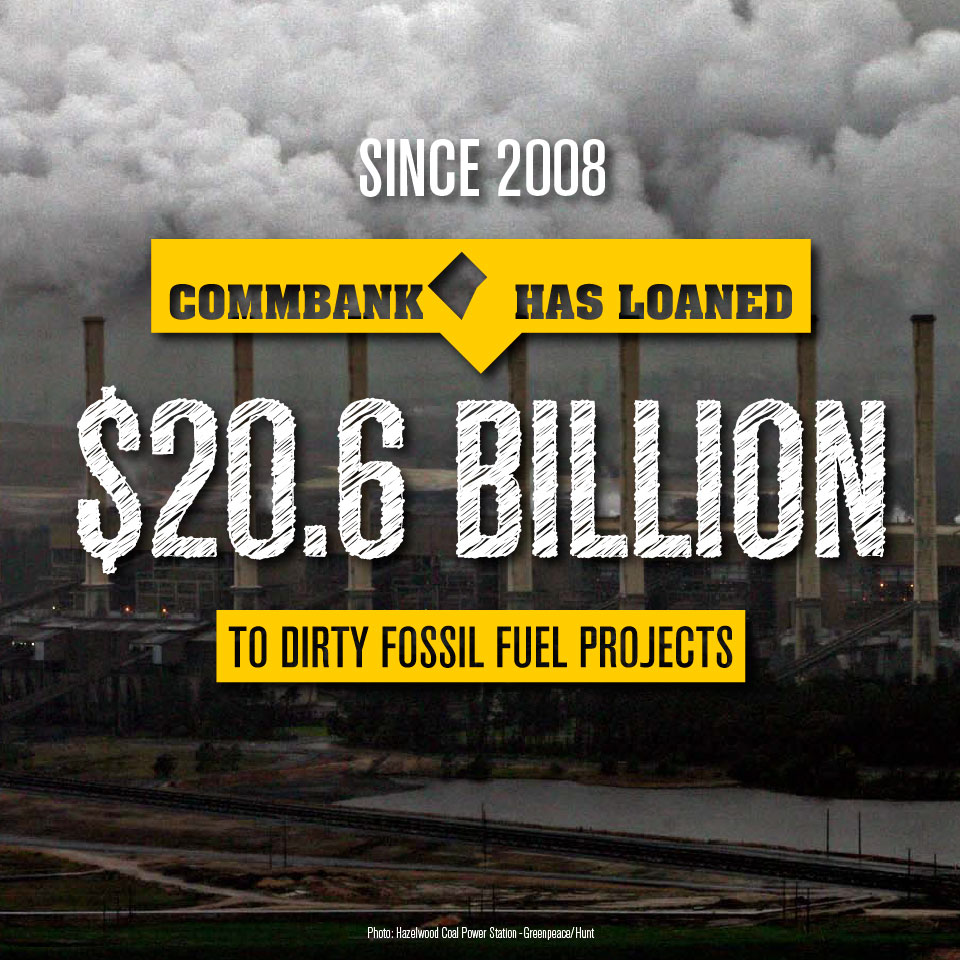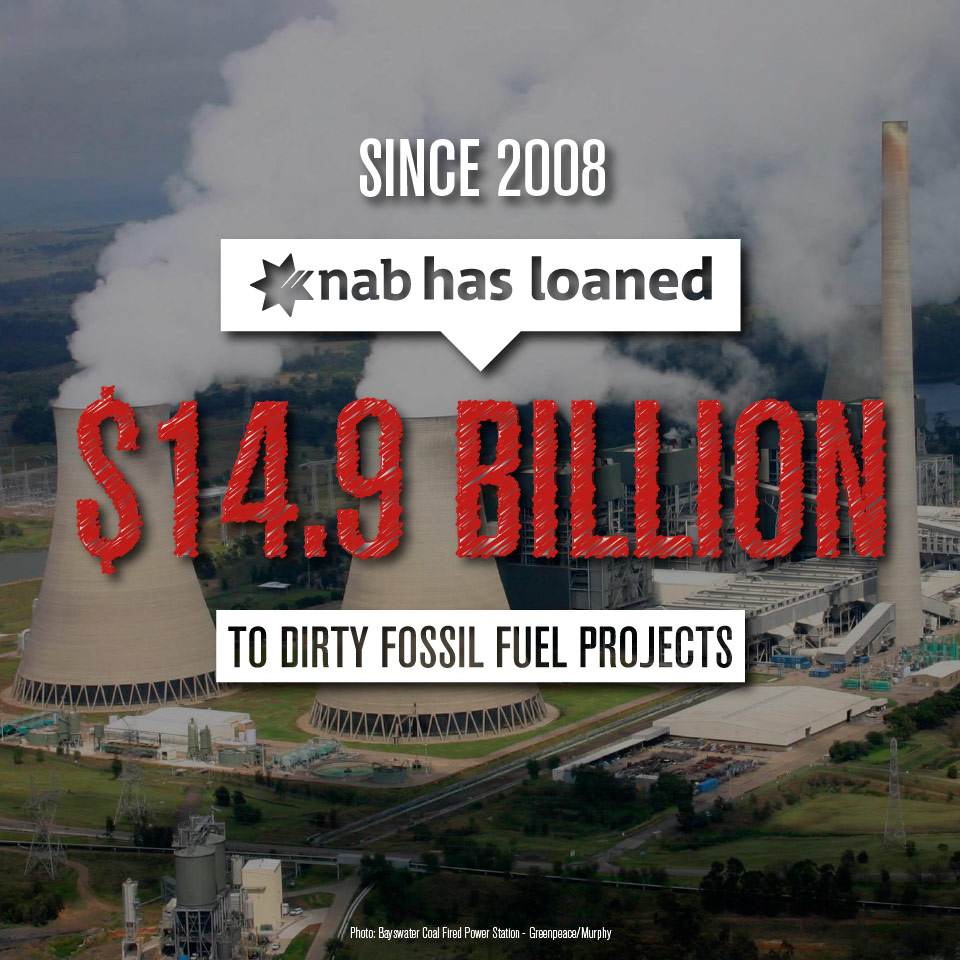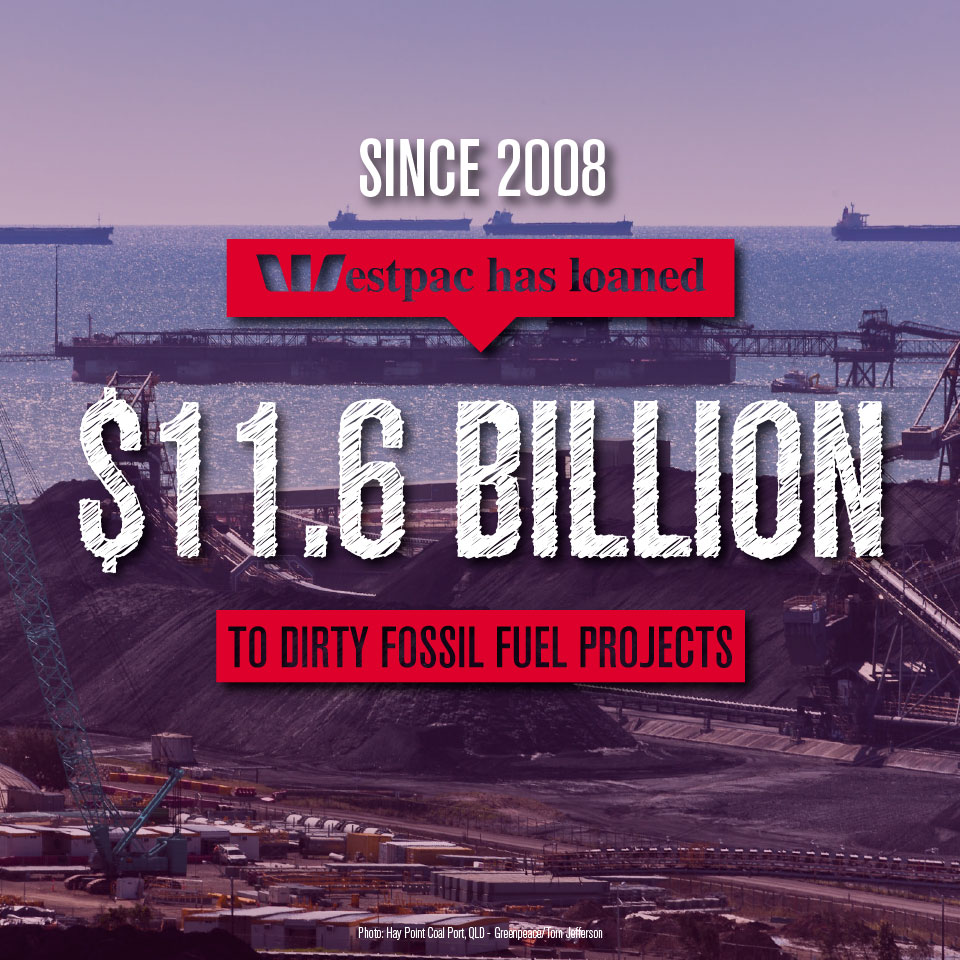 The importance of the "Big Four"
If the world is to meet its agreed goal of keeping global warming to less than 2ºC, 80% of current fossil fuel reserves cannot be burned.
By continuing to support fossil fuel companies and projects, banks are creating massive economic risks. Failure to keep a lid on global warming would be an economic, environmental and humanitarian disaster. But serious action on climate change also means that fossil fuel companies face major write downs, as they end up owning coal, oil and gas reserves that are effectively worthless.  Banks supporting fossil fuel companies to develop bigger reserves are just inflating this bubble even further.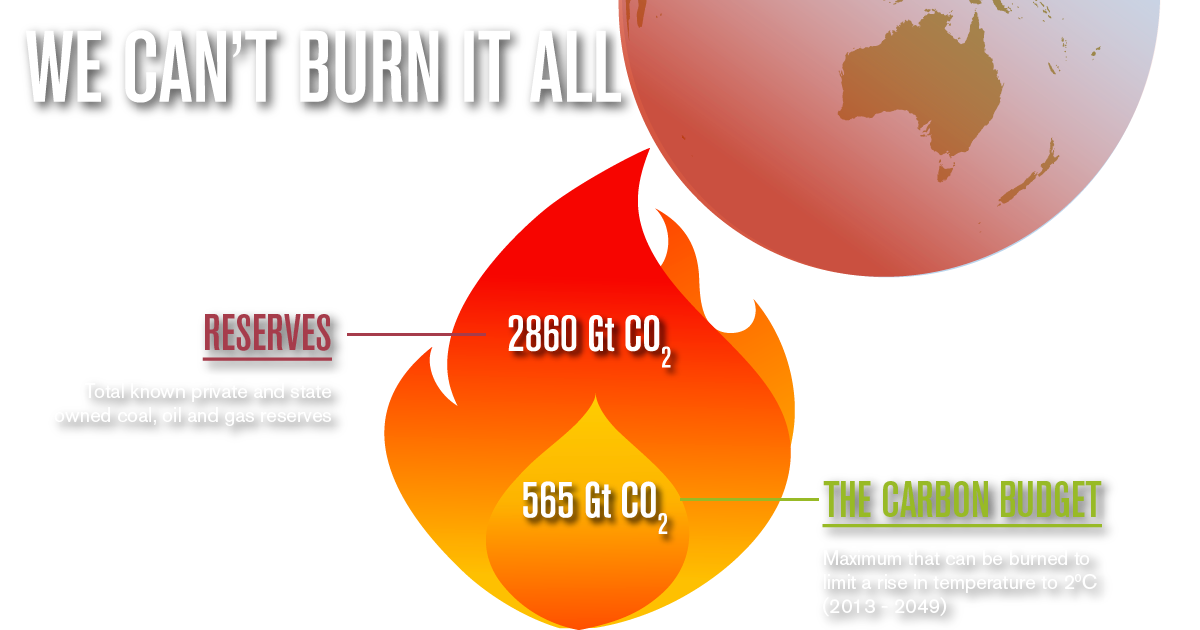 As the world moves to limit global warming, trillions of dollars of fossil fuel assets are at risk in the impending 'carbon bubble'.
ANZ, Commonwealth Bank, NAB and Westpac have all publicly championed the internationally agreed aim to limit global warming to less than two degrees above pre-industrial levels, and committed to support the transition to a low carbon economy. But since these commitments were made in late 2015, each of the big banks continued to finance and enable new fossil fuel projects, which have no place in any serious plan to stay within the carbon budget.
Click the scorecard below to learn more about how the banks have performed against their two-degree commitments.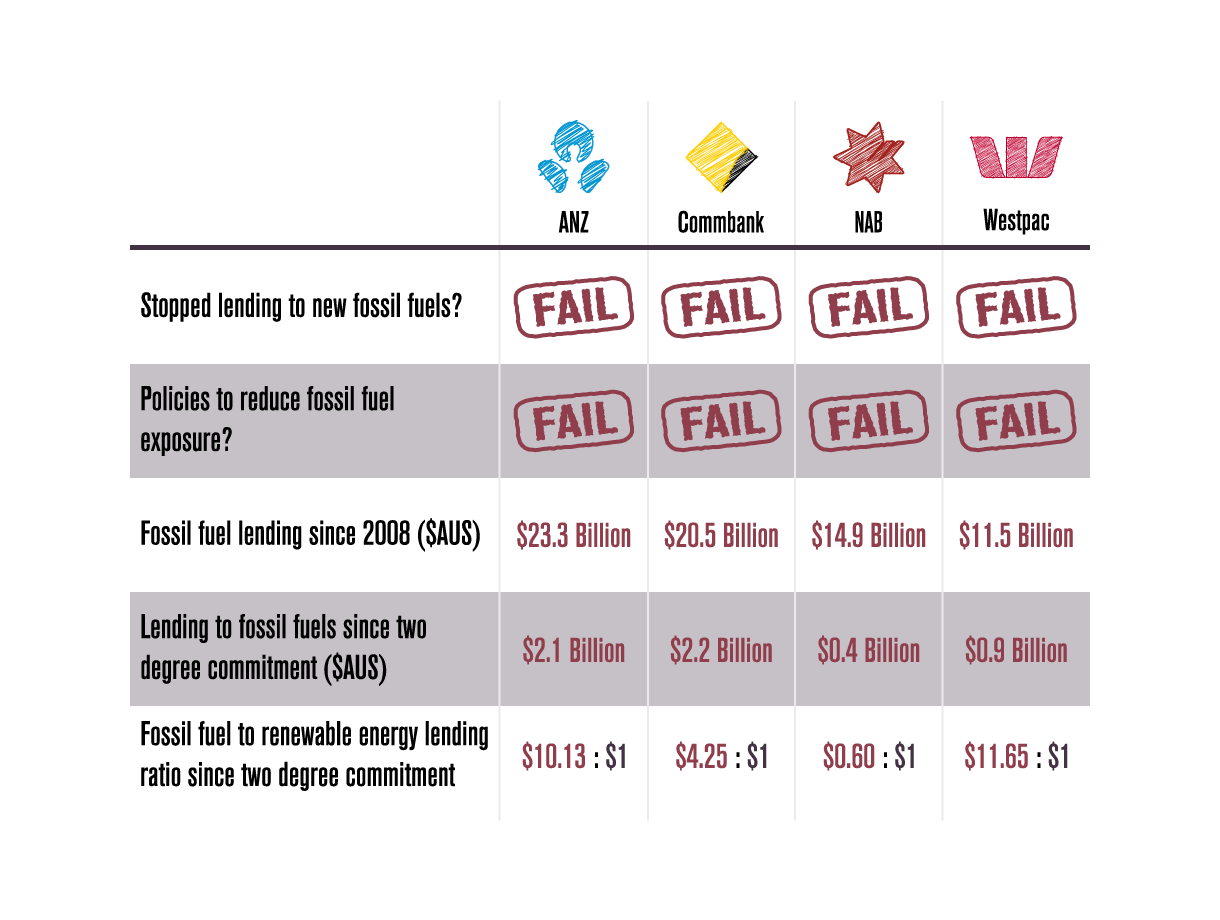 Export Credit Agencies are semi-governmental financial institutions that are often able to lend much more than commercial banks. Their support is integral to the success of many of the largest fossil fuel projects, such as Australia's massive LNG export ventures. Below are the major ECAs that provided finance to fossil fuel projects in Australia from 2008-2016.
| Export Credit Agency | Debt ($AU Millions) | Number of Deals | Country of Origin |
| --- | --- | --- | --- |
| Japan Bank for International Cooperation | $8528 | 9 | Japan |
| Export-Import Bank of the United States | $4719 | 4 | USA |
| Export-Import Bank of China | $3711 | 4 | China |
| Export Development Canada | $1371 | 7 | Canada |
| Korea Exim Bank | $649 | 1 | Korea |
| Development Bank of Japan | $404 | 4 | Japan |
| Export Finance & Insurance Corp | $143 | 1 | Australia |
| Export-Import Bank of India | $69 | 2 | India |
Lending in Australia 2008-2016:
Coal power stations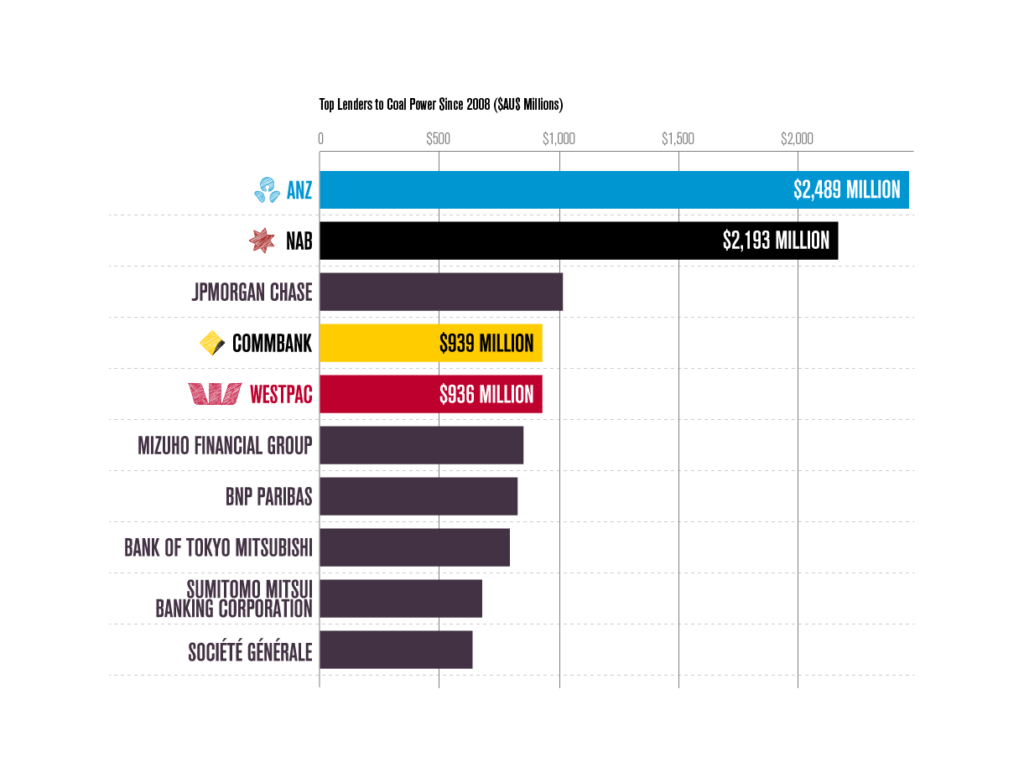 Coal mines
Coal ports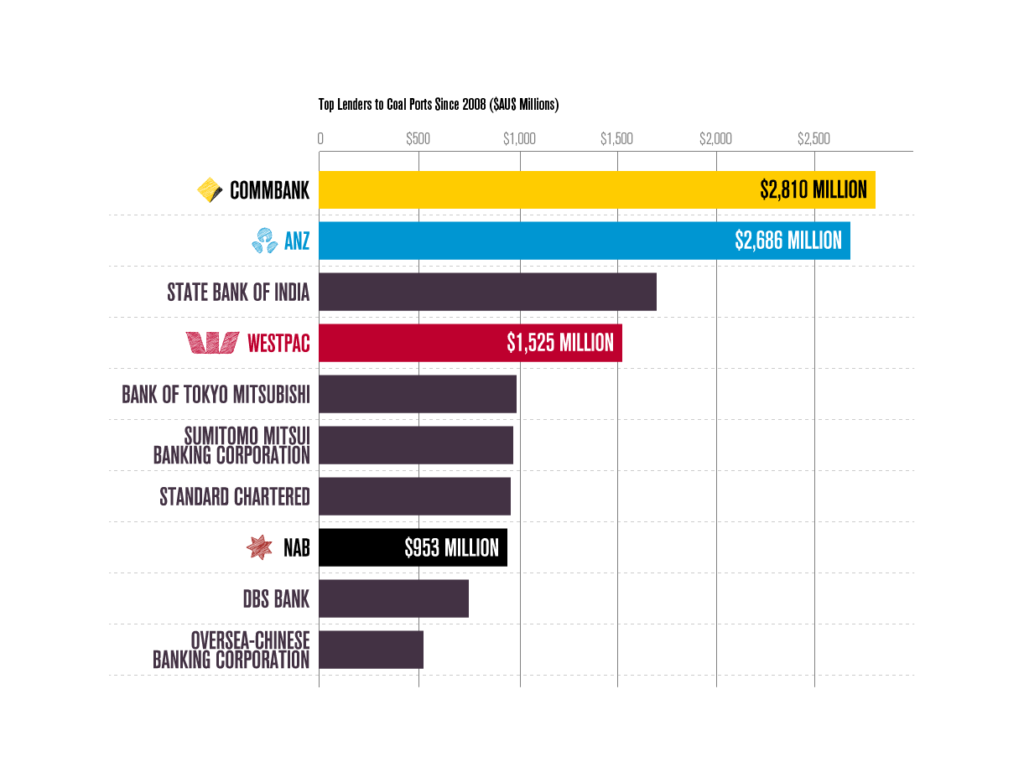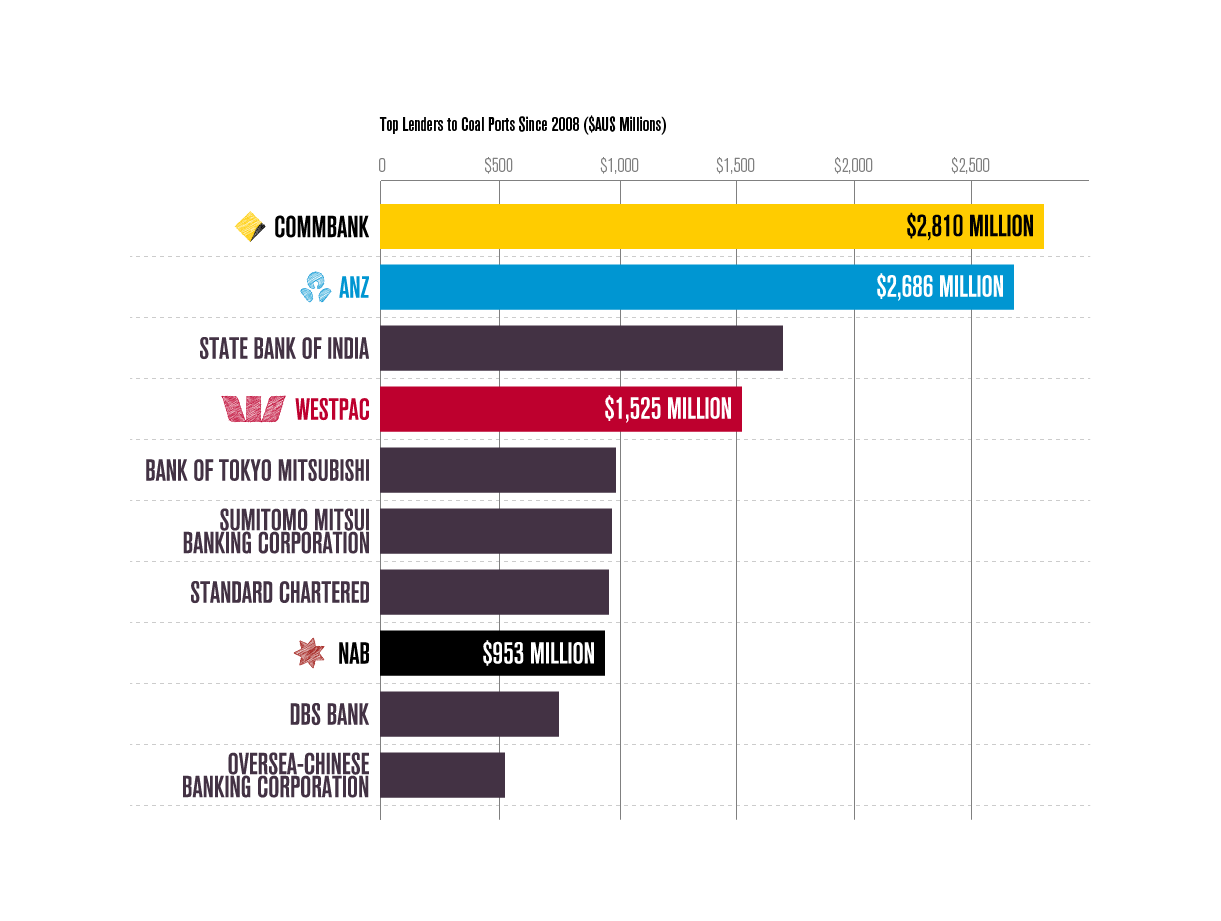 Gas power stations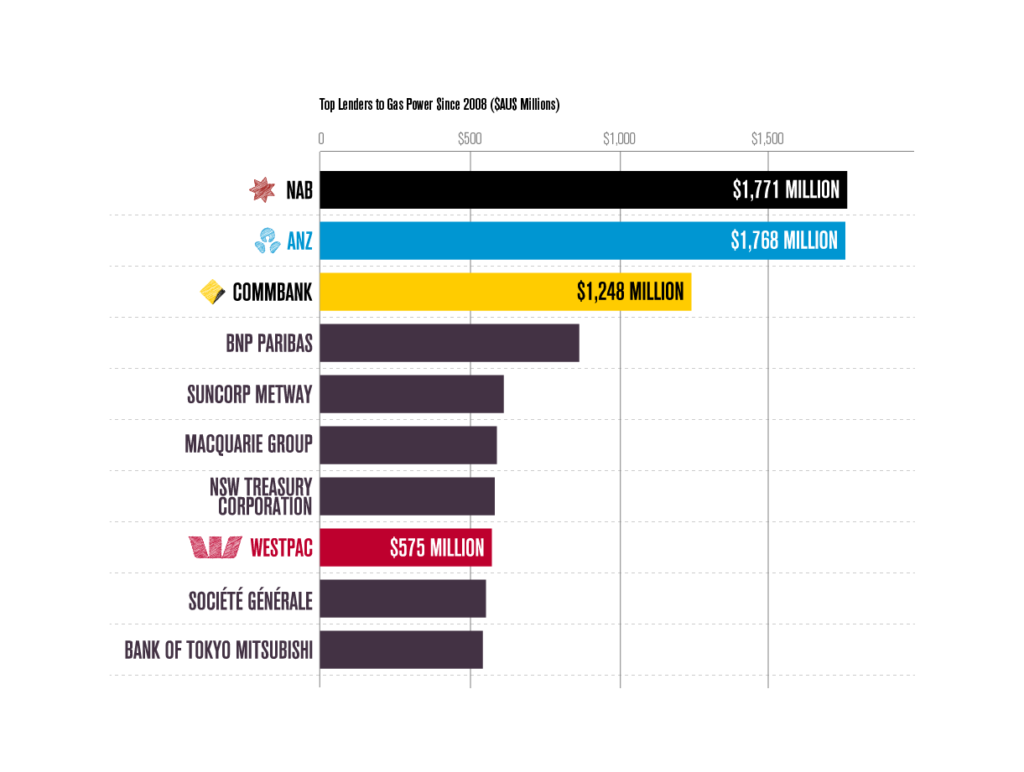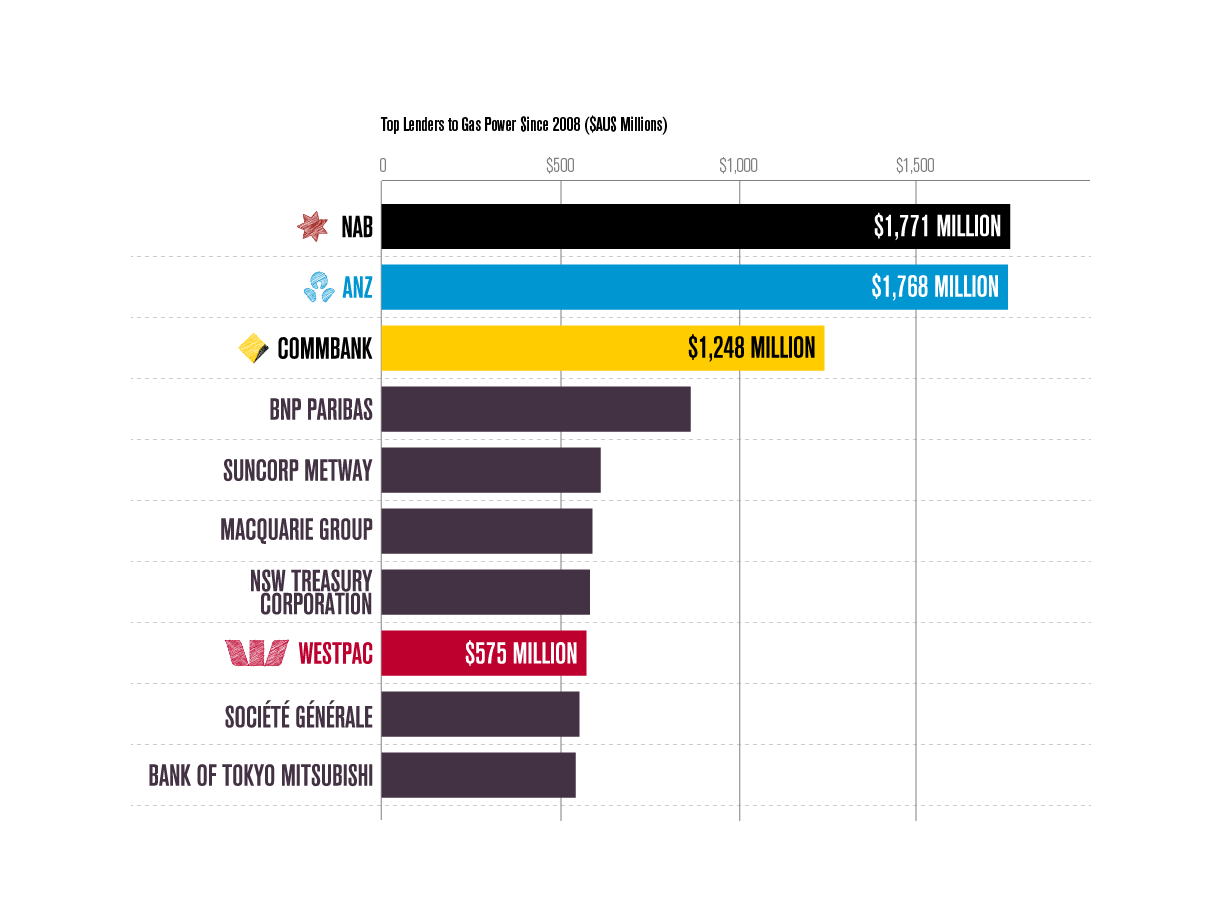 LNG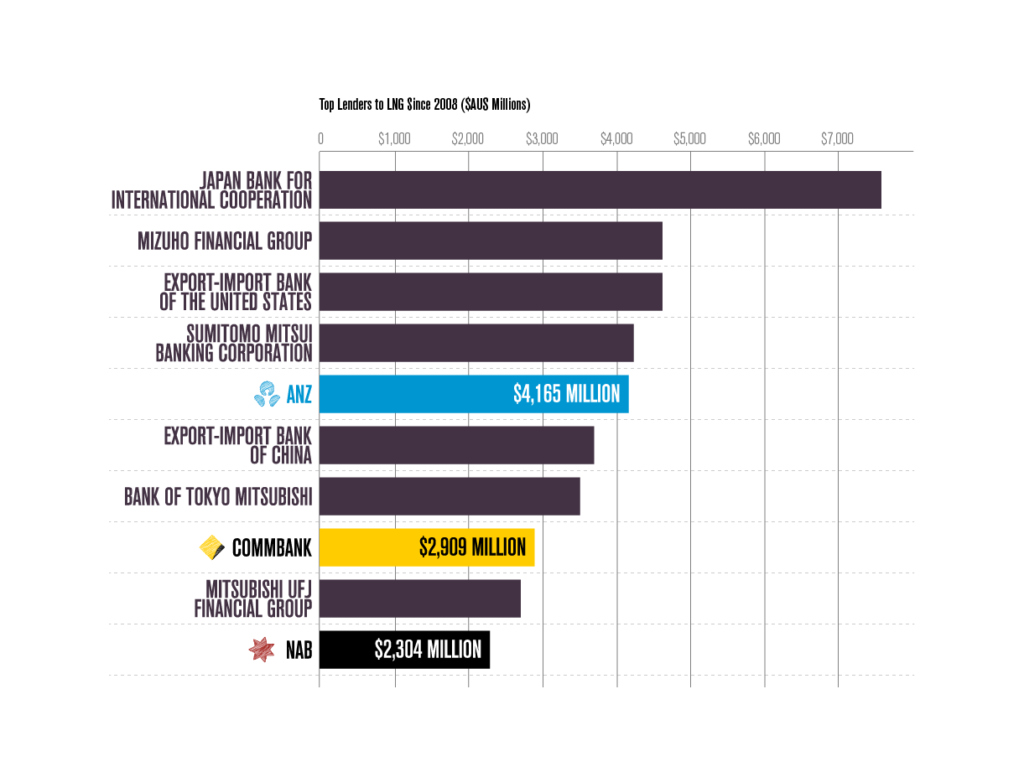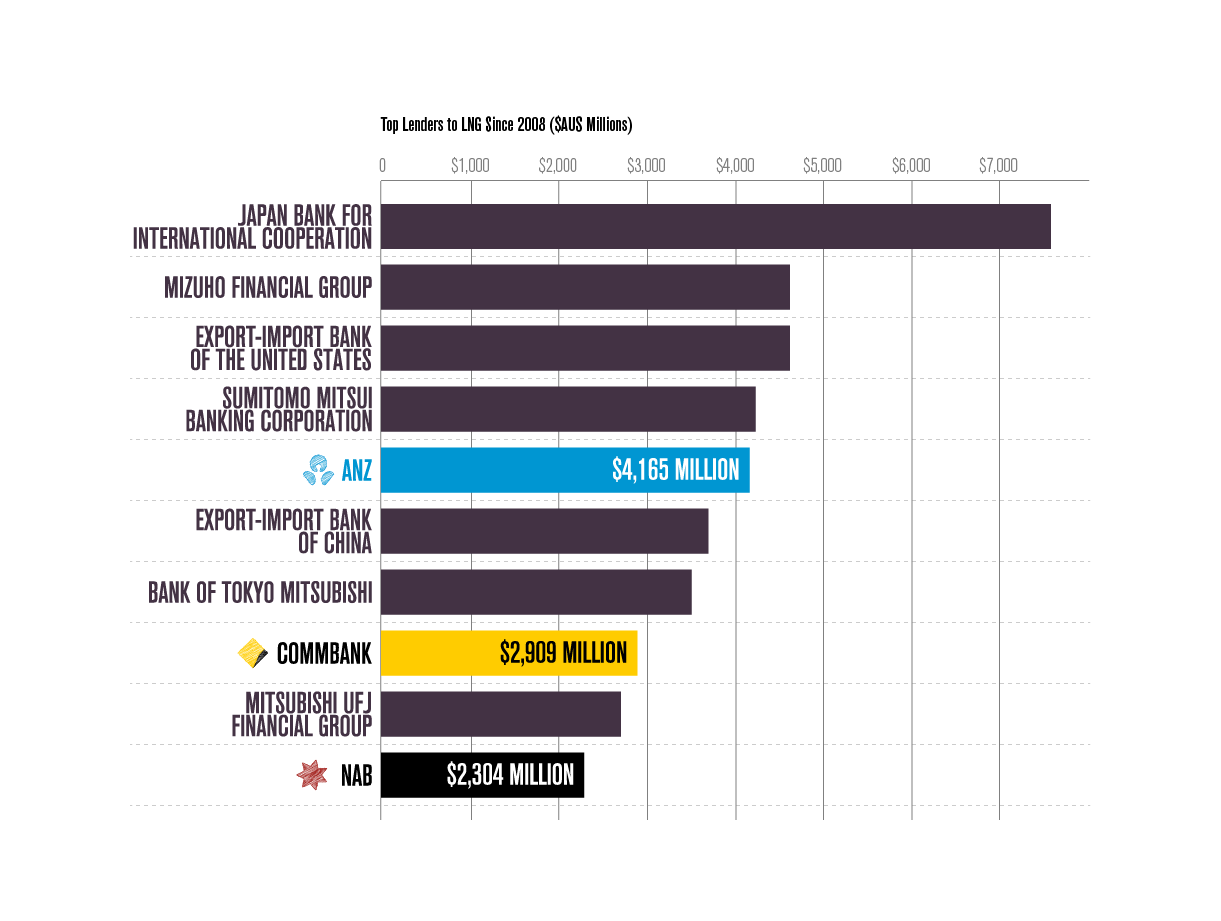 Gas supply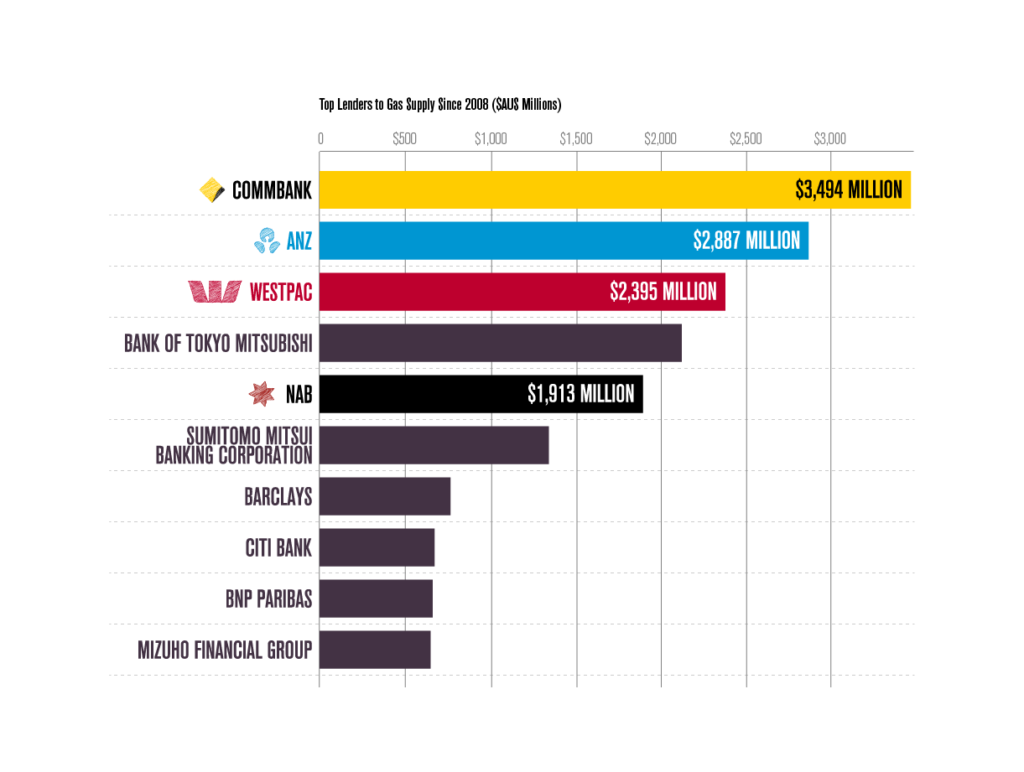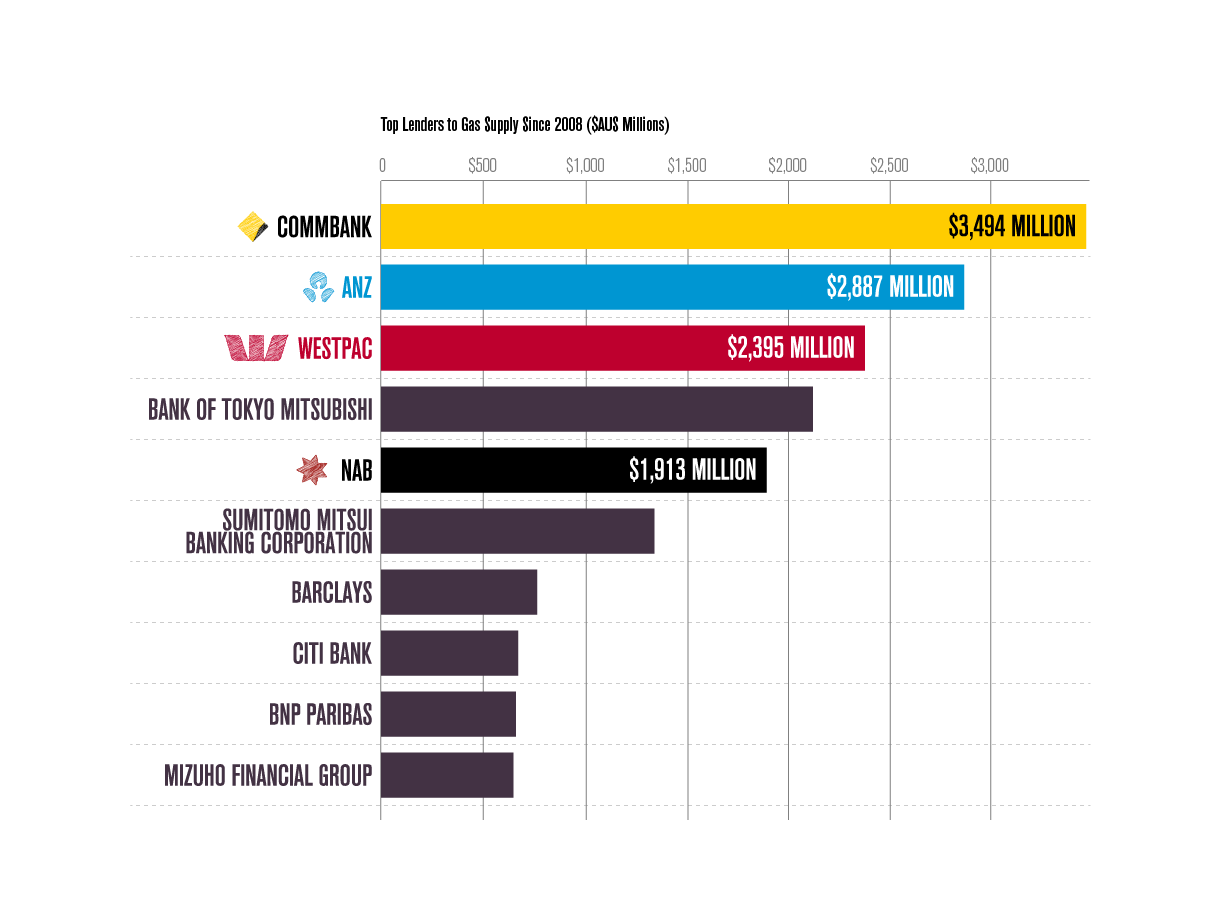 Renewable vs. Fossil Fuel Lending
The big four's lending to renewable energy is vastly overshadowed by their support for dirty fossil fuels.
For every dollar loaned to support renewable energy projects, the big Australian banks have provided eight times as much to fossil fuels on average. The graphic gives a sense of this major disparity, showing the total amount each bank loaned to fossil fuels in Australia from 2008-2016, as well as their total lending to renewables over the same period.
Worryingly, bank lending to renewables ground almost to a halt in the first of 2016, with neither ANZ nor CommBank providing a single dollar to the sector.
Fossil fuel to renewables lending in Australia, 2008-2016