Quite simply, divestment is the opposite of investment – the action of removing money that has been invested somewhere.
Divestment has taken on great significance as a global movement as more and more individuals and institutions take action to ensure that their money is not being used to fund projects and industries that they don't agree with.
The movement is fuelled by a growing awareness of how personal finances are exposed to environmentally damaging projects through the banks, super funds and share portfolios that they are invested with. You can use resources like our bank comparison table and Super Switch find out if your savings are being invested in dirty fossil fuels and take action to align your money with your values.
Divestment is a major step towards cutting your ties with climate wrecking fossil fuels and therefore reducing your carbon footprint. It sits alongside moves such as switching to a renewable energy provider and cutting gas use as one of the most effective ways to reduce your personal carbon footprint.
Divestment is a double-edged sword that climate campaigners and the concerned public are using to simultaneously remove finance from the fossil fuel sector, and raise awareness about the need to shift away from our current reliance on the industry.
Obviously the economic impact of one person removing their savings from a bank or switching super funds isn't going to cripple the fossil fuel industry, but by taking a stand, voting with their money and publicising their actions, those who divest can make a real and measurable impact.
A 2013 report by Oxford University's Smith School of Enterprise and the Environment looked into the impact of divestment, and in particular the effects of this current campaign. The report states, "The outcome of the stigmatisation process, which the fossil fuel divestment campaign has now triggered, poses the most far-reaching threat to fossil fuel companies and the vast energy value chain. Any direct impacts pale in comparison."
In the past, successful divestment campaigns have helped bring about change on issues such as tobacco advertising and South African apartheid. This current movement has huge potential, having been labeled "one of the fastest moving debates… I've seen in my 30 years in markets" by FTSE managing director Kevin Bourne.
Check out our switching banks materials to find out more about making the most of divestment action.
As evidenced by the many different
divestment stories
shared with us here at Market Forces, as well as those from around the world, there is a wide range of individual motivations behind divestment actions.
Obviously, the recognition of the devastating impact on fossil fuels use on climate change is a major inspiration, however there are also many more localised and specific environmental problems caused – and threats posed – by the fossil fuel industry.
Another motivation for divestment actions is the growing concern over the ongoing financial viability of the fossil fuel industry.
The issue of unburnable carbon and the resulting danger of fossil fuel companies being left with stranded assets has been raised by many financial experts, including those from Deutsche Bank, The Bank of England and even president of the World Bank Jim Yong Kim, who has said, "Every company, investor and bank that screens new and existing investments for climate risk is simply being pragmatic."
Want to get your divestment journey started? Put your bank on notice by completing the form below.
In the largest showing of strength to date, February's
Global Divestment Day
saw some 450 activities in more than 180 countries, raising the estimate of total divestment to US$50b.
This total is partly made up by many individuals from around the world who have stood up to ensure that their money is not being used to fund climate change, however there is also a growing number of institutions who have taken divestment action, often as a result of pressure from their members.
The single largest divestment action to date has been the Norwegian sovereign wealth fund's decision to ditch its holdings in companies that derive more than 30% of their business or revenue from coal. Valued at over $1 trillion the fund is largest of its kind in the world and its decision to divest was largely brought about by sustained community pressure.
As reported by GoFossilFree.org, some other great examples of institutional divestment include the Rockerfeller Brothers Fund, more than 20 US universities and colleges, and also the City of Oslo, which has pledged to divest US$7m worth of pension fund investments in coal.
More locally, The Uniting Church in Australia Assembly and the City of Moreland are amongst those leading the divestment charge, with other local councils, churches and educational institutions quickly following suit.
Want to spread tell others about divestment? Click here to check out our campaign materials.
"Divestment serves to delegitimise the business models of companies that are using investors' money to search for yet more coal, oil and gas that can't safely be burned.

It is a small but crucial step in the economic transition away from a global economy run on fossil fuels."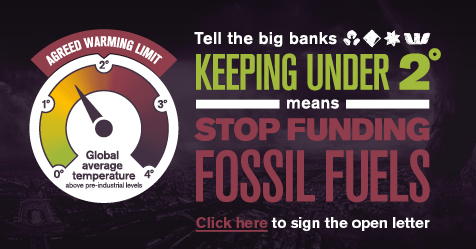 Customers worth
in savings have put their bank on notice