Quite simply, divestment is the opposite of investment – the action of removing money that has been invested somewhere.
Divestment has taken on great significance as a global movement as more individuals and institutions take action to ensure their money is not being used to fund projects and industries that they don't agree with.
The movement is fuelled by a growing awareness of how personal finances are exposed to environmentally damaging projects through the banks, super funds and share portfolios that they are invested with. You can use resources like our bank comparison table and super funds comparison table to find out if your savings are being invested in dirty fossil fuels and take action to align your money with your values.
Divestment is a major step towards cutting your ties with climate wrecking fossil fuels and therefore reducing your carbon footprint. It sits alongside moves such as switching to a renewable energy provider and cutting gas use as one of the most effective ways to reduce your personal carbon footprint.
"Divestment serves to delegitimise the business models of companies that are using investors' money to search for yet more coal, oil and gas that can't safely be burned.

It is a small but crucial step in the economic transition away from a global economy run on fossil fuels."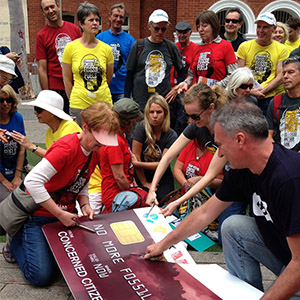 Is your bank lending to dirty fossil fuels?