---
ADANI PORTS INVESTORS EXPOSED
---
ADANI PORTS INVESTORS EXPOSED
Adani made me do it: How Adani Ports' involvement with the Carmichael project has compromised its bankers and investors

---
When Adani Ports and Special Economic Zone (Adani Ports) launched its own haulage company to haul Carmichael coal, major global banks and investors that had ruled out supporting Adani's Australian coal venture became exposed to a line of credit to the controversial project. Read about how it happened here.
Over 80 international banks, insurers and contractors have ruled out supporting Adani climate-wrecking coal mine, rail and port. Some of these companies still work with Adani on other projects, but understand that supporting the Carmichael coal mine is a massive risk to their reputation. Investor appetite remains high for Adani Ports, the biggest port operator in India, importing coal, cargo and other goods to India. But now that Adani Ports set up a coal haulage company in Australia to haul Carmichael coal, its investors are now at risk of funding Adani's toxic coal project.
Find out how these banks are undermining their commitment to ditch Carmichael and thermal coal in the table below and take action now. 
---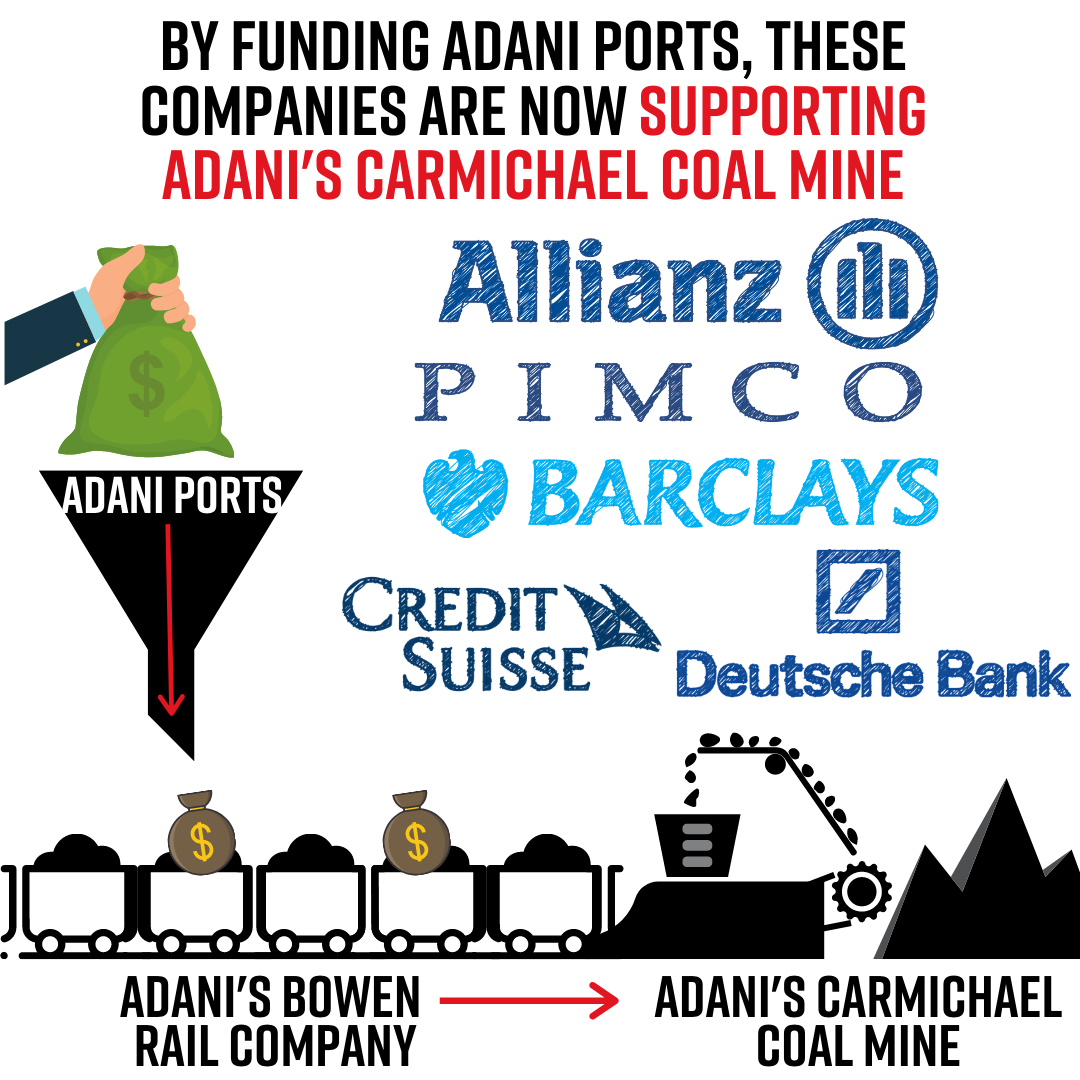 Let Adani Ports' bankers know that they are now exposed to the controversial Carmichael project.
---
Bank
Carmichael mine and thermal coal commitments
Role supporting Carmichael
Deutsche Bank
"We are currently not involved with this project [Abbot Point port] and will also not be involved with it in the future"

July 2020: "We will not provide any financing for greenfield thermal coal mining; We will not finance new greenfield coal-related infrastructure, regardless if related to new or existing mines" 

August 2020: "we pledged ourselves to end our global business activities in coal mining by 2025"

Jan 2021: Media reports that Deutsche Bank turned down arranging Adani Ports bonds on environmental grounds.



Coordinator for US$750million bond issue for Adani Ports



Barclays
"Barclays has no plans to participate in financing the Abbot Point development or its associated mine/rail infrastructure"

April 2020 "Increased prohibitions on thermal coal, including no financing for companies with revenue from thermal coal mining or power of >10% by 2030." 

"No project finance for the development of greenfield thermal coal mines anywhere in the world."



Coordinator for US$750million bond issue for Adani Ports



Credit Suisse
"Credit Suisse will not provide any form of financing that is specifically related to the development of a new greenfield thermal coal mine, or where the majority of the use of proceeds is intended for a new greenfield thermal coal mine."

"Credit Suisse will not provide any form of lending or capital markets underwriting to any company that presently does or, as a consequence of a potential mandate under review, would derive more than 25% of its revenue from thermal coal extraction."



Coordinator for US$750million bond issue for Adani Ports


Shareholder in Adani Ports



Standard Chartered
"Both parties [Standard Chartered and Adani] have agreed to end the bank's role in the Carmichael project"

"We will not provide project finance or project finance advisory services to new standalone, non captive thermal coal mining projects"



Coordinator for US$750million bond issue for Adani Ports



HSBC
"[HSBC] is extraordinarily unlikely to go anywhere near [Abbot Point]"
"HSBC will no longer support new thermal coal mines"

"Global Businesses must not provide financial services for: New thermal coal mines or new customers dependent on thermal coal mining."



Shareholder and bondholder in Adani Ports



Blackrock
CEO Condemned Siemens for its willingness to work on Adani's Carmichael mine saying "it is clear that it [Siemens] requires a more thorough review of the potential risks, including ESG risks, presented by future projects."

January 2020 "we are in the process of removing from our discretionary active investment portfolios the public securities (both debt and equity) of companies that generate more than 25% of their revenues from thermal coal production"



Bondholder in Adani's North Queensland Export Terminal (formerly Abbot Point) and Adani Ports


Shareholder in Adani Ports



Citi Group
"Citi is not involved and does not plan to be involved in any financing for the Abbot Point expansion"

July 2020: "Citi will not provide project-related financial services for… New thermal coal mines or significant expansion of existing mines"



Bookrunner for US$750million bond issue for Adani Ports



JP Morgan Stanley
"Morgan Stanley will not lend to or invest in the expansion of Abbot Point"

2020 "New thermal coal mining - We will not provide financing where the specified use of proceeds would be directed towards new thermal coal mine development."



Coordinator for US$750million bond issue for Adani Ports



DBS
"...the bank will also cease all project financing of greenfield thermal coal mines."



Bookrunner for US$750million bond issue for Adani Ports



Mirae Asset Daewoo
"We have no intention to be involved in either any financing activities of Carmichael mine development or Abbot Point equity sale activities."



Shareholder in Adani Ports