19 November 2019

The number of households whose insurance premiums have become unaffordable is rising at an alarming rate across Australia. This is because of more extreme weather events and rising sea levels, which are linked directly to global warming. Unfortunately, it's a situation that will only get worse while the world keeps burning coal, oil, and gas.
Insurance companies are very aware of this crisis. Despite taking some steps to reduce their exposure to fossil fuels, most insurers inexplicably continue to support, in one way or another, industries that fuel global warming.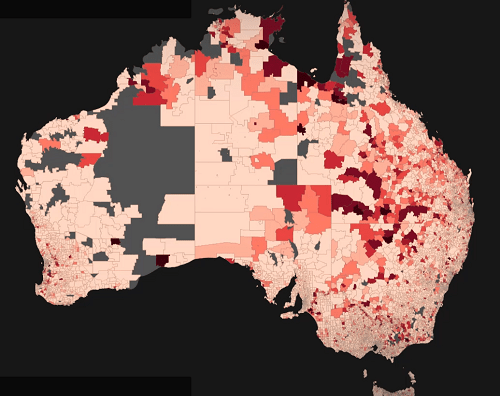 Analysis from the Climate Risk company, reported in the ABC last month, has shown that the number of "uninsurable" households (those with properties that are either refused insurance or charged over 1% of the property value in annual premiums) will progressively increase from 340,000 today, to 720,000 by 2100 – with hundreds of thousands more impacted by a doubling and tripling of insurance premiums over the next few decades.

Some of the areas worst affected include the Gold Coast, Sunshine Coast, Adelaide Hills, Rockhampton, Mackay, Alice Springs, Newcastle, Shepparton, and the south-west region of Western Australia.

Owning an uninsurable property doesn't just impact the owner. According to Climate Risk analyst Karl Mallon, dramatic hikes in insurance premiums, combined with tighter bank lending in response to climate risk, could trigger a property market crash.

Therefore the spread of insurance "red zones" has huge implications for the wellbeing of individuals, the insurance, banking and property sectors, and the entire Australian economy.

And while insurance companies have started to speak out about this crisis, their actions tell a different story as all three major Australian insurers continue to add fuel to the fire.

QBE has ended its insuring of new thermal coal projects and investment in coal company shares. It will phase out its entire thermal coal exposure by 1 January 2030. However, QBE continues to insure and invest in tar sands, oil, and gas projects and companies – sectors which, combined, produce more carbon pollution than coal.

Suncorp has also ended its insuring of new thermal coal projects and will be out of thermal coal entirely (with some dodgy exceptions) by 2025. However, it too continues to insure and invest in the climate-wrecking oil and gas sector.

IAG has announced an end to all coal, oil, and gas insurance by 2023. It remains invested in fossil fuel companies and is refusing to set targets for phasing out this exposure.

It makes no sense for insurance companies – whose profits are already being smashed by global warming-fueled extreme weather – to continue to support industries most responsible for global warming, and threaten a property market crash that could impact their entire customer base.

QBE, Suncorp and IAG all claim to take the climate crisis seriously. If that claim is to be more than just words, then they need to end their support for all fossil fuels.

Take Action: Ask QBE to phase out its support for oil and gas.