A search of Australian Super's investments has shockingly revealed that it holds $9 million worth of shares in Adani Ports and Special Economic Zone Ltd – one of the Adani group of companies.
This is the same Adani that has been fighting tooth and nail to get the disastrous Carmichael coal mine built in central Qld – in the midst of a climate emergency.
We only know this because Australian Super is one of the few funds that discloses where it puts its members' money. Your super fund could be doing the same thing.
Use the form to tell your super fund to dump any investment in Adani or any other company driving deadly global warming.
After a successful community campaign convinced 36 of the world's biggest banks to refuse Adani's requests for loans, Adani announced late last year that it would "self-fund" its coal mine and rail project.
This means it is entirely possible that Adani will use the capital from its investors to finance the construction of a coal mine that will threaten water supplies, trash the land rights of traditional owners and fuel deadly global warming.
You could be one of those investors!
Our superannuation funds could be helping create a world worth retiring in. A world that is rapidly transitioning away from fossil fuels, cutting emissions as rapidly as the science requires and bringing the climate emergency under control. An investment in Adani takes us in completely the wrong direction.
---
Latest Adani news
Watch this ABC news report from February 2019 on how Adani and its lawyers tried to silence community activism against its climate-wrecking Carmichael project.
---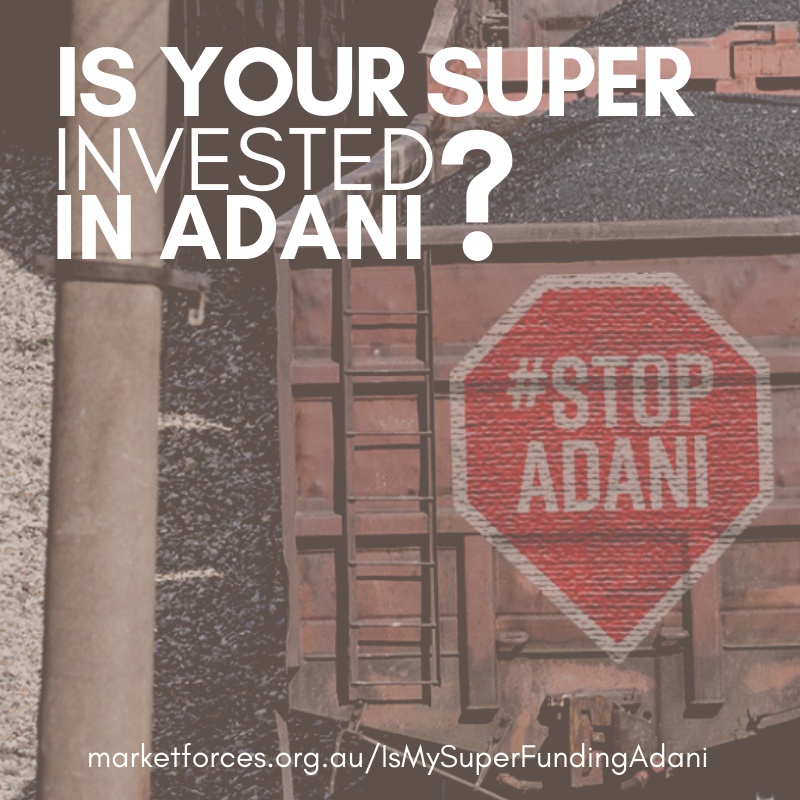 Take action!
Tell your super fund you don't want your money invested in Adani, or any other company undermining global efforts to limit warming to 1.5°C.