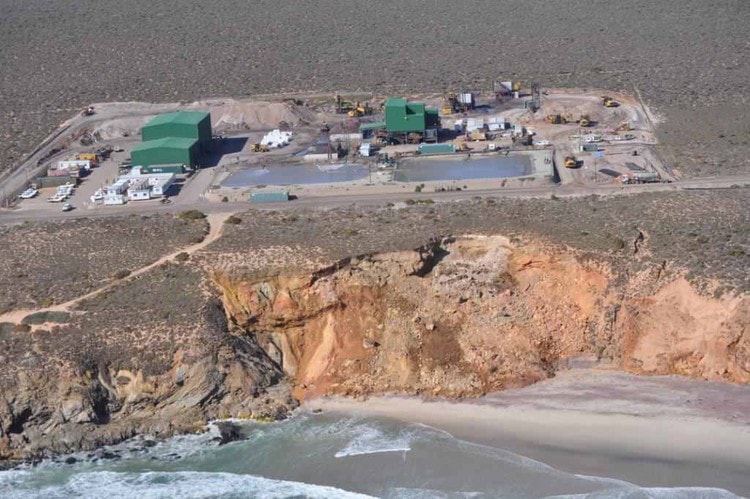 Mineral Commodities Limited (MRC) is a company listed on the Australian Stock Exchange, which operates in Australia, South Africa and Iran. It's currently planning to mine titanium along a 22km stretch of South Africa's eastern Wild Coast.
The Amadiba Crisis Committee (ACC) is a community-led initiative in the Xolobeni region campaigning against MRC's mine. Its concerns include:
the eviction of hundreds of community members from their ancestral lands
pollution of community drinking water
destruction of farming land and the agricultural economy.
In March 2016 ACC anti-mining activist Sikhosiphi Rhadebe, was gunned down at his home in front of his family. Amnesty International reported that Rhadebe was on a "hit list" along with other ACC members.
MRC has denied any role or links to his murder, a point emphasised by its chairman at the AGM, but the case has heightened tensions in the region.
"The assassination of Sikhosiphi 'Bazooka' Radebe (22nd March 2016) has caused further upheaval and concern within the Amadiba community. What assistance has MRC afforded the South African police to promote resolution of the murder and to ensure calming of the social turbulence within the community?" a proxy holder asked at the MRC annual general meeting (AGM) on 30 May 2019.
"We've dealt on corruption in the South African police force, we've dealt on an alleged murder, what else have we dealt on…..so I'm here in Australia and you're telling me I should be responsible for corruption in the South African police force?" replied MRC chairman Mark Caruso.
"I don't intend to debate about matters before criminal investigation other than to say this – the vitriol that has pervaded against my company, this company, and myself personally is shameful," remarked Caruso. "How would you feel… if your children or grandchildren were reading about their father or grandfather being accused of murdering someone without any evidence. So that's all I have to say."
When the shareholder tried to ask another question, Caruso, instead of speaking about company matters, questioned the shareholder's motivations.
"Do you fly over from South Africa to come to this meeting?" he asked.
"No," responded the proxy.
"Are you an Australian citizen?" Caruso asked.
"Not yet," said the proxy.
"Excellent, very good. So you have moved from South Africa to Australia. How long have you been here?" asked Caruso.
"Seven years."
"Why did you leave your country? I'm not going to bore shareholders with this discussion but it would appear to me that you abandoned your country. That you see it fit for you to come and buy 500 shares and potentially agitate…" pushed Caruso.
"When you go in the morning when you brush your teeth and flush the toilet, you create an environmental impact. Environmental impacts need to be managed. That's why you have legislation to deal with that."
"All miners are not perfect. All miners are doing the best they can under difficult political and operating backdrop. Not just in South Africa but around the world," Curso said.
Australian companies dominate the mining landscape in Africa – the Department of Foreign Affairs and Trade counts 175 ASX-listed companies as operating in 35 African countries. According to the International Consortium of Investigative Journalists (ICJ), more Australian-companies operate on the continent than any other country, including Canada, UK and China. Between 2004-2015, deaths linked to Australian mining companies numbered more than 380. The ICJ argues that these deaths and alleged injustices wouldn't have happened in better-regulated countries.
Strategic litigation against public participation (SLAPPs)
In 2017 MRC subsidiary, Mineral Sand Resources, sued six local environmental lawyers and activists for defamation relating to comments about their mining and planned operations, claiming damages totalling R11.75 million. The case is currently before the South African courts. Their legal action is widely regarded as a SLAPP (Strategic Litigation Against Public Participation) suit, deliberately brought to harass, intimidate and silence critics – which the company denies.
"Please explain whether this litigation, instead of protecting the reputation of MRC, is, in fact, damaging its reputation further, resulting in a significant and material risk to the company while also isolating important civil society and community stakeholders?" another person at the AGM asked the MRC's board.
"We don't have any response to these questions," Curso said.