26 October 2022
Whitehaven Coal faced backlash from big investors and community members both inside and outside its annual general meeting, held in Sydney today.
Despite record coal prices and company profits, more than a fifth of Whitehaven's shareholders demanded the company stop expanding and start managing down coal mining in line with a net zero emissions by 2050 pathway.
The company and its shareholders were met with a rally outside and questions inside the AGM, highlighting Whitehaven's failure to align its business with global climate goals.
Doubling support for coal wind up plans
This is the third year now that Market Forces has coordinated a shareholder resolution calling on Whitehaven to manage down coal production, with support more than doubling each year, from 4% in 2020, to 9% in 2021 and 21% today.
Over that time, the geopolitical and market conditions have changed significantly. Russia's invasion in Ukraine has contributed to record breaking coal prices, enabling Whitehaven to pay back all of its outstanding debt to its lenders and net $2 billion in profits.
However, the impacts of the climate crisis Whitehaven's coal is fuelling continue to be felt by more and more people. Since last October, thousands of Australians have experienced the devastating impacts of flooding, which is causing food prices for all Australians to increase. Even Whitehaven's own operations were impacted by flooding in December 2021 and the September quarter of 2022.
As shown by today's significant resolution vote, many investors don't want to see Whitehaven spend its windfall on making the climate crisis worse, and instead want the company to return capital to shareholders while ensuring a just transition for workers and the community.
While Whitehaven is currently enjoying huge profits, and with so many investors demanding the company not pursue expansion projects, there has never been a better time for Whitehaven's lenders to finally cut ties with the company. Banks like NAB and Westpac must seize the moment to walk away from Whitehaven, especially as the continued mining and burning of coal will only make the climate crisis worse and further impact the banks' other customers.
Take action
Tell Whitehaven's financiers to walk away!
Your email will be sent to Bank of China, Sumitomo Mitsui Banking Corporation, Industrial & Commercial Bank China, National Australia Bank, Westpac, Mizuho Bank, Bank of Communications, MUFG Bank, Caterpillar Finance Corporation, Deutsche Bank, China Everbright Bank, and Nippon Export and Investment Insurance.
Privacy policy
Community members keeping the heat on Whitehaven
Market Forces worked with our friends at Lock the Gate to facilitate community members impacted by Whitehaven mines to ask questions at the meeting, as well as a litigant from the federal court case Sharma v the Minister for the Environment.
Concerns about Whitehaven's role in fuelling climate change and its push to expand coal production were raised, as well as its direct impacts on the local environment and its prosecution for environmental breaches.
Move Beyond Coal organised a rally out the front of the AGM, with speakers, flyers, banners and drum crew, all culminating in a procession down to the Martin Place NAB head office with Coal Blockaders, as NAB is one of Whitehaven's bankers.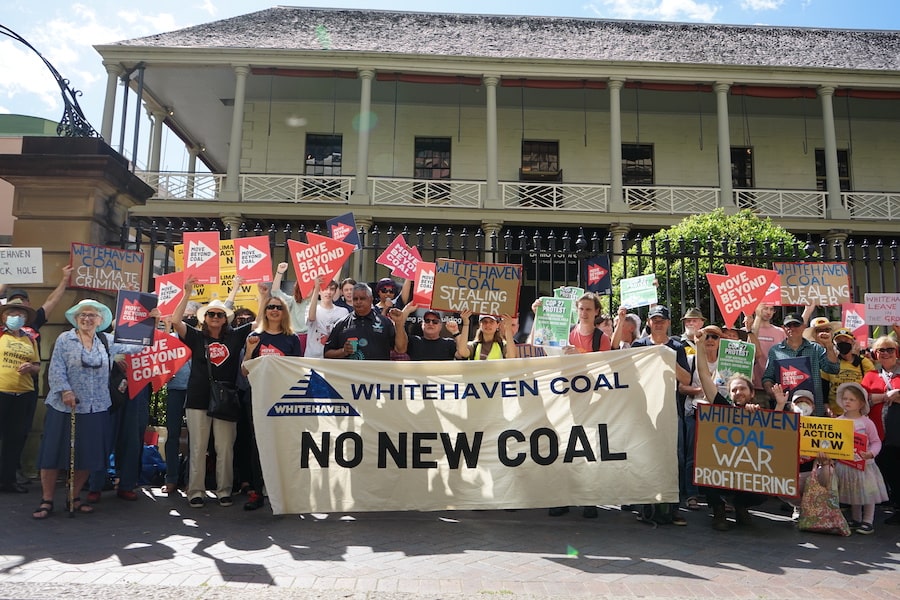 Huge news: more than a fifth of @WhitehavenCoal's shareholders just rejected the company's climate-wrecking coal expansion plans, instead demanding $WHC manage down coal production and deliver a just transition in line with a net zero emissions by 2050 pathway pic.twitter.com/Tdaa8neIYW

— Market Forces (@market_forces) October 26, 2022
Whitehaven's ongoing failure to assess the risks posed by the transition
Even though investors have asked Whitehaven's leadership for years now to stress test Whitehaven's business against a 1.5°C warming scenario, yet again in its 2022 Annual Report and Sustainability Report, Whitehaven refers to scenarios outlined by the International Energy Agency (IEA) that fail to meet the Paris Agreement's 1.5°C warming goal or net zero emissions by 2050. These are the Stated Policies Scenario (2.7°C) and Sustainable Development Scenario (SDS; 1.65°C, net zero by 2070).
The company claims all its operating assets would have "positive valuations and economic lives" under the inadequate SDS scenario, but leaves out any assessment whatsoever of the three new or expanded mines that the company is looking to develop. These planned new projects are the ones most at risk of becoming stranded assets. Whitehaven's deficient scenario analysis leaves investors none the wiser as to the financial risks facing the company under a 1.5°C pathway.
Useful scenario analysis must quantify the impacts – including on cash flows, useful asset lives, rehabilitation liabilities, and asset valuations – in a way that allows for useful comparison against alternative scenarios.
Such analysis of a net-zero by 2050 scenario is essential given the proliferation of policy and financial market commitments to this goal, and would reveal the immense and unacceptable transition risk facing Whitehaven's current coal expansion plans. Indeed, 79% of Whitehaven's FY22 revenue is derived from sales to countries committed to achieving net-zero emissions by 2050 (Japan, Korea, Taiwan).
When recently asked about modelling under the IEA's Net Zero by 2050 scenario or another 1.5°C aligned scenario, Whitehaven CEO Paul Flynn deflected by hypocritically attacking the IEA's importance and credibility, claiming the IEA "has moved away from its core objectives and I see it more as an advocacy body for renewable energy". Whitehaven has not expressed this concern previously when referencing many of the outdated IEA scenarios that provide a more favourable outlook for coal, despite their alignment with the failure of the Paris Agreement.
With this context, a shareholder asked the board about this inadequate modelling and whether Whitehaven Chair Mark Vaile felt he'd met his director's duties to manage risks to the company. Despite promising in 2021 to look at the company's resilience to a net zero by 2050 scenario (which the IEA says cannot include new coal mines), Mr Vaile's answer indicated the company has no intention of providing this analysis to shareholders.
Later in the AGM, the CEO added that the board didn't want to "constrain the company to one scenario" when referring to net zero by 2050, despite Australia and around 80% of Whitehaven's markets having committed to that goal.
Whitehaven's leadership have abdicated their responsibility to consider the very real risk that the transition to a decarbonised economy poses to the company's very existence. Going by the presentations and answers provided by Whitehaven's leadership at the AGM, the company is placing its faith in the failure of global climate action, or unviable carbon capture and storage technology, or both.