Despite its commitments to net-zero by 2050 and the Paris Agreement, NAB has continued pumping hundreds of millions of dollars into projects that expand the fossil fuel industry and the companies pursuing them. Last year, it loaned CA$117.5 million to the 670km climate-wrecking Coastal Gaslink pipeline in Canada. Based on conservative estimates, this pipeline would enable the release of 610 million tonnes of CO2 over its lifetime, more than 80% of Canada's greenhouse gas emissions in 2020.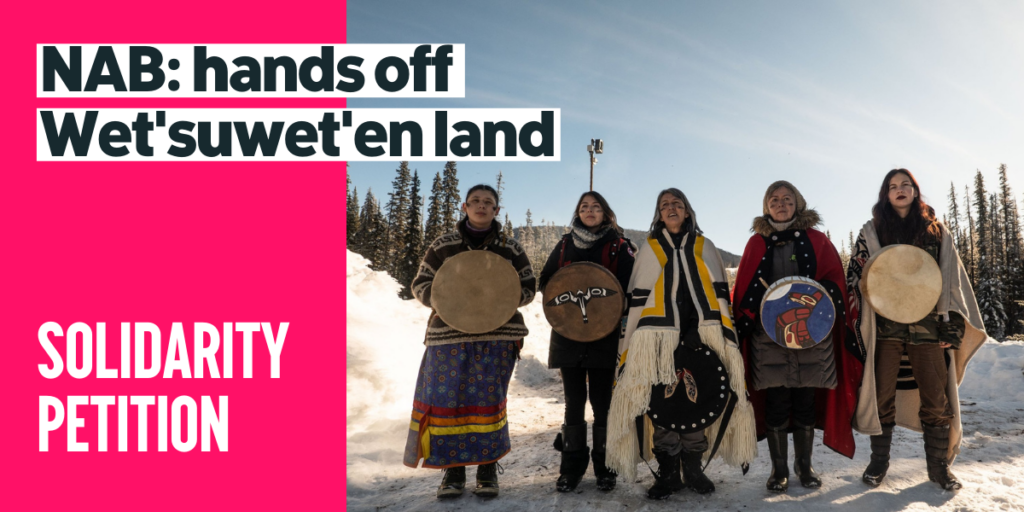 Not only is this climate-wrecking gas project incompatible with limiting warming to 1.5°C, it is also currently being constructed on the unceded lands of Traditional Owners; the Wet'suwet'en. The hereditary chiefs of the Wet'suwet'en Nation fiercely oppose the project and have not provided their free, prior and informed consent.
Sign onto this petition written and coordinated by 350.org calling on NAB to immediately withdraw investment in the Coastal GasLink pipeline. Your details will be added alongside thousands of others, including supporters of 350, as well as GetUp, Seed and AYCC, who are also hosting the petition in collaboration with 350, but your data will not be kept by these groups.
Take action!
Sign onto 350.org's petition calling on NAB to immediately withdraw investment in the Coastal GasLink pipeline. 613 people have added their names so far!
"*" indicates required fields
According to an October 2021 update from Rainforest Action Network: "For the past twelve years, the Wet'suwet'en have asserted their sovereignty to stop fossil fuel companies from trespassing on their lands…In September 2021 Coastal GasLink bulldozed an ancient Wet'suwet'en village site, despite consistent calls to action and legal requirements to respect the site from Wet'suwet'en hereditary chiefs and archeologists alike. Right now, TransCanada Energy's contractors building the pipeline are attempting to drill underneath sacred waterways".
The pipeline threatens culturally significant archaeological sites. 
The Wet'suwet'en Hereditary Chiefs of each clan oppose the pipeline and issued an eviction notice to Coastal GasLink, which was ignored. 
The Hereditary Chiefs have re-asserted their right to jurisdiction over their own lands, their right to determine access and prevent trespass under Wet'suwet'en law, and the right to Free Prior and Informed Consent as guaranteed by the United Nations Declaration on the Rights of Indigenous Peoples—but Coastal GasLink will not listen.
NAB's Annual General Meeting is coming up on December 17th. We have an opportunity to shine a light on NAB's out of line investment in this dangerous gas project. Sign onto the petition and call on NAB to withdraw investment in the Coastal GasLink pipeline immediately.