16 August 2014
Westpac recently put a call-out to ask for applications to their Community Leader Awards. We couldn't resist putting in an application!
We applied to the Westpac Community Leaders Awards because we believe that Westpac need all the help they can get to avoid new fossil fuel development, and if we win, we'll use all of the award money to make sure that Westpac doesn't finance Abbot Point. Read through our application below and take action to support it by sending an email to the judge, Jason Yetton, explaining why you think Julien Vincent deserves to win this award.
Nominee
Mr Julien Vincent, Lead Campaigner
When was the organisation first formed?
22 January 2013
Category
Start-up Leader (< 2 years)
Purpose of the Organisation
Market Forces works with Australians to prevent finance and investment in environmentally destructive projects, and encourage investment in projects that protect and enhance the environment. The Market Forces tagline is aptly "your money as a force for good."
Market Forces' vision is for a future in which institutions utilise finance with a high degree of respect for the environment, deploying and mobilising it to deliver solutions to significant environmental issues, and where the community holds the custodians of their money accountable in order to ensure it is directed in an environmentally positive manner.
A priority area of work is to empower Australians to convince major banks about the importance of avoiding investments in major new fossil fuel projects, such as the proposed expansion of the coal industry, involving coal mega-mines, and ports in the Great Barrier Reef World Heritage Area. Market Forces helps people use their customer power to ensure banks are aware of the reputational and customer base risks of investing in these environmentally destructive projects, in addition to the financial risks that they must clearly be already aware.
Market Forces is an affiliate of Friends of the Earth Australia, and member of the BankTrack international network.
Q1. Why do you believe that the nominee is an inspiring Community Leader?
Julien founded and leads the Market Forces team, which is committed to ending, the funding of new dirty fossil fuel projects in Australia and facilitate a shift in finance from the high to low-carbon economy. Julien started Market Forces from nothing, using his own money, while receiving no income for Market Forces' first six months. Through providing important information and support to the public and environmentalists, Market Forces has turned into a thriving project, making an important contribution to Australia.
So far, Julien's leadership has seen Market Forces play a role in campaigns that have seen:
Billions of dollars in subsidies to the fossil fuel industry cancelled,
Major European banks commit to not finance the destructive proposals to build new coal terminals in the Great Barrier Reef, and
Enable thousands of Australians to align their finances with their values.
Even before Julien started Market Forces he has been a dedicated climate change activist and advocate for strong climate action for over a decade. He has put his liberty on the line several times to call for action to rapidly reduce greenhouse gas emissions, and has developed a number of campaigns to stop new coal power plants from being built, while providing blueprints for how Australia can transition to a clean energy future. Given Westpac's strong statements about the need to act on climate change, I can only imagine that you'll be overwhelmed by Julien's record in this area.
Q2. Briefly describe a key achievement that the nominee has accomplished in the last 12 months to benefit their organisation and/or community? Please include skills shown by the nominee in accomplishing this achievement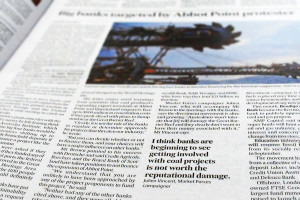 Julien's work has raised awareness of the role of the major banks as supporters of fossil fuels and how these industries are not compatible with a safe climate future. His work has been featured in the Financial Times, Australian Financial Review, ABC's The Business, most of Australia's major newspapers, as well as many international outlets.
As a result, the community has become informed about how banks use finance to fund environmentally destructive activities and empowered them to take meaningful action to remedy this problem.
The benefits of this work extend to the banks that fund fossil fuels, given that they all encourage community feedback and welcome the opportunity to hear from their customers and members of the public. The tens of thousands of email actions that Market Forces has facilitated to financial institutions will undoubtedly give clarity and assurance to major banks, such as Westpac, that Restricting finance to controversial and environmentally destructive fossil fuel projects will not just make sense from a financial, moral and environmental viewpoint, but also be a winner with their customers.
For example, Market Forces recently commissioned polling that demonstrated the big banks could stand to lose more than $236 billion from customers divesting, if the banks were to fund coal ports on the Great Barrier Reef. Westpac alone is at risk of losing $59 billion if they were to finance Abbot Point. This information must be highly useful to banks that are perhaps unaware of the risk of financing destructive fossil fuel projects.
Q3. What is or will be the social impact to the organisation and/or the community from the achievement you mentioned in Q2?
In the short term, the impact of Julien's work has been:
A community better informed about their connection to environmentally damaging fossil fuel projects,
A more empowered community playing an active role in the decisions made by their bank on future investments in the fossil fuel industry, and
Enabling people to ensure their money is no longer being used to invest in environmentally destructive projects, or to exacerbate climate change.
Long term, this work is aiming to prevent the expansion of an industry that is threatening everybody's right to a safe climate and clean, healthy environment. By helping financial institutions to realise that investment in inherently unsustainable, dirty, polluting, climate change-causing sources of energy, a redirection of investment will help accelerate us to an economy powered by clean, renewable energy instead of coal, oil and gas.
This would mean cleaner air, water, land, and safer climate for us and our children, goals that would appear to align well with Westpac's sustainability criteria, making Mr Vincent a prime candidate for this Community Leadership award.
Q4. What is or will be the financial benefit to the organisation and/or the community from the achievement you mentioned in Q2?
Acting on climate change is going to save the community financially, given the costs of inaction and the impacts of climate change, which pose a massive financial cost on the community.
A financial risk of inaction on climate change also exists in a scenario where investors are slow to act. The world is committed to act on climate change. At the UN climate talks, countries have agreed that average global warming must be kept below 2˚C to avoid dangerous and possibly unstoppable climate change impacts. This two-degree limit sets a 'carbon budget' for how much more greenhouse gas we can emit from burning fossil fuels. But fossil fuel companies have committed to extract more than three times this budget.
This means that investment in fossil fuels will likely result in stranded assets and significant financial loss as the world begins to implement policies which limit global greenhouse gas emissions in the effort to limit global warming to 2˚C and avoid catastrophic climate change.
So, while the community will benefit from avoiding the costs of dealing with climate change, financial institutions will also stand to gain by avoiding wasting capital by investing it in companies and assets incompatible with a low-carbon global economy. Julien would, I'm sure, be glad to use the proceeds of his Community Leaders Award to expressly assist Westpac in avoiding such risky high-carbon investments that pose risks to the bank as well as the broader community.
Q5. How does your nominee's broader contributions support achieving their organisation's vision and/or the community they serve?
Julien's role as the founder of Market Forces and the energy, toil and personal sacrifice made to create this valuable project speak for itself, but it is far from an isolated effort in his history as a campaigner and activist.
Julien has worked for about a decade on climate-related issues and has helped many others as they have begun their own initiatives to foster the transition from a fossil fuel-based to a renewable energy based society and economy. A Greenpeace campaigner for over six years, his record in creating opportunities for positive change for the climate is outstanding. Market Forces is merely his latest incarnation in a career dedicated to helping the environment movement and broader public achieve as much positive change as possible for a healthy environment.
An example of the positive change created by Market Forces is the benefit Westpac would enjoy from, having set aside $6 billion to fund renewable energy projects, actually have the opportunities created to finance those projects. By cutting off finance for the fossil fuel industry, opportunities will arise in the renewable energy space that will enable Westpac to deliver on its own commitments to the environment, and stimulate the jobs and productivity that come with transforming our economy to be powered by renewable energy.
To solve the climate crisis we need community members like Julien, and financial institutions such as Westpac, to step up and defend our environment and climate.
Support our application
Send an email to the judge, Jason Yetton, explaining why you think Julien Vincent deserves to win this award.
Share our graphic on Twitter.
We've just submitted an application to @Westpac's Community Leaders Awards! Check it out: http://t.co/7mrIijtGa9 pic.twitter.com/k94oGiXWiy

— Market Forces (@market_forces) August 16, 2014