Bumi Resources (Bakrie Group)
PT Bumi Resources Tbk is an Indonesian-based holding company majority owned by the Bakrie Group and primarily engaged in coal mining. It is Indonesia's largest coal miner by production volume and boasts of being "the largest thermal coal exporter in the world". It has numerous coal mining subsidiaries and associates including PT Kaltim Prima Coal, PT Arutmin Indonesia, PT Fajar Bumi Sakti and PT Pendopo Energi Batubara.
Bumi produces thermal coal from mines located in several areas in Indonesia, such as Sangatta, Bengalon, Senakin, Satui, Mulia, Batulicin, Asam-asam, Kintap, Loa Ulung, Tabang, Muara Enim and Penukal Abab Lematang Ilir. The vast majority of its coal is used as fuel in coal-fired power plants.
Bumi has two non-coal business segments; minerals (operated by PT Bumi Resources Minerals Tbk) and oil & gas exploration (operated by Gallo Oil (Jersey) Ltd). Outside Indonesia, it operates in the Islamic Republic of Mauritania (iron ore) and the Republic of Yemen (oil & gas).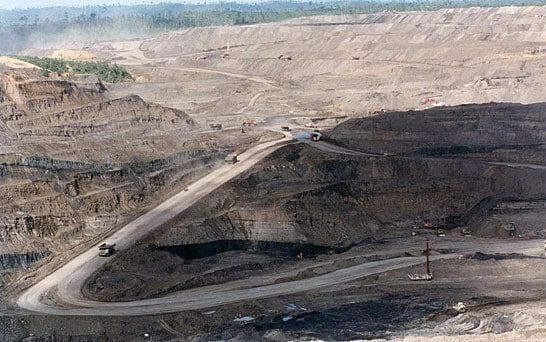 PLEASE NOTE: The US$ figures presented are the sum of lenders' corporate loans to Bumi from 2009-2016. The 'number of deals' column indicates the number of deals (of a total of 28 transactions identified) in which a bank has been involved.
Information comes from Bumi's annual reports, as well as other public and subscription-based information sources. Occasionally, where information is incomplete, assumptions must be made about data and these were made in a consistent manner and in good faith. Whilst we endeavoured to gather and include all relevant deals, we cannot guarantee the completeness of the information presented. The intended use of 11 identified deals included primary debt and additional facilities, 5 involved company acquisition loans, 10 involved refinancing and 2 had an unknown purpose.
In May 2017, Bumi Resources completed a debt restructuring due defaults on some of their bonds and loans due in 2014, 2016 and 2017. Creditors and bondholders will receive a mix of new senior notes, mandatory convertible bonds, equity and contingent value rights. [See Daniel Stanton, International Financing Review, (20 May 2017) "Bumi workout nears finish line"]
Shareholders
| Investor | Ownership (%) | Date |
| --- | --- | --- |
| 1. Long Haul Holdings Ltd | 30.11 | 30 Jun 2016 |
| 2. PT Damar Reka Energi | 6.28 | 30 Jun 2016 |
| 3. Dimensional Fund Advisors, L.P. | 0.84 | 31 Jul 2016 |
| 4. State of California | 0.38 | 30 Jun 2015 |
| 5. Eaton Vance Corp | 0.19 | 31 Aug 2016 |
| 6. The Vanguard Group, Inc. | 0.18 | 30 Sep 2016 |
| 7. Manulife Financial Corp | 0.07 | 31 Aug 2016 |
| 8. State of Texas | 0.03 | 31 Mar 2016 |
| 9. State Street Corp | 0.00 | 14 Oct 2016 |
| 10. Wilmington Trust Investment Advisors, Inc. | 0.00 | 30 Jun 2015 |