What kind of future will Singapore's banks fund in ASEAN?
August 2018
The world is experiencing an energy revolution. The cost of new solar and wind is now lower than existing coal generation in India, making coal uneconomical as an energy source there. European countries are enjoying extended periods where no coal power is required. China passed peak coal in 2013 and since 2010 the United States has cut coal power production by 639 terawatt-hours (13 times Singapore's annual power consumption).
As regionally dominant financial institutions, Singapore's banks –DBS, OCBC, and UOB, are instrumental in unlocking opportunities to finance clean, renewable energy in Southeast Asia so that the region is not left behind.  As a precusor to scaling up green finance, as DBS stated in its own report, Green Finance Opportunities in ASEAN, "First, capital allocation to polluting and environmentally damaging activities will need to decrease while allocations to activities with environmental benefits will need to increase." (emphasis added). 
However, following Market Forces' broader study earlier this year and analysis raising questions about the effect of Singapore banks new coal policies, our latest research reveals  Singaporean banks lending activity in ASEAN is ramping up coal instead of replacing it with renewable energy.
TOP BANKS BACKING dirty energy despite clean targets

From 2012 to 2017, Singapore's banks have loaned a combined US$2.3 billion to coal mining and coal power projects in ASEAN. Meanwhile, they loaned renewable energy projects a meagre US$300 million. We calculated that:
The region's biggest commercial banks – DBS, OCBC, and UOB – are lending 

nearly eight times as much 

to coal than renewable energy in ASEAN.

 

OCBC performs worst on renewable energy and lends the most to coal.

DBS performs best in renewables lending for ASEAN, but still loans

over three times

as much to coal.
In October 2015, ASEAN countries made a collective commitment to increase renewable energy by 2025 to 23% of the region's energy mix.  To achieve this goal, the region needs to invest US$27 billion annually. As things stand, Singaporean banks lending is doing little to meet that target.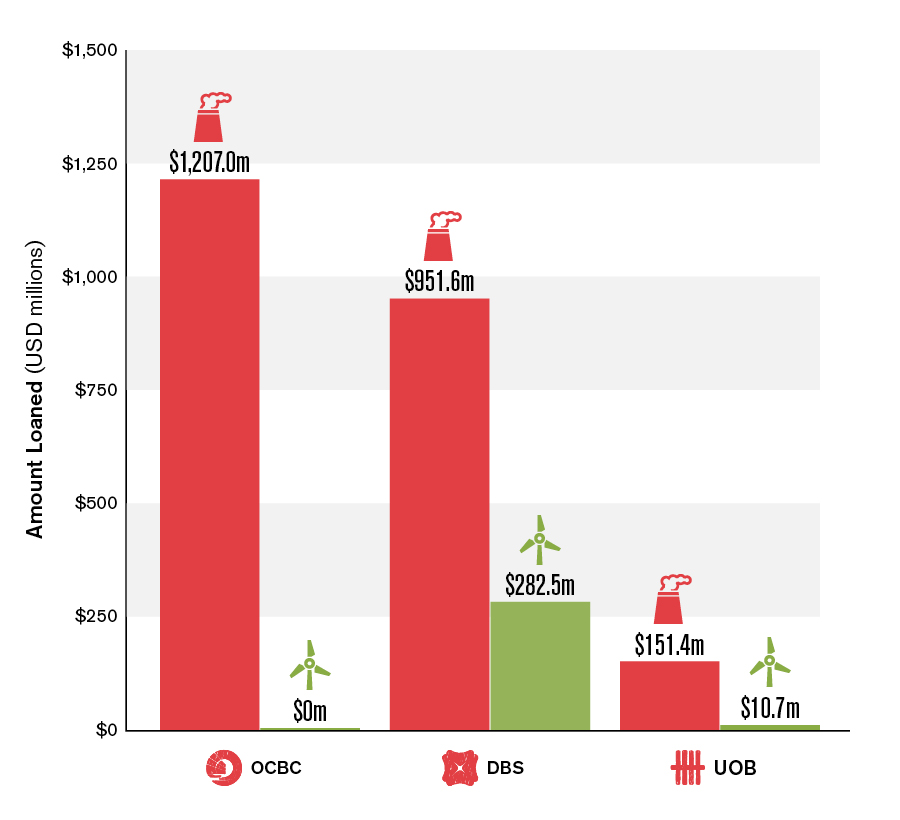 * We were not able to find any OCBC involvement in renewable energy deals in ASEAN between 2012-17.
This heavily skewed pattern of lending favouring coal over renewables can – and must – be turned on its head.  While there may have been hesitation in recent years to engage in renewable energy projects as they were perceived as risky, or too small, there is no longer any excuse with the declining cost of technology, and improved renewable energy opportunities in Southeast Asia.
For the banks, this requires a shift from 'business as usual' when approaching new energy opportunities and, at a minimum:
a deep understanding of the energy transition ahead,
working closely with clients to help them understand and take advantage of renewable energy opportunities, and
sending appropriate signals to regional markets and governments that they are ready to back a renewable energy future in ASEAN.
DBS and OCBC are undermining Singapore's clean energy targets
Singapore estimates its annual 'business as usual' emissions will reach 77.2 million tonnes in 2020 and is taking steps to reduce these emissions.
The coal-fired power stations that DBS and OCBC have financed over the past five years will produce 1170 million tonnes of CO2 over their lifetime.  
The total CO2 emissions from the coal-fired power projects financed by DBS and OCBC will represent approximately 15 times Singapore's projected emissions in 2020.
Lifetime CO2 emissions of the coal-fired power stations that DBS and OCBC have funded in ASEAN compared to Singapore's projected Emissions in 2020
Singapore

10%

10%

DBS – 7.1 X

71%

71%

OCBC – 8.5 X

85%

85%
Research methodology
18 coal deals: seven deals represent corporate loans to mining companies and 11 deals represent loans to coal-fired power, involving 11 projects

five renewable energy deals, involving three projects and one corporate loan
Deals were identified via investigation of subscription-based financial databases provided by IJGlobal and Thomson Reuters. Where financial information was identified, it was cross-referenced with market disclosures and news reports. Where material information between sources was inconsistent or unavailable, a determination was made to attempt to reflect the deal accurately.
All lending amounts are reported in US Dollars (USD) unless stated otherwise. Lending amounts are as at the date of financial close and aggregated figures were reached by adding these amounts.
*Market Forces examined the lending of the top three ASEAN commercial banks (DBS, OCBC, and UOB) to the coal mining and power industry and renewable energy industry (solar, wind, geothermal, and hydropower) within ASEAN from 1 January 2012 to 31 December 2017. Click on the above link for more detail.
DBS and OCBC are undermining Singapore's clean energy targets
While the climate crisis is a matter of survival for humanity, and a paramount concern, the reality of many developing nations is also one of a lack of energy access. The good news is that renewable energy is more than capable of being rolled out at scale and, as distributed technology that can be built in a fraction of the time it takes for conventional power, renewable energy can be deployed quickly and in the places where power is needed most.
For governments and industries, it is simply a matter of choice: large polluting power sources that serve the highest bidder? Or clean renewable energy that can be used for large industrial users as well as communities currently lacking electricity?
The rest of the world is  phasing out coal. Bank policies which promote coal finance in 'developing' countries  while excluding them elsewhere reek of hypocrisy. As Nguy Thi Khanh, the executive director of GreenID Vietnam, puts it:
"Too poor, too foreign, let them breathe sulfur dioxide and smog," the policy might as well read. "They're only Vietnamese."
Air pollution from coal in Southeast Asia is likely to cause 70,000 premature deaths by 2030 if coal plants continue to expand at the current rate say Harvard University researchers.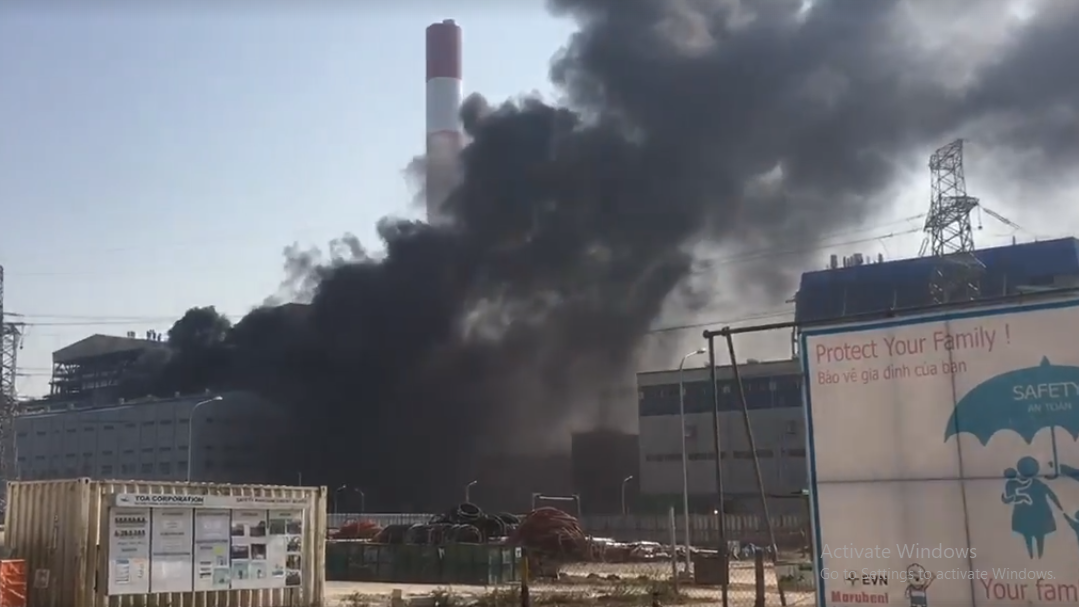 A fire at the Thai Binh Thermo-Electricity Plant 2 Project in northern Vietnam in December 2017.
Expert organisations like the World Bank, and the Overseas Development Institute warn that coal's heavy health and global warming impacts make it a driver of poverty rather than a solution.
Two major projects funded by DBS and OCBC illustrate how local communities in developing countries bear the brunt when big banks back the coal industry's relentless expansion.
Limay Coal-Fired Power Station, The Philippines
The 600-megawatt coal-fired power station in Limay, Bataan, in the Philippines is proving an unwelcome neighbour for residents.
Skin and respiratory problems caused by fly ash from the plant led to the Department of Environment and Natural Resources and the Environmental Management Bureau issuing violation notices against the project sponsor in December 2016 and January 2017.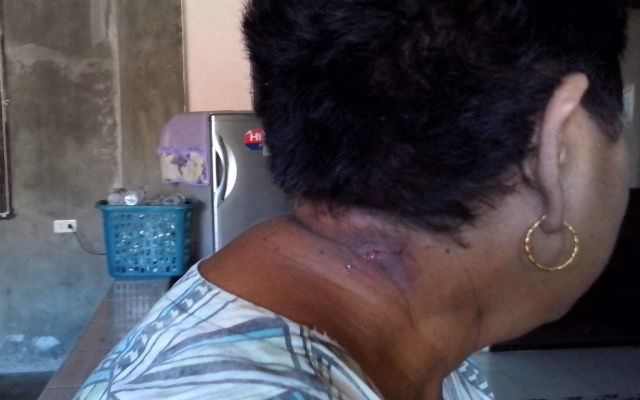 Both DBS and OCBC financed the Limay coal plant in Bataan where residents have suffered serious coal-related health problems. Photo: Nuclear Free Bataan Movement
DBS and OCBC are undermining Singapore's clean energy targets
To ensure ASEAN's clean energy transition, DBS, OCBC and UOB must follow the advice in DBS' Green Finance Opportunities in ASEAN report provide capital to renewable projects and stop funding new coal projects.
Two other banks are leading the way on renewables in the region.
ASEAN's top commercial banks must take leadership in sustainable finance and step up to ensure a sustainable energy future in ASEAN.