Nghi Son 2 is a 2 x 600MW coal-fired power station located in Tĩnh Gia district, Thanh Hoa province in Vietnam. 
This project uses supercritical technology and has an anticipated average emissions intensity of 860-880g CO2/kWh. 
To put that number into perspective, Lauri Myllyvirta, Greenpeace's coal and energy expert stated that: "The planned coal-fired power plant would generate twice as much CO2 per every unit of power generated as the average generating plant in Vietnam." (emphasis added) 
Since this information was publicized, Standard Chartered Bank, one of the banks previously linked to financing this plant, stated that they were reviewing their involvement in this project before withdrawing from the deal (they did not feature in the list of commercial lenders at financial close).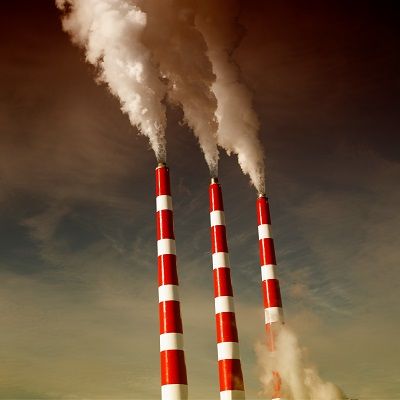 Financial close was reached on 13 April 2018. Given the significant potential environmental impact of Nghi Son 2, the commercial banks and export credit agencies highlighted below should publicly disassociate themselves from the project.
Financial close: 13 April 2018
Investment Agreement signed: November 2016
Investment License issued: June 2017
Power Purchase Agreement signed: November 2017
What's wrong with the project?
The project's  environmental impact assessment, or EIA, was released on 6 February 2018 by JBIC, one of the lenders considering funding the project.
Market Forces coordinated with Greenpeace's Coal and Air Pollution Expert, Lauri Myllyvirta, to calculate the average emissions intensity of Nghi Son 2 using engineering calculations based on technical data in the EIA.
Myllyvirta estimated the average emissions intensity of the coal-fired power project at 860-880 CO2/kWh.  
As noted above, this project would generate two times as much CO2 for every unit of power generated by the average power plant in Vietnam.
"Expansion of coal-fired power generation in Vietnam is a major threat to public health: air pollution from coal-fired power plants was already responsible for an estimated 4,300 premature deaths in 2011, with the health toll projected to increase three-fold if Nghi Son 2 and other planned projects go ahead," Myllyvirta stated, referencing a 2017 study in the peer-reviewed journal Environmental Science & Technology (emphasis added).  The study predicts that by 2030 in Vietnam there will be an estimated 19,220 excess deaths per year due to coal pollution.  
The ESIA may not be compliant with Vietnamese law:  Please note, we are not Vietnamese lawyers and this section constitutes information, not legal advice.  Article 21 of the Vietnamese Law on Environmental Protection 2014, No 55/2014/QH13, states that project owners are obliged to consult communities that are directly affected.  The ESIA provides no evidence that such consultation with project-affected communities took place.   Further, section 20 of the Vietnamese Law on Environmental Protection 2014 states that project owners must repeat the EIA where the project is not executed within 24 months of the date of the approval of the EIA.  To our knowledge, the EIA was completed in February 2015, and it has been over three years since that date.
The ESIA presently does not take into account the cumulative impacts of the other projects in the area: Nghi Son 2 is located within an area which includes another coal-fired power station as well as the Nghi Son oil refinery and petrochemical project. These other projects are not considered in the context of Nghi Son 2's emissions or the strain that Nghi Son 2 may place on water resources, for example.
The ESIA fails to include an analysis of potential alternatives to the project:  The Equator Principles requires that all project with expected annual emissions above 100,000 tonnes of CO2 equivalent to conduct an alternatives analysis, referring to a consideration of alternative fuel or energy sources. No such alternatives analysis was completed in the ESIA.
Who's involved in the project?
Korea Electric Power Company (Kepco) (Korea) 50%
Marubeni Corporation (Japan) 40%
Tohoku Electric Power (Japan) 10%
Financial: SMBC
Legal (borrower): Allen & Overy
Legal (lender): Clifford Chance

Legal: Frasers Law Company

Legal: Watson Farley & Williams

Legal: Orrick Herrington & Sutcliffe
Doosan Heavy Industries (Korea)
Total debt: USD $1,869 million
Commercial Banks 
DBS Bank (Singapore) -  US$99.3 million 
Mizuho (Japan) - US$99.3 million
MUFG (Japan) -  US$132.4 million
SMBC (Japan) -  US$132.4 million
Shinsei Bank (Japan) -  US$99.3 million 
OCBC (Singapore) -  US$132.4 million
Maybank (Malaysia) -  US$99.3 million 
Export Credit Agencies (ECAs) 
Korea Export-Import Bank (Kexim) - US$560 million
Japan Bank for International Cooperation (JBIC) - US$560 million
Why Export Credit Agencies shouldn't be involved
JBIC, a Japanese Export Credit Agency (ECA), is projected to provide at least 60% of the finance for the coal-fired power project.  Korea's ECA, Korea Export-Import Bank, is purported to be involved as well.
The OECD Sector Understanding on Export Credits for Coal-Fired Electricity Generation regulates the funding of coal-fired power stations by certain countries, including Japan and Korea.
The transitional clause of the OECD Sector Understanding states that:
The terms and conditions of this Sector Understanding are applicable to final commitments for goods and services covered by this Sector Understanding as of 1 January 2017, with the exception of those projects for which a request for proposals was issued prior to 1 January 2017, on the basis of a fully completed technical feasibility study and environmental and social impact assessment, and provided that an application for export credit support for any such project is submitted and acted upon expeditiously.
The environmental and social impact assessment provided on JBIC's website is dated 5 February 2015.  Typically, this might mean that the project does not have to comply with the OECD Sector Understanding.  However, given that the EIA was completed 3 years ago, it would be hard to argue that the project has been "submitted and acted upon expeditiously."  
If the OECD Sector Understanding does apply, then this project would be ineligible because:
it is composed of 2 x 600MW units
it uses supercritical technology, and 
the emissions intensity is between 860-880g CO2/kWh. 
Given the OECD Sector Understanding, Korea Export-Import Bank and JBIC should not been seeking to provide finance to Nghi Son 2. 
Why commercial banks shouldn't be involved
Standard Chartered Bank
Standard Chartered's climate change position statement provides that:  "We will not provide debt or equity to new coal fired power plants which do not achieve a long-run emissions intensity of below 830g / CO2 / kWh."
Nghi Son 2's emissions intensity would significantly exceed this ceiling.
Given the breach of its policy, Standard Chartered should not be providing funding to Nghi Son 2.
OCBC Bank
According to Market Forces' Singapore Banks coal finance study, OCBC has participated in 14 coal deals since 2012, lending US$1,142 million. This deal would only enhance their coal exposure, and promote dirty fossil fuel technology in Asia.
DBS Bank
In Vietnam and Indonesia alone, DBS is linked to another 5 prospective coal-fired power plants with a total capacity of 6.4 GW and estimated potential emissions of over 1 billion tonnes of CO2 over the plants' lifetimes.
Check out the rest of the Unlucky 5 here.
---
Nghi Son 2 uses technology which is out-dated even by the low standards in the coal industry. This dirty coal-fired power station should not supported by international commercial banks or export credit agencies. Vietnam has tremendous potential for renewable energy and these lenders should be looking to provide support for renewable projects that do not lock Vietnam into decades of pollution.
Information updated: 4 October 2018
In addition to the references noted above, Market Forces also considers information from financial journals, companies' public disclosures, and news reports.