Don't support
Vung Ang 2
Coal power station in Vietnam carries reputational and financial risk
Take action
Analysis of Vung Ang 2 Environmental Impact Assessment
Samsung C&T and the Korea Electric Power Corporation (KEPCO) are considering helping to build Vung Ang 2. Samsung C&T and the other companies linked to this project should not support a coal power plant on a site that is already known to have polluted air and water, will cause further impacts to livelihoods of local communities and carries stranded asset risk.
Vung Ang 2 is a planned ultra-supercritical 2 x 600MW coal-fired power station in Kỳ Lợi commune, Kỳ Anh district, Hà Tĩnh province in Central Vietnam.
Banks linked to this project are:
Japan Bank for International Cooperation (JBIC)
Mitsubishi UFJ Financial Group (MUFG)
Sumitomo Mitsui Financial Group (SMFG)
Mizuho Financial Group
Sumitomo Mitsui Trust Bank (SMTB)
The sponsor of this $2.2 billion project is Mitsubishi Corporation subsidiary, Diamond Generating Asia. KEPCO (See NO COAL KEPCO webpage) is considering becoming a sponsor, purchasing China Light and Power's stake in the project. China Light and Power has withdrawn because of their climate policy.
The current engineering procurement and construction (EPC) contractors are General Electric and Energy China GPEC, but Samsung C&T is considering becoming involved with the project.
Go back to Vietnamese coal finance home page
---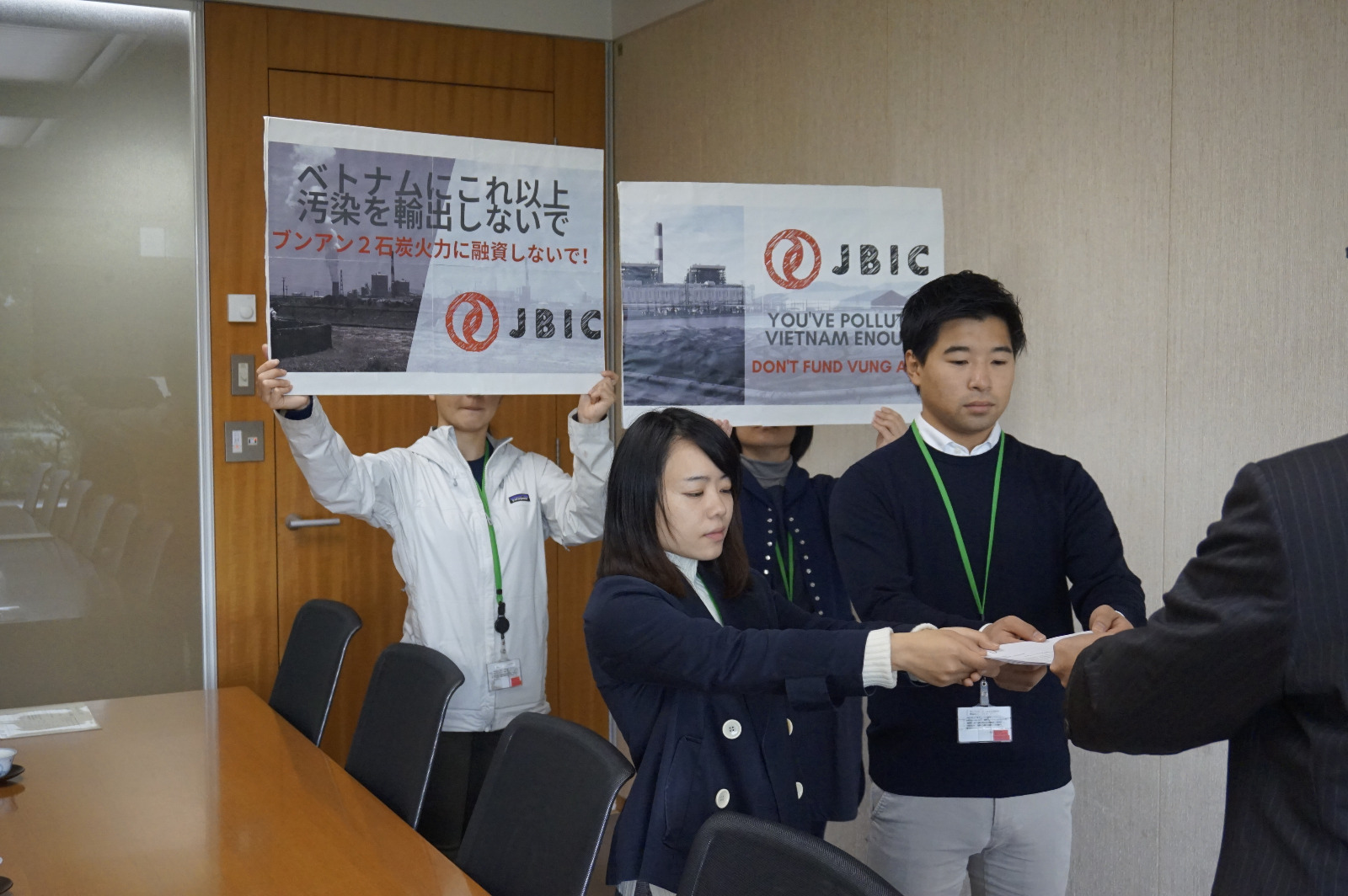 Delivery of collective letter urging JBIC not to fund Vung Ang 2
Take action
Tell Samsung C&T and KEPCO not to support Vung Ang 2
Take action
Call on Mitsubishi and the banks not to support Vung Ang 2
One Energy Ventures (Diamond Generating Asia (DGA), a subsidiary of Japan's Mitsubishi Corporation)
Chogoku Electric Power (Japan)
SPV: Vung Ang 2 Thermal Power Joint Stock Company (VAPCO)
Legal: Linklaters
Legal: Allens Arthur Robinson
Technical (Lenders): Black & Veatch
Tax: Pricewaterhouse Coopers