6 April 2023
More than 18% of Santos' shareholders today demanded the company drop its oil and gas expansion plans and instead manage down production in line with a net zero emissions by 2050 pathway at the company's annual general meeting (AGM) in Adelaide. The company also faced fierce scrutiny from Traditional Owners from the Tiwi Islands and Gomeroi Country (around Narrabri in NSW).
In a meeting where proceedings were not available to shareholders via webcast this year (as has been the case in previous years), Santos still found ways to try and stop voices from being heard even within the room itself. Yet this did not prevent investors from demonstrating dissatisfaction with Santos' climate and corporate governance failures by voting against the board on key agenda items.
More than 10% of shareholders voted against the company's remuneration report, which incentivises executives to pursue climate-wrecking oil and gas expansion in order to line their own hip pockets. Yasmin Allen, Guy Cowan, and Janine McArdle, members of the Santos board saw significant votes against their re-election at the meeting. This indicates growing shareholder concern about Santos' strategy, which involves massive oil and gas production growth.
Working with more than 100 shareholders, Market Forces filed a statement against the company's remuneration structure, as well as a shareholder resolution demanding information on how the company's capital allocation to oil and gas assets will be managed down in line with a net zero by 2050 pathway.
Speaking after today's AGM, Market Forces Asset Management Campaigner Will van de Pol said,
"Investors today delivered a significant rebuke to Santos after shareholders called out the company's corporate governance and climate action failures.
"10 per cent of shareholders voted against directors standing for re-election as well as the company's remuneration report. Santos must act in response to investor dissatisfaction.
"Almost one in five shareholders took the extraordinary step of voting against the Santos board, backing a shareholder resolution calling for oil and gas production to fall in line with agreed global climate goals."
Take Action
Support Tiwi Islands and Larrakia Traditional Owners in demanding banks withdraw finance from Santos' Barossa project.

Failing strategy and leadership
Santos is pursuing a trajectory that clearly ignores all evidence and reason, and its board of directors is not only waving through these reckless fossil fuel expansion plans, but actually incentivising it with big executive bonuses.
Market Forces' analysis indicates Santos' massive oil and gas expansion strategy puts Santos on course to increase its overall emissions by 40% between 2022 and 2030.
Santos, Woodside projected emissions, with climate targets impact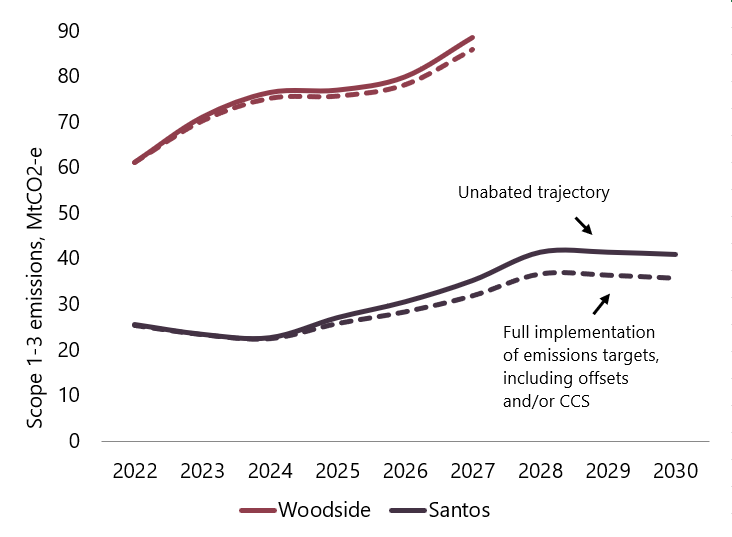 The fact that Santos' board continues to back such a misguided growth strategy – one which saw nearly 37% of the company's investors vote against it last year – shows the board is failing the company.
Asset managers and asset owners – including superannuation funds – that claim to support the climate goals of the Paris Agreement need to do much more to bring Santos' plans in line with their own climate commitments. At present, the company is completely out of line with a responsible transition to a safe climate future and risks pouring billions of dollars of shareholder capital into oil and gas expansion projects the world cannot afford if we are to limit global warming to 1.5C.
Santos showing no signs of slowing down on Narrabri and Barossa, despite significant Traditional Owner opposition
Santos also faced strident opposition from Traditional Owners that attended the meeting. Questions were raised about the significant risks and financial issues plaguing the embattled Barossa project, which continues to be resisted by communities on the Tiwi Islands.
Tiwi Islands Elders Mayor Pirrawayingi Puruntatameri, Councillor Therese Bourke, and Tiwi Representative Antonia Burke raised questions about the project, including Santos's engagement with their community. The company declined to engage beyond providing evasive answers and turning off microphones in a bid to prevent Traditional Owners from expressing their concerns.
Gomeroi elders Deborah Briggs, Dorothy Tighe, and Donna Bartlett also voiced concerns about the Narrabri Gas project which they have been opposing for years. The Traditional Owners raised issues regarding Santos' lack of fire preparedness, as well as expressed their continued opposition to the project and its impact on the environment and water of the Great Artesian Basin.
The executives and board did not respond adequately to the concerns raised by Traditional Owners, again choosing to silence these dissenting voices by turning off microphones and preventing concerns from being heard loudly and clearly by shareholders.