6 February 2020
With hundreds of protestors chanting outside and an over-the-top security presence inside, Siemens annual general meeting (AGM) in Munich yesterday was dominated by stern criticism, by both institutional investors and ordinary Germans, of Siemens' decision to stick with a contract to supply signalling technology for the Carmichael coal rail line.
The speeches at the meeting and the controversy surrounding Siemens since it decided to work for Adani are a sharp lesson in how the increasing concern over the climate crisis can turn a business-as-usual decision into a reputation-destroying one.
A delegation all the way from Australia, representing the School Strike for Climate movement, Reef tourism operators and the Wangan and Jagalingou traditional owners also attended and spoke at the AGM. This delegation were stonewalled by Siemens executives, who cut speakers off due to strict time limits and refused to engage with their arguments, only repeating the same old, thoroughly debunked, justifications for sticking with the climate-wrecking project.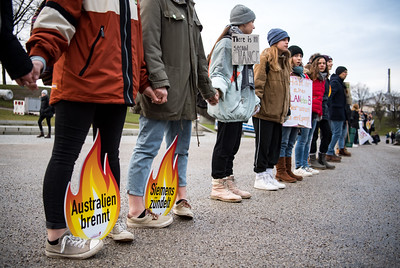 "Siemens shareholder meeting today was clear proof that the Adani Carmichael project is one of the most reputationally damaging projects in the world. Siemens' involvement with Adani dominated the meeting. Shareholders ranging from big asset management funds like Union Investment to Siemens own employees had all the same message: signing the contract was a big mistake that caused a huge reputational damage for the 92Billion dollar company. This should be a warning to any other company thinking of working with Adani." said Market Forces Campaigner Edoardo Riario Sforza who was at the AGM.
"If Joe Kaeser thinks that we will go away because he ignored traditional owners and downplayed how crucial Siemens' involvement really is, he is kidding himself. It is not tolerable any longer that companies like Siemens keep making money by further worsening the current climate emergency. Siemens will continue to face huge public opposition both in Germany and Australia until they pull out of the disastrous Carmichael rail project."
See below for the speeches (via two translators) from Wangan and Jagalingou traditional owner representative Murrawah Johnson, Varsha from School Strike for Climate and Reef tourism operator and award-winning writer Dr Lindsay Simpson.
Media coverage of the AGM included:
Take action: Write to all the companies working with Adani on the disastrous Carmichael coal project and ask them to walk away: