13 December 2022
Spirit Super updated its climate targets this year, aiming to reduce both the fossil fuel reserves and carbon emissions in its investment portfolio by 50% by the end of this decade. Yet the fund remains invested in companies seeking to massively expand oil and gas production, leaving Spirit Super with only two options for meeting these targets: ensure an end to new oil and gas developments, or divest from the companies pursuing them.
Earlier this year, Spirit Super introduced a target to reduce the fund's "attributable fossil fuel reserves by 50%" by 2030, an important step forward for the fund. However, Spirit Super invests members' retirement savings in Australian oil and gas companies Woodside and Santos, both of which have plans to massively increase their oil and gas reserves over the same timeframe.
Woodside, for example, increased its oil and gas reserves in November last year when it decided to go ahead with its dirty Scarborough gas project off the coast of Western Australia (WA). Scarborough, however, is just the tip of the iceberg. Woodside plans on green-lighting a new offshore oil field – Trion – in the Gulf of Mexico in 2023. Further to this, the company also plans on going ahead with its monstrous Browse project off the WA coast, which is even bigger and dirtier than Scarborough. If Woodside committed to Browse today, we estimate this project alone would increase the company's reserves by more than 20%.
The chart below shows Woodside's current reserves, and the resources the company is hoping to convert into reserves with future investment decisions on Trion, Browse, and other expansionary oil and gas projects.
Woodside equity share reserves and resources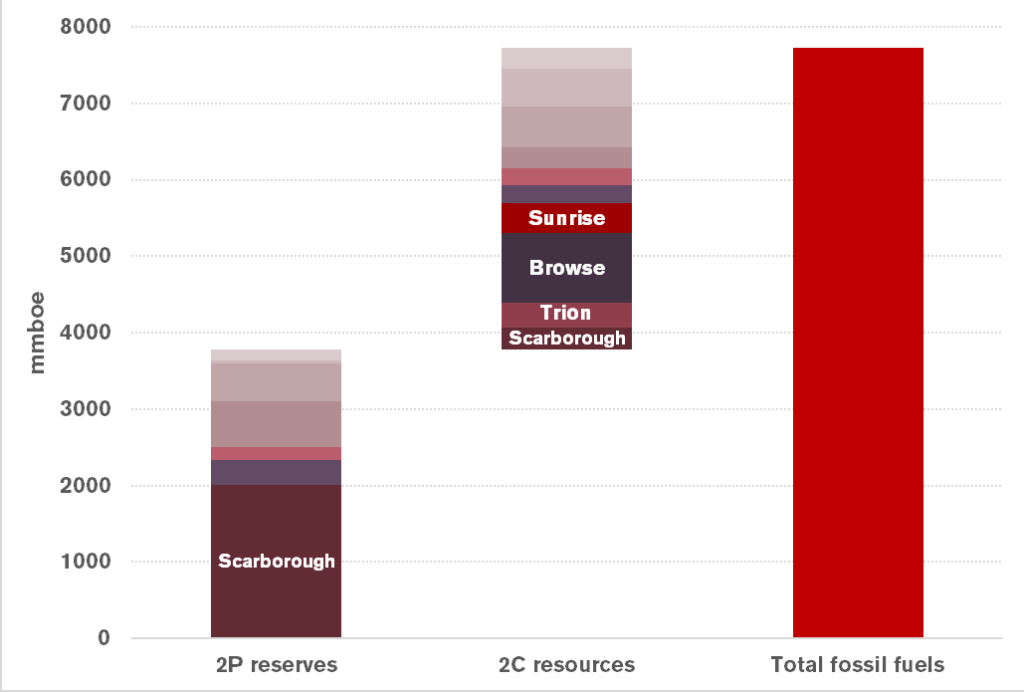 Spirit Super members: Take action
Contact your fund and demand more information on how Spirit Super will meet its portfolio reserves target.
For its part, Santos is also pursuing at least four new oil and gas projects: Papua LNG, P'nyang, Narrabri and Dorado. All of these projects would add to Santos' fossil fuel reserves and none of them are compatible with a safe climate future.
Woodside and Santos are the largest undiversifed oil and gas producers in Spirit Super's 'MySuper' investment option, meaning the fund will need to address these companies' fossil fuel reserves if it wants to meet its 2030 target.
"Beyond projects already committed as of 2021, there are no new oil and gas fields approved for development in our [net zero by 2050] pathway."

International Energy Agency, Net Zero by 2050
How, then, does Spirit Super plan on meeting its 2030 target?
The fund has failed to provide any details on this. Spirit Super has not disclosed any information on how it will reduce its fossil fuel reserves, or even disclosed a baseline from which to measure its reduction efforts.
Given companies like Woodside and Santos have plans to massively increase their oil and gas reserves, Spirit Super has two options: stop these companies from developing new oil and gas projects, or divest from them. Which will it be?
Spirit Super members: demand answers from your fund. Will it stop Woodside and Santos' new oil and gas projects or divest from these companies?
More information
What are fossil fuel 'reserves' and 'resources'?
Petroleum reserves are effectively a company's best estimate of the oil and gas that is considered to be commercially recoverable through its existing and planned production projects. Petroleum resources, on the other hand, are a company's best estimate of the oil and gas that is potentially recoverable, but is not currently considered to be commercially recoverable (see PRMS, 2018). Resources are converted to reserves once a company makes a final investment decision to go ahead with a new oil and gas supply project (also known as 'sanctioning' the project).
Woodside reserves calculations
We sourced Woodside's resources and reserves data from the company's 1 June 2022 reserves statement and GaffneyCline's Independent Expert Report produced for the Woodside-BHP Petroleum merger. Assuming Woodside is able to convert 2C resources to 1P (proved) and 2P (proved and probable) reserves at the same rate it did for the Scarborough project, the Browse project would increase Woodside's equity share reserves by the following amounts:
1P: 563 mmboe (million barrels of oil equivalent)
2P: 843 mmboe
Woodside's reserves at 1 June 2022 are as follows:
1P: 2,339.6 mmboe
2P: 3,786.4 mmboe
Without factoring in reserves depletion since June 2022, if Woodside took final investment decision on its Browse project today, the company's reserves would increase by the following amounts:
---