5 August 2021
In November 2020, Indian media reported that the State Bank of India (SBI) was considering a A$1 billion loan for Adani's Carmichael thermal coal project. People all over the world took immediate action, leading to international news headlines and a string of the globe's biggest investors speaking out against the loan.
Due to this backlash the loan never materialised, with reports in April and again in July indicating the loan decision has been stalled.
What is missed in all this coverage is one critical factor. Adani Group has clearly stated the Carmichael project is already fully funded with internal Adani Group funds. So why is SBI still considering a loan for a risky, destructive, climate-wrecking project which, according to the proponent, is not even needed?
In addition to being fully funded, according to Adani the capital expenditure (CAPEX) for the construction of the Carmichael coal mine and rail line has been mostly spent. On 5 May 2021, speaking on an Adani Enterprises earnings conference call, the CFO of the Adani Group stated, "the total CAPEX for the [Carmichael] project is USD 2.7 billion out of which USD 2.3 billion is already spent." So, not only has the Adani Group expressed no need for the funds, its remaining CAPEX is far less than what SBI is looking at providing. So why then, is Adani still pursuing this line of credit and why won't SBI take it off the table?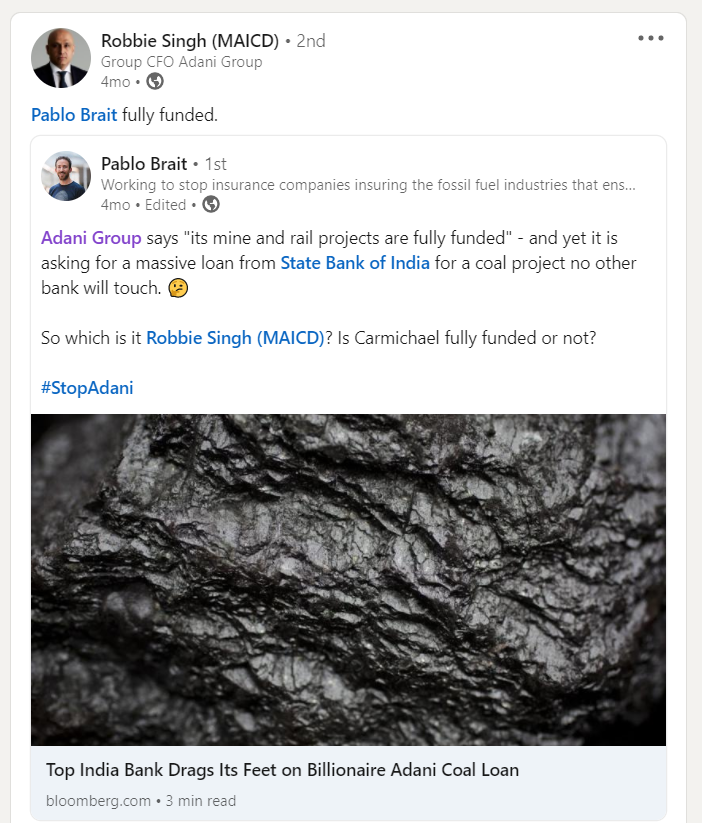 In the July interview the SBI chairman Dinesh Khara made the point that the proposed credit facility is not a loan but a standby line of credit or SLC, which is sometimes used as a backup funding source when other sources fall through. Even so, no explanation has been provided as to why this is needed and what Adani Group would use this for.
No privately owned bank will go near the Carmichael project with its catastrophic climate impacts and the huge reputational and stranded asset risks associated with it. Being majority government owned, SBI lending to Adani exposes Indian taxpayers to these risks and could see even more of its own investors withdraw support.
Some of SBI's own staff see financial support for Adani as the result of political influence and with so few reasons in favour of this line of credit, it's not hard to see why. But the board is not immune to global pressure and has backed down from lending to Adani before – tell SBI to again walk away from Carmichael and demonstrate its service to the Indian public, not the Adani Group.
Take action
Tell the State Bank of India that, in 2021 when Covid-19 and climate change are threatening millions of lives, lending to a new thermal coal mine would be a global disgrace.