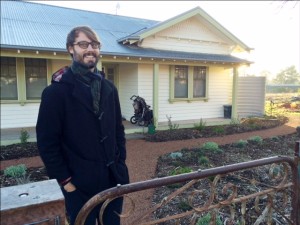 5 August 2015
After living in Melbourne for many years, Stephen and his family decided to move to country Victoria in pursuit of a more sustainable lifestyle. They bought an existing house that was relocated to their property and undertook a significant DIY sustainability makeover. They then started developing a large permaculture garden.
Stephen originally took out a home loan with the Commonwealth Bank and only later found out about the bank's involvement with funding the fossil fuel industry. Stephen told Market Forces, "The fact that CommBank has provided billions of dollars of loans to coal and gas projects really disturbs me. It seems to me that the bank has no qualms about who they lend to as long as they make a profit."
Stephen started looking around for alternative banks and decided to switch his home loan to bankmecu. "By switching my home loan to MECU I could divert hundreds of thousands dollars of interest payments away from CommBank to a more ethical bank that aligned with my values. It was a very empowering thing to do."
The process of moving to bankmecu was really easy and the interest rate Stephen managed to get was much lower than his CommBank home loan. "There were some minor costs for registering the loan and the disbursement of funds (a few hundred dollars) but it was a very pain-free experience. And the savings on interest payments quickly paid for these home loan transfer costs."
So Stephen not only managed to clean up his finances but he managed to save some money as well. Now you couldn't ask for much more could you?
If you bank with one of the big four Australian banks put your bank on notice and tell them that if they choose fossil fuels you will choose another bank. You can also find out more about switching home loans here.