Brisbane, 26 September 2019
The climate crisis dominated Suncorp's annual general meeting in Brisbane today, from the Chairman and CEO reporting losses from extreme weather events, shareholders bringing personal stories of how climate impacts are destroying their lives, right the way through to the last item of business – a Market Forces-coordinated resolution calling on Suncorp to end its exposure to coal, oil and gas in line with the Paris Agreement goals, which received $1.5 billion of shareholders' support.
Bleeding money on climate impacts
It has been another horror year for Suncorp, and Chairman Christine McLoughlin and CEO Steve Johnston addressed the meeting upfront, acknowledging how flooding in north Queensland, hailstorms in Sydney, bushfires in central Queensland, and flash-flooding in Melbourne all contributed to more losses on natural perils, despite Suncorp setting its highest ever allowance for such claims.
Over the last 13 years, Suncorp paid out $2.2 billion more than it had provisioned for claims due to floods, fires, cyclones and other natural disasters, many of which are being exacerbated by global warming, In eleven of these 13 years, Suncorp has failed to adequately provision for natural perils, despite increasing its allowance for natural perils seven-fold since 2007 (see graph below), and will yet again increase its allowance by another $100 million in 2020 for natural perils.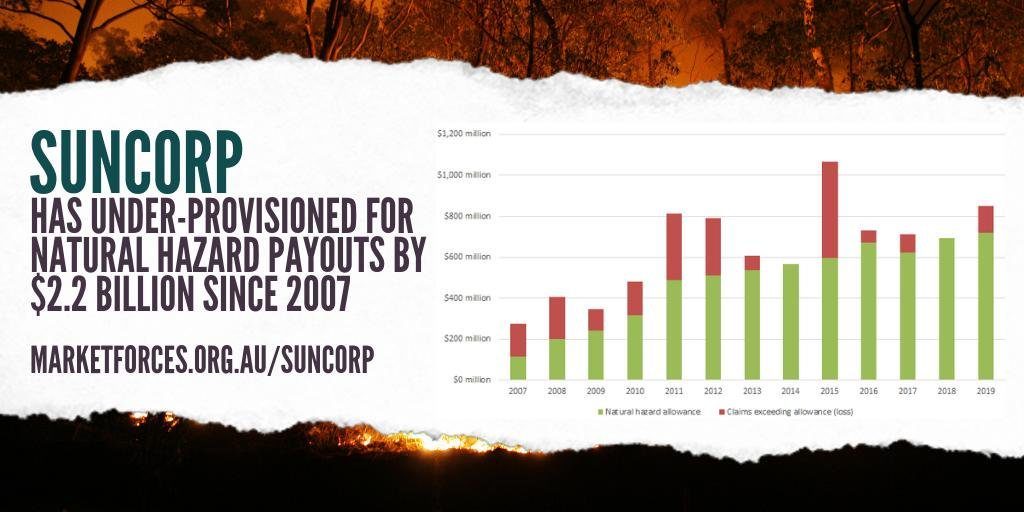 But Suncorp still won't fully get out of fossil fuels
Despite climate change clearly hitting the company's bottom line, Suncorp blocked a resolution from shareholders calling for a reduction in exposure to coal, oil and gas in line with the climate goals of the Paris Agreement.
This year, Suncorp made a positive step on thermal coal, committing to exit the sector by 2025, but with a massive gas boom planned in Northern Australia that would eliminate any remaining hopes of keeping global warming to less than 1.5ºC, the company's failure to do the same for oil and gas was a glaring omission.
Pablo from Market Forces called out Suncorp on its lack of action to tackle oil and gas exposure:
If Suncorp wants to claim that its business is in line with keeping warming below 1.5 degrees and in line with the Paris Agreement, then it can't be supporting the expansion of the oil and gas industries. There is currently nothing in Suncorp's policies or guidelines to assure investors that this will be the case.
The resolution received a vote of 8.6%, representing about $1.5 billion of investment in the company and a higher percentage vote than was received for a similar resolution at QBE earlier this year.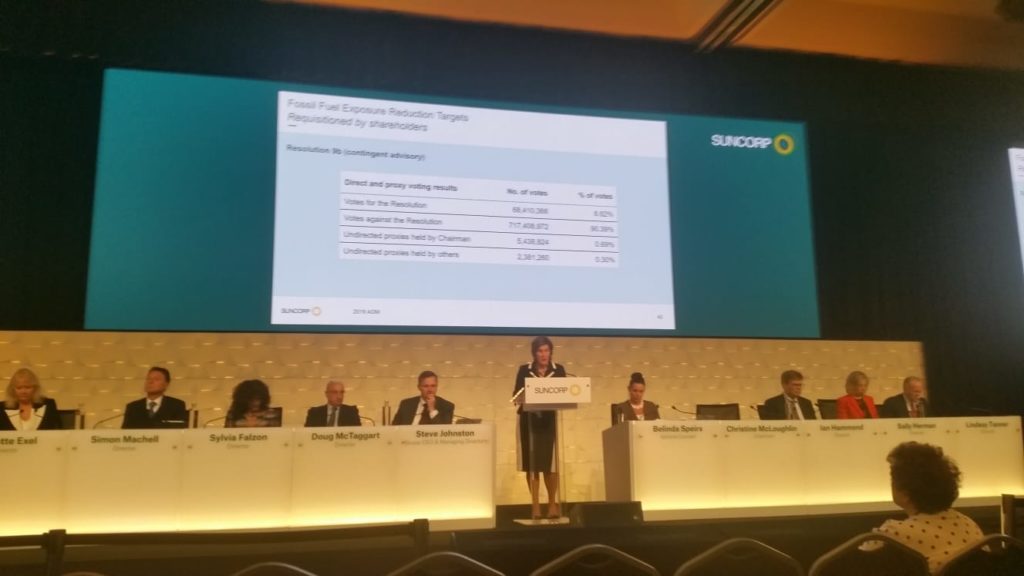 However, this still means many investors, including a large number of Australian superannuation funds, will have voted against this resolution on behalf of their members.
No additional oil and gas?
Ms McLoughlin did shed new light on the discussion in response to one question from a shareholder, saying "in terms of our exposure to oil and gas, we do not have any current intentions to increase that", a position that had not yet been made public and one we hope to see in Suncorp's policy before long!
Shareholders losing patience
Throughout the AGM, shareholders feeling the impacts of climate change peppered the board with questions about how it wasn't getting out of all fossil fuels. Some of the stories were deeply personal.
Simon Gedda, a grazier from Central Queensland reminded Suncorp of a record-breaking flood that decimated his property, and couldn't believe the insurer would still be prepared to underwrite companies that would worsen the climate crisis.
Paul Jukes travelled all the way to the AGM from the Whitsundays, and rose to tell the story of how the recent bushfires in Lamington National Park destroyed an area where he and his wife, would visit. His wife, who has sadly passed away, has her ashes scattered at Bina Burra but the bushfires swept through the site, and destroyed a place that had such a special connection for Paul and his two daughters, who he would take to visit their mother.
Despite Paul's moving personal story, he asked a very pointed question of the board about how insurance was becoming unaffordable for many Australians, with some customers quoted 9% or more of the value of their properties for premiums on extreme weather impacts. He asked: "what does the board have to say to customers you're charging annual premiums close to a tenth of the value of their properties to cover impacts you're helping to make worse by insuring more fossil fuels?"
Tony Fontes also traveled south from the Whitsundays where he has worked as a tourism operator on the Great Barrier Reef for decades. He has watched the decline in the reef's health in recent years and left the Board in no doubt abut the severity with which climate change was impacting this natural icon.
I've been living the dream, but that dream is fast becoming a nightmare. Until we stop supporting coal, oil and gas, the coral reef is going to die.

Tony Fontes