OPINION | Brett Morgan, Superannuation Funds Campaigner
At long last, some superannuation funds are taking a stand to end investment in companies expanding fossil fuels. Yet most funds are prolonging the life of industries that are driving us towards irreversible climate collapse.
Most Australians may not realise but they are invested via their retirement savings in the expansion of the fossil fuel industry.
We've seen traction on super funds ditching shares in thermal coal, but almost every Australian super fund invests members' retirement savings in companies expanding oil and gas.
The bar has just been raised by the $13 billion education-sector fund, NGS Super. It's the first industry fund to dump climate wreckers Woodside and Santos by implementing an exclusion policy on oil and gas producers.
This will inspire millions of Australians who want their super funds to take stronger climate action. Funds claiming to be climate leaders, such as HESTA, UniSuper and Aware Super, are falling far behind.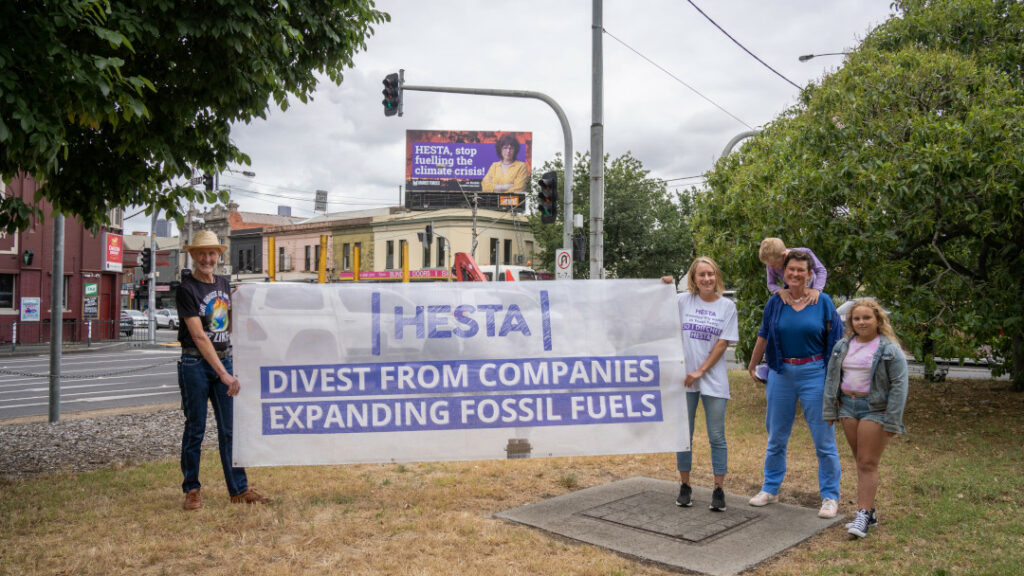 Calling on super fund HESTA to divest from companies expanding fossil fuels
Some funds have been taking climate action seriously for years. Australian Ethical, Cruelty Free Super, Future Super and Verve Super all exclude companies expanding fossil fuels.
The rest of Australia's $3.4 trillion super industry continues to invest members' retirement savings in fossil fuel giants pursuing business plans that would doom the climate goals of the Paris Agreement to failure.
The default or largest investment options of Australia's biggest super funds, including CareSuper, Commonwealth Super Corp and Australian Retirement Trust, have on average more than 6 per cent of their listed equities invested in polluting companies. This must be reduced to zero.
Super funds have a duty to invest our retirement savings in our best interests. These investments carry big responsibilities and risks.
One of the fastest growing risks is the devastating impacts of climate change. The future of our economy is on the line. Areas of Australia are becoming uninsurable and unliveable due to escalating climate risks such as fire and floods.
Ultimately, super fund trustees are responsible for how our retirement savings are invested. But many are not taking the growing risks seriously enough. Nor are they acting in the best interests of Australia's 16 million super fund members.
A key demand by a growing number of super fund members, in line with majority public opinion, is for their investments to align with the climate goals set out in the Paris Agreement.
Many funds shy away from divestment of fossil fuel companies for fear of straying too far from returns benchmarks, only heightened by the previous Federal Government's Your Future, Your Super reforms.
These reforms require super funds with default MySuper options to undergo an annual performance test against a market benchmark.
NGS Super has demonstrated this fear of underperformance is unfounded. NGS is confident its decision is in the best financial interests of its members. If a small player can take a giant step like this, then bigger funds can follow suit.
Some super funds argue against divesting from fossil fuel companies, claiming that active ownership will enable influence. But active ownership only works when companies are willing and able to change. For companies still expanding the coal, oil and gas sectors, we have run out of time.
Oil and gas giants talk of transition but have no plans to wind up production in line with the goals of the Paris Agreement, and are instead pursuing new projects that science tells us are incompatible with a 1.5°C warming limit.
In 2021, new global records for coal and gas emissions were set. Production is skyrocketing. Most of our super funds invest in companies responsible for that expansion and associated emissions.
The International Energy Agency in its Net Zero by 2050 Report concluded there can be no new or expanded coal, oil and gas production if we are to meet globally-agreed climate goals.
But Market Forces has recently identified 180 companies globally that are most responsible for expanding the scale of the fossil fuel industry and locking in decades of harmful emissions.
Woodside, Australia's largest oil and gas producer, is pursuing its monstrous Scarborough-Pluto project, despite independent analysis confirming the project represents "a bet against the world implementing the Paris Agreement."
Santos is pursuing major new projects that would increase its production by at least 17% from 2020 to 2030, despite the urgent need for fossil fuel production to rapidly decline in line with global climate goals.
NGS Super is leading by ending investment in oil and gas producers. Super fund members must keep the pressure on their funds by emailing, calling and demanding that they match this action, and go further.
For too long, super funds have been buying into fossil fuel greenwash. It's time all super funds act in the best interests of members by dumping companies expanding fossil fuels, so they can retire into a safe climate future.
---
First published in news.com.au