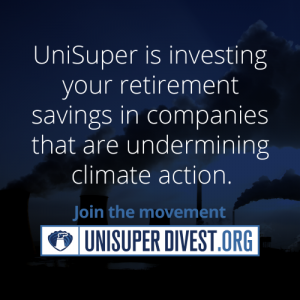 We've launched a targeted campaign just for you at UniSuperDIVEST.org.
As the super fund for Australia's academics, scientists, researchers and university employees, UniSuper should be leading investor action on climate change. Instead, the fund continues to invest billions of dollars of members' retirement savings in fossil fuel companies that are driving the climate crisis.
Australian share investments
Key: Fine Work to do Borderline Out of line Not Disclosed
UniSuper only discloses its top 21 Australian and top 21 international shareholdings. From this limited disclosure, we know at least 10% of the Balanced option's  Australian share investments is in companies actively undermining the climate goals of the Paris Agreement, including Woodside, Oil Search, and BHP
Terms and methodologies explained
---
Known fossil fuel exclusions
This option excludes investment in "companies that generate greater than 10% of their revenues from thermal coal mining."
---
General fund information
Fund type: Industry
Assets under management: $85.5 billion
Members: 496,000
Date as at 30/06/2020
Reference: https://www.unisuper.com.au/
Other funds by the same provider
---
Take action
Use the form below to tell your fund
to lift its game on climate action!
* These fields are required.