Meet Mark, an ordinary 23 year old from Brisbane who is taking an extraordinary action that could have a big climate impact…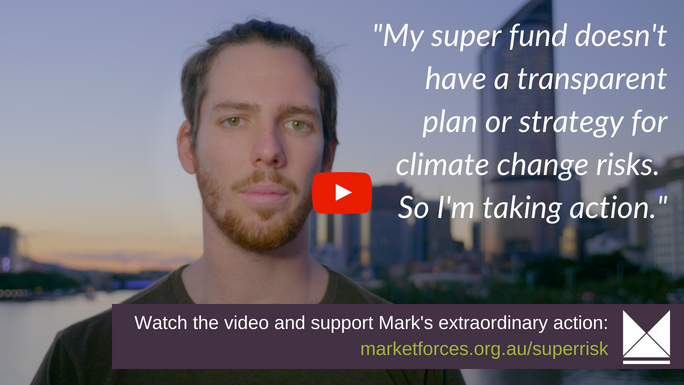 Mark won't be able to access his super for nearly 40 years. That's a long time for the impacts of climate change to hit hard. So Mark needs to know his super fund, REST, is doing all it can to appropriately manage the risks climate change poses to his retirement savings.
Last year Mark learned that REST doesn't disclose any information about climate risk management. After sending multiple emails through Market Forces and a formal letter of demand, Mark still hasn't received any of the information he needs.
So Mark has decided to take REST to court.
With lawyers from Environmental Justice Australia, Mark has launched an action in the Federal Court, asking for a ruling that REST must provide information about how the fund is managing climate change risk.
This is a really important test case, attempting to enforce the rights of super fund members to get information about the management of their retirement savings. It has the potential to make Australia's $2.6 trillion dollar superannuation industry more accountable on climate change, and help drive the transition to a cleaner, more sustainable future.
Mark is putting himself on the line with this court case and if costs are awarded against him, he could be facing a $40,000 bill. We need your help to ensure Mark can pursue this important action, safe in the knowledge that he won't be out of pocket.
If Mark doesn't need the money at the end of the case, Market Forces will use the funds to support our campaigns to get the institutions that have custody of our money to use it to protect, not damage, our environment.
How is your super fund managing climate change risk?
Use the form below to contact your super fund and ask what it is doing to manage climate change risks to your portfolio.