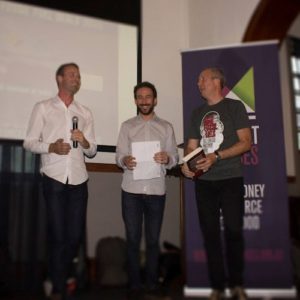 11 February 2016
We were humbled and delighted to have a total of around 150 people turn up to our Sydney and Melbourne campaign launch events held over the last couple of weeks. Attendees were able to meet the Market Forces team, celebrate all the wonderful work that has been done on fossil fuel finance campaigns over the last few years and find out how we can kick on to bigger and better things this year!
After a few years working mainly in cyberspace, it was so good to finally come out and meet the people who have supported our work. We are, and always will be, effective because of people taking action so we're thrilled to have been able to talk to so many people about our plans to move billions of dollars out of the dirty fossil fuel industry this year and create space for clean, renewable energy investment.
Thanks to everyone who joined us and for those who couldn't make it but want to get more involved in our campaigns on banks, super funds, insurance and more, remember that we have growing local groups in both Sydney and Melbourne that you can join. Just email [email protected] to find out how you can get involved.
Thanks to everyone who came along, especially the volunteers who helped make the events so successful.