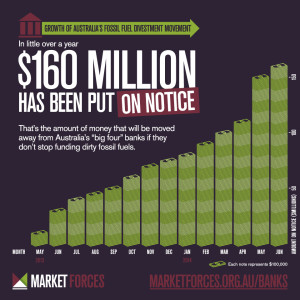 29 June 2014
This week, the number of people who have put their bank "on notice" (warning that they'll switch banks unless loans to fossil fuel projects stop) grew to account for over $160 million in savings alone. As far as metrics go, it's a pretty good way of appreciating the pace at which divestment has taken off in Australia, but just one indicator of a massive shift taking place both here and internationally.
We've been asking customers of the "big four" banks (ANZ, Commonwealth, NAB and Westpac) to put their bank on notice since May 2013, and tracked how much in savings these customers were worth to the major banks. If you're with one of the big banks, you can put your bank on notice here. As more and more customers issued their warnings to the banks, the money accounted for started to pass some impressive milestones.
By the time we delivered our first "bank switch" divestment action in partnership with 350.org, over $60 million in savings was accounted for by all those who'd put their bank on notice. By the time of "Divestment Day," (so far the biggest day of divestment action in Australia), those numbers had grown to over $100 million.
Usually we don't worry about the numbers—it's a great way of tracking the growth of the movement—but for us, divestment is more about the stories we tell, than the money we move. We value people as much for their willingness to communicate their concerns to their bank, join us and divest publicly with other customers and to share the news of their actions with rest of the world, as we do for how much they have in their account. But it's hard to deny that having over $160 million in savings accounted for through this campaign is a pretty astonishing marker, mainly because this is the sort of amount that a bank would loan to a new coal or gas project.
Its also worth pointing out that in accounting only for savings means we're not factoring in the value of other financial products such as mortgages or shares. After doing a few "bank switch" actions and talking to people taking part it was clear we were underestimating the financial impact of this campaign by about a factor of at least three, meaning $160 million in savings is likely to equate to about $500 million in total financial products. Of course, some of those who have put their bank on notice have already closed their accounts at a divestment action, moving to an alternative bank that won't loan to new dirty coal or gas projects. We estimate the financial impact of those who have switched banks at about $200 million to date. Not a bad start.
Divestment is not just for concerned individuals
The strategy of divestment on moral grounds might have been rekindled and popularized by the likes of Bill McKibben, but it is by no means limited to individuals with bank accounts. Barely a week goes by without news of an institution pulling out of fossil fuels. From the Universities of Stanford and Dayton in the US, the British Medical Association, and faith groups including the Uniting Church's New South Wales and ACT synod, institutions realising they should not have their finances associated with fossil fuels have grown in step with individuals taking the same action.
Divestment is even taking place amongst fund managers and financial institutions, as they realise that if fossil fuels are compatible with a world trying to avoid runaway climate change, then coal, oil and gas companies face a major loss of value. Storebrand, a Norwegian pension fund, has divested a number of fossil fuel stocks while Norges, the country's sovereign wealth fund, is considering to do the same. There is clearly a demand amongst fund managers for fossil fuel free products, as the FTSE Group in London and Blackrock—the world's largest fund manager—have teamed up to offer fossil fuel free products to investors.
In Australia, calls from members have contributed to super funds beginning to divest from fossil fuel stocks. UniSuper and AMP Capital have both committed to reduce their fossil fuel exposure in recent months, while Hunter Hall has amended its ethical policy to exclude fossil fuel companies altogether from the 30th of June.
Would we have seen this a few years ago?
This week also saw Barclays become the fifth international investment bank (after Credit Agricole, Deutsche Bank, HSBC and the Royal Bank of Scotland) to declare they won't finance the proposed expansion of the Abbot Point coal export terminal. While not technically divestment, choosing not to invest is as important, if not more, as the banks are not only taking a stand, but preventing the construction of a massively environmentally destructive project.
Its the sort of action that might not have been possible a few years ago, but with people demanding that money is kept out of dirty fossil fuel projects, we're finally starting to see signs that we can keep finance out of projects that would have unacceptable outcomes for the environment and climate. These are the sort of "market forces" we like to see.
Of course, what we need now on Abbot Point is for the Australian Banks to step up and match the commitments made by those in Europe.
Some Australian banks are moving away from fossil fuels. Last week, Bendigo Bank updated their position on fossil fuel investment to say that "the Bank does not lend to companies for whom the core activity is the exploration, mining, manufacture or export of thermal coal or coal seam gas". In fact, Bendigo Bank is one of dozens of banks and credit unions that have given us a position on where they stand when it comes to fossil fuel investment.
Even more stunning was that Suncorp, a major investor in coal and gas a few years ago, has recently told us that they no longer have any exposure to fossil fuel companies. For a bank that loaned $720 million to fossil fuels over 2008/09, this is an amazing "cleaning up" of their investments.
How do we keep it going?
Change really is happening fast, and its important to remember that regardless of who takes action—be it a bank, a fund manager, church or university—this change is being driven by the desire of people demanding that their money is not used to finance environmental destruction and global warming.
This momentum needs to continue, which is why we've worked with The Australia Institute and 350.org to develop products like "
Making Your Money Fossil Free
." This report shows how individuals who might be inadvertently supporting fossil fuels through their bank deposits, super funds or shares can make their finances fossil free.
It has lots of options for how people can clean up their own personal finances as well as use their power as investors, members and customers to create change from institutions.
Please take a look and use the report
, or share it with those who you might want options for making their money fossil free.
The pace of change on the fossil fuel divestment movement has been staggering, and I've got a feeling that its only going to intensify over the next year.