08 September 2022
"Today climate change is one of the biggest challenges. Those challenges also open up huge business opportunities. The opportunity in this case is energy transition, the transition from fossil fuels to renewables and to hydrogen." (Gautam Adani, quoted in Fortune India, June 2022)
It's statements like the above from Adani Group's Chairman that are particularly confounding for anyone who is aware of what the Adani Group is actually doing in the mining and energy sectors. While Adani is rapidly expanding in several directions (including renewable energy, cement and airports), most importantly it is still building and planning new fossil fuel projects, particularly thermal coal mines and power stations. So much so that according to Global Energy Monitor data the Adani Group is the private sector company with the most proposed new thermal coal mining capacity in the world, second only to state owned Coal India.
At a time when climate scientists, the UN and the International Energy Agency are all saying no new coal projects can be built and coal-fired power must be phased out by 2030 in OECD countries and 2040 everywhere else at the latest, Adani's actions are simply not compatible with the goals of the Paris Agreement and the net-zero emissions by 2050 target.
In 2021 Market Forces compiled a non-exhaustive list of Adani's new and expanded fossil fuel projects to highlight the hypocrisy between Adani's words and actions. Twelve months later, an update to this research reveals the following:
None of the new or expanded fossil fuel projects listed in 2021 have been shelved, and several, like the Carmichael and Suliyari thermal coal mines and the Godda coal-burning power station have advanced.
Adani Power completed its purchase of Essar Power's 1200 MW Mahan coal fired power project in March 2022, adding another coal power station to its fleet. On 19 August 2022 it announced another 1200MW coal-fired power station purchase due to be finalised in October 2022. All six of the new or expanded coal-burning power station projects highlighted last year (totalling 12 GW) are still on its books.
Adani Enterprises has purchased 5 new coal blocks since July 2021 (the Khargaon, Jhigador and Gondkhari coal blocks purchased in August 2021 and the Bijahan and Gondbahera Ujheni East coal blocks purchased in March 2022).
Adani has shown it is serious about its highly polluting coal-to-plastics proposal, first proposed in 2021. In 2022 Adani approached the State Bank of India to underwrite a loan to fund the development of the project.
An increase in crude oil capacity at Mundra port and a proposed upgrade to the Haldia dock complex in West Bengal, in order to handle an increased amount of dry bulk goods reported to primarily be coal.
The chart below illustrates the steady increase in Adani's coal production, as both MDO (miner, developer, operator) and owner (commercial mining), since the Paris Agreement was signed. Four out of nine of Adani's coal mining projects as MDO are in production, and two out of eight of its commercial coal projects are operational. Adani plans to ramp up production to full capacity at its recently "operationalised" mines (as of 2021); the Talabira II & III coal mine (from 1 mtpa in FY2021 to 10 mtpa in FY2023, the full mine capacity being 20 mtpa), the Gare Palma III mine (from 1.5 in FY2021 mtpa to 5 mtpa FY2023), and Suliyari which is now operational as of April 2022. The Adani Carmichael mine in Australia and Adani's project in Indonesia account for the commercial coal volumes shown below. The capacity projections for the next financial year are based on Adani Enterprises Ltd public disclosures.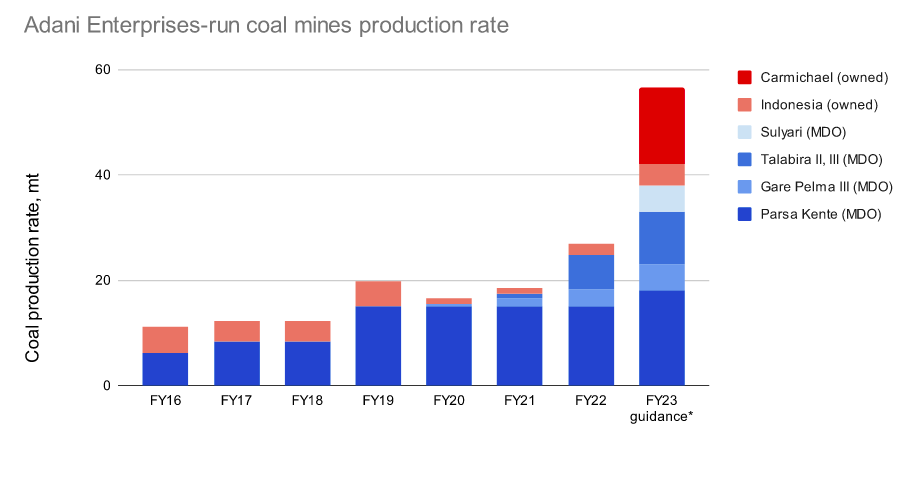 This year we have looked at Adani Group's coal reserves in addition to the mining capacity. The sum of the known extractable reserves of thermal coal that Adani is now developing as a MDO (miner, developer, operator) or as a commercial miner totals 6 billion tonnes, plus the Khargaon, Jhigador and Gondbahera Ujheni East coal blocks for which extractable reserve estimates are unavailable. Our initial exploration suggests these mines have another 750 megatonnes of coal resource (inferred) in place.
If all of Adani Group's known extractable coal reserves are burned, we estimate 10.1 billion tonnes of CO2 will be emitted, with a further 1.6 billion tonnes CO2 from inferred resources in Adani's three newly acquired coal exploration blocks. For reference, together this is 32% of global energy-related carbon emissions in 2021.
The Carmichael coal mine in Australia is operational as of this year, and Bravus is taking expressions of interest from buyers for the coal from this climate-wrecking project.
Investors, bankers and insurers of the Adani Group need to be aware of the risks associated with financing a company with fossil fuel plans of this scale. Adani Group's bond arrangers, lenders and investors, including Apollo Global, Barclays, Standard Chartered, MUFG, BlackRock, State Bank of India, HSBC, JP Morgan and Deutsche Bank are playing a critical role in helping, directly or indirectly, fund new thermal coal projects, and now an operating Carmichael thermal coal mine, which Adani hopes to expand into Australia's biggest.
If Adani succeeds in executing its ambitions, then Adani Group and its financiers will be further responsible for undermining efforts to limit global warming and threatening a safe climate for all.
You can visit our compilation of Adani's fossil fuel expansion plans here.
Take Action
Tell the investors and bankers linked to Adani's coal expansions to pull their support for Adani Group (email action goes to Apollo Global, Barclays, State Bank of India, Deutsche Bank, Citi, JP Morgan, DBS, HSBC, BlackRock, Standard Chartered, MUFG, Credit Suisse, Vanguard).